North West may be in a post-YEEZY shoe phase (for now), but Kanye's firstborn is still very much stuntin' like her dad elsewhere in style.
It's Halloweekend, folks. For most of the Kardashian clan, they're out dressing like North's mom Kim Kardashian for the annual spooky weekend. North West, though? The TikTok star cosplayed as her other parent, Kanye West (just Ye now).
Specifically, the ten-year-old wore the iconic Graduation bear costume from Ye's third studio album. In the mascot's signature varsity jacket and iced-out jewelry, North topped off the look with that familiar bright-eyed bear's head, which she struggled to keep on straight in her TikToks. It was a cute homage, nonetheless.
Even her TikTok sounds included snippets from "I Wonder," "Can't Tell Me Nothing," and "American Boy" — the first two hits hailing from Ye's Graduation album, by the way.
Honestly, for North West, every day is Hall-Ye-ween. Translation: the young style icon keeps dressing like her dad, Ye, spooky holiday or regular day (normal days for a nine-year-old Kardashian kid being fashion week and Met Gala appearances, that is).
Indeed, 2022's Paris Fashion Week saw North pull up to the French city, channeling Kanye from head to toe. For starters, North wore an unreleased Pastelle varsity jacket from Kanye's previous clothing line, which is apparently prepping to relaunch (though, it never truly launched).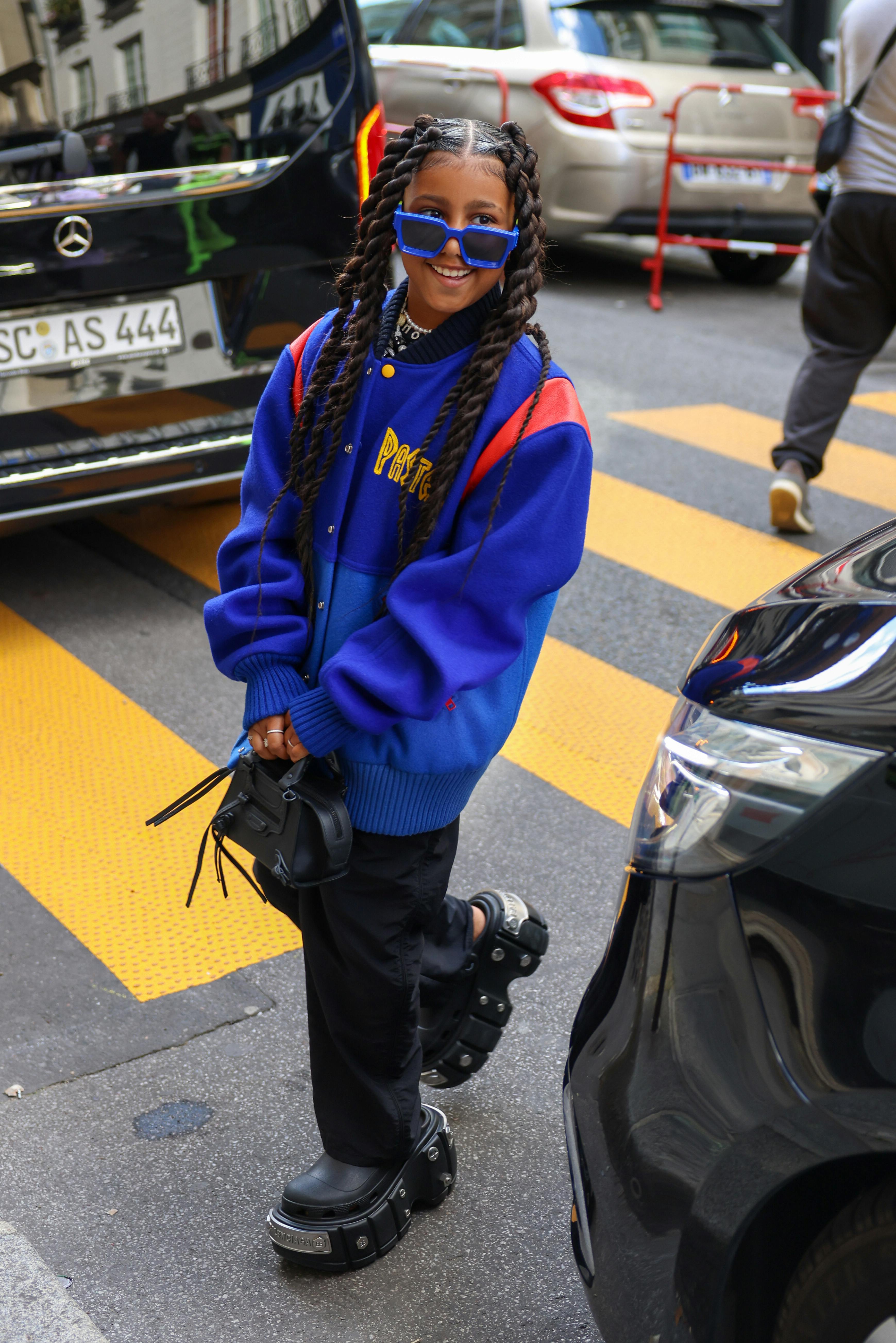 North's look was complete with other nods to Kanye's style legacy, including Louis Vuitton's Millionaire glasses and hulking Balenciaga steppers. In short, North was a mini Ye.
Fast forward to a Japan trip this year, North West recreates yet another iconic Kanye look, wearing a blue and orange Polo long sleeve similar to her dad's worn during a TRL appearance in the early 2000s.
North's Kanye style moments remind us of the golden old Ye days (before the anti-Semitism and "slavery was a choice" comments) and arguably his most influential style era. Ye's Polos and backpacks? Good times.
North has been known to be Miranda Priesely-level critical of her parents' fashion choices (Kim's especially). But it's clear that the North approves her dad's style a lot more and even takes after it, and understandably so. Kanye's got an undying impact on modern fashion, no debate.
From apparent custom Balenciaga to self-referential rap tees, it all screams Kanye's daughter. As the internet often says, when North does anything remotely Kanye-esque, she is genuinely her dad's twin.