The internet revolutionized and forever changed consumer behavior by giving customers an easy, stress-free way to browse and buy products from the comfort of their own home. The same goes for buying sneakers. While there are certainly still those old-school OGs that prefer going into physical sneaker shops to buy kicks, the majority of people prefer to shop on sneaker websites.
With the retail world at your fingertips, it can be hard to decide exactly where to go. Whereas previously shoppers were limited by geography, these days jumping from sneaker stores such as Overkill in Berlin to KM20 in Moscow can be done in a matter of seconds.
To help you wade through the long list of sneaker websites out there, we've highlighted some of the best below, and what unique attributes each of the stores and sneakers websites has on deck.
Here is the list you always needed for the best sneaker websites around the world
SSENSE – The Online Sneaker Store With An Editorial Flow
Site: SSENSE
Physical Locations: Montreal
Instagram: @ssense
Editor's Notes: SSENSE deals primarily in independent, luxury, and streetwear products, and is based in Montreal, Canada. It was founded in 2003 by three brothers: Rami, Bassel, and Firas Atallah. SSENSE offers shoppers a premium selection of more formal footwear, boots, and sandals, as well as the usual on-trend sneakers.
While some retailers specialize in a certain style or type of footwear — and SSENSE certainly holds its own when it comes to luxury, high-end footwear — the retailer goes above and beyond through the sheer number of different brands and silhouettes it offers. Whether you're looking for Balenciaga, PUMA, Fear of God, or Clarks Originals, you're bound to find a shoe that speaks to you at SSENSE.
What separates SSENSE from other retailers is that it has an editorial team, headed by 032c's Joerg Koch, that provides customers with a steady flow of content that ranges from seasonal guides to interviews with individuals from fashion, music, and the rest of the "culture." Customers are treated more like readers, which results in those that take a time to browse the content on offer leaving the site with a better understanding of the product they have just bought. Another big project SSENSE runs is its Sneaker Week, which "explores the influence of footwear with no reservations" and is a multi-faceted approach to connecting with its customers on a deeper, less transactional level.
Slam Jam — Serving the Underground Since 1989
Site: Slam Jam
Physical Locations: Milan, Ferrara
Instagram: @slamjam
Editor's Notes: Slam Jam's unique direction is guided by the underground in all its forms. From clubbing to art and music, the Milanese boutique has been connecting people and industries through an immaculately curated collection of sneakers and clothing since it was founded in 1989.
Beginning life in a warehouse in the outskirts of Ferrara, Slam Jam has become an internationally renowned location thanks to its eye for importing unknown brands like, at the time, Stüssy. Although its headquarters are still in Ferrara, the store in Milan uses industrial minimalism to place the focus firmly on the product selection.
Highsnobiety Shop — The Newcomer
Site: Highsnobiety Shop
App: Highsnobiety App
Physical Locations: N/A
Instagram: @highsnobietyshop
Editor's Notes: Okay, shameless self-plug time. Call us bias, but one of the more exciting arrivals to the sneaker shopping world is… well, us. Our confidence is not unfounded, though. Highsnobiety Shop should be on your radar for a handful of reasons. Not only is there a brand list growing by the day, but keep a close eye on the shop and you'll be first in line for early access and exclusive drops. We've even heard whispers of some forthcoming Highsnobiety collaborations…
From Salomon's hiking prowess through to elevated Italian design from Diemme, we're a one-stop shop for all your footwear needs. From runners to high fashion releases, the Highsnobiety Shop caters to sneakers of all kinds. It might be time to bookmark this one.
Luisaviaroma – A New Arrival with a Wealth of History
Site: Luisaviaroma
Physical Locations: Firenze
Instagram: @luisaviaroma
Editor's Notes: Founded at the end of the 1800s, yes, the 1800s, Luisaviaroma is definitely one of the older fixtures in this roundup. Beginning life as a hat store in Paris, the retailer has since moved to Italy where its one physical location stands in Firenze. Aside from Firenze, Luisaviaroma is an entirely online experience, allowing shoppers to browse hundreds of labels ranging from classic to contemporary.
One of the more recent developments in the boutique's 200-year history is the introduction of sneaker shopping. From exclusive drops to regular updates of the season's best luxury and sportswear pairs, Luisaviaroma is an emerging power in the world of the best online shoe stores. Feeling lucky? You'll have to join the Luisaviaroma Sneakers Club for a chance to enter upcoming raffles.
MR PORTER – The Cream of the Sneaker Websites Crop
Site: MR PORTER
Physical Locations: N/A
Instagram: @mrporter
Editor's Notes: MR PORTER was launched by online retailer NET-A-PORTER in 2010 and was originally described as the "first luxury men's wear online retailer with a global reach" by the Financial Times. MR PORTER claims to sell more than 450 leading international brands, with worldwide express shipping to more than 170 countries (including same-day delivery in London and New York).
Like SSENSE, MR PORTER specializes in high-end footwear and clothing from brands such as Tom Ford, Brunello Cucinelli, Balenciaga, Gucci, Polo Ralph Lauren, Loro Piana, A.P.C., Amiri, and Nike. Recently, though, the platform has also been offering quick-strike-type releases.
In addition to its varied selection of product, MR PORTER distinguishes itself from other retails in a number of ways. The portal offers next-day delivery to certain locations, as well as a MR PORTER Premier Service, which provides same-day delivery in New York and select locations in New Jersey. MR PORTER also prides itself on customer service, which sets it apart from other sneaker websites and is important for a perfect shopping experience—especially when you're returning a product. A strong editorial team provides customers with trend reports and other editorials.
END. – The Premium Online Raffle Retailer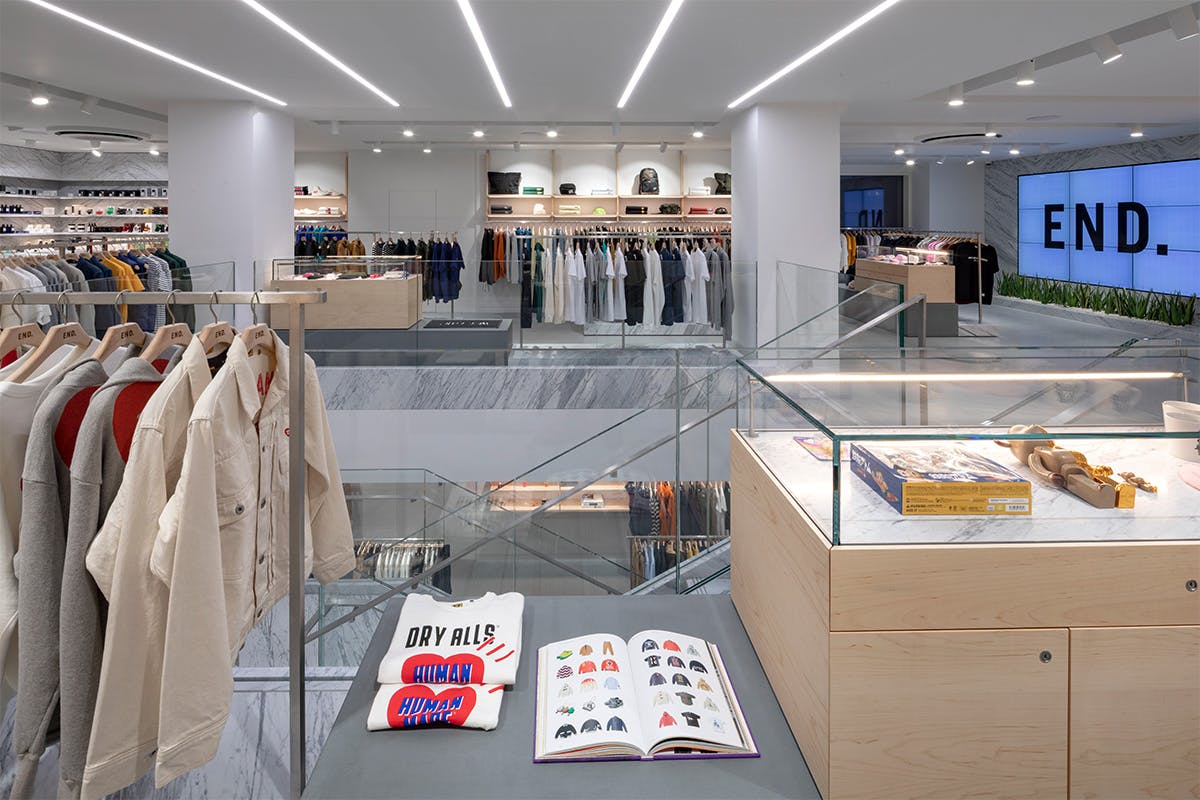 Site: END. Clothing
Physical Locations: Newcastle, Glasgow, and London
Instagram: @end_clothing
Editor's Notes: END. is one of the most popular online sneaker websites, thanks in large part to its raffle system, END. Launches. The retailer launched (pun intended) its ancillary site to combat bots and prevent its site from crashing at the time of popular releases — a big problem before retailers adopted the raffle system.
Since then, most sneakers (and sometimes even apparel collections) pass through END. Launches. The system is fully automatic: users log in to their END. account, sign up to a sneaker's launch, and if their name is drawn, money is automatically charged to their account and the shoes are dispatched to the address on file.
In addition to hyped releases, END. offers a great selection of staples and footwear classics. A quick browse of the retailer's footwear selection shows everything from the Balenciaga Triple S to the Common Projects Chelsea boot, with brands from adidas and Nike to Jimmy Choo and Palm Angels to be found on the sneaker website's digital shelves.
Farfetch – The All-Rounder
Site: Farfetch
Physical Locations: N/A
Instagram: @farfetch
Editor's Notes:  Founded in 2007, Farfetch has grown to become one of the furthest-reaching groups in online retail. Selling products from over 700 boutiques across the world, it's the perfect proposition when you're on the hunt for new sneakers. Farfetch is a unique entity in the world of sneaker websites, and its USP is its sheer size.
As a company that owns many of your favorite luxury retailers, Farfetch's reach is unrivaled. That extends to its sneaker offering, too. From luxury fashion house editions through to exclusive drops, you can find just about any kind of sneakers you want here. On the pages of Farfetch, brand-new drops sit alongside long sold-out exclusives from one of Farfetch's resale platforms. It's this variety that positions Farfetch as one of the strongest and fastest-growing sneaker website platforms on the net.
One Block Down – Bringing Cultures Together Through Sneakers
Site: One Block Down
Physical Locations: Rome, Milan
Instagram: @oneblockdown
Editor's Notes: One Block Down is the official sneaker plug for a lot of sneakerheads across Italy. Located in Milan and Rome, the sneaker retailer is a master storyteller, deeply entrenched in the culture. This is a core tenet of founder Patrizio Vita's vision for the store. In an interview with Lampoon Magazine, Vita expressed his goal of creating a space that showcases and brings together various subcultures. One Block Down and its product selection reflect that.
You'll find sneakers for just about every occasion — low, high, hyped, underrated, retro, OGs, basketball, tennis, running, trail, skate, and beyond in the physical stores and online. Nike x Sacai collabs, seasonal Air Force Ones, and elusive Jordan 1s have all come through One Block's shelves. On top of shoes, you can also cop t-shirts, hoodies, sunglasses, gloves, belts, and local streetwear magazines. You'll quickly learn why One Block Down has such a passionate fanbase.
43einhalb – A Team Who Loves Sneakers Just As Much As You
Site: 43einhalb
Physical Locations: Fulda, Frankfurt
Instagram: @43einhalb
Editor's Notes: Mischa and Oliver is another sneaker store born out of an obsession for sneaker culture. After spending some time in the shoe industry, the duo decided to take that passion and create a store filled with some of the region's best sneakers. If you're in the German sneaker scene, you have definitely heard of 43einhalb. The store has consistently supplied the public with exclusive YEEZY and Jordan releases along with a healthy mix of lifestyle sneakers.
Both store locations have a distinct retro-futuristic aesthetic that creates the perfect atmosphere for buying your own futuristic sneakers like the Foam Runners or a pair of Nike Adapts.
Asphaltgold – All Your Sneaker and Streetwear Favorites in One Place
Site: Asphaltgold
Physical Locations: Darmstadt
Instagram: asphaltgold
Editor's Notes: Ever evolving, Asphaltgold has a solid inventory of seasonal staples from brands like A.P.C., Aimé Leon Dore, and Aries Arise. And, let's not forget about the sneakers and their sneaker website. From New Balance to Nike, Asphaltgold offers a wondrous selection of more than solid sneaker choices. The retailer has been committed to high-quality gear that is made consciously. They have done just that for well over a decade. The store's own collection is worth a look.
AFEW — Welcome to the Family.
Site: AFEW
Physical Locations: Düsseldorf
Instagram: afewstore
Editor's Notes: Looking to get your hands on those new Sean Wotherspoon adidas? Eyeing a pair of the latest Cloudvenutre On sneakers? Need a solid pair of gram-ready Dunks? Welcome to AFEW. The family-owned sneaker retailer has quickly emerged as one of the best places to buy shoes in Europe thanks to its almost religious commitment to providing the best gear to customers. Starting in 2008, the retailer has gone on to collaborate with industry leaders like Nike, adidas, ASICS, Diadora, and KangaROOS.
Even more so, the brand works with local companies and businesses for community events. Shopping at AFEW, and you will come across other labels like New Balance, New Era, Reebok, Vans, Saucony, Veja, and Puma.
Footshop — An Uncut Gem
Site: Footshop
Physical Locations: Prague, Bratislava, Budapest, Bucharest
Instagram: @footshop
Editor's Notes: Footshop was founded in 2012 and has since been one of Prague's premier sneaker shopping locations, but it's much more than that, too. While the locations to celebrate sneaker culture in Prague are not as abundant as, say, New York or London, having a physical hub for sneakers, creativity, and urban culture in its entirety takes on a whole new importance.
While Footshop isn't as big a name as the Slam Jams or SSENSEs, it certainly has the acumen to roll with them. A quick search through Footshop's massive catalog will uncover gems that you're unlikely to find elsewhere. We're talking underrated collaborations and general release colorways that might not have hit your radar on release. Footshop stands as a reminder of the far-reaching arm of sneaker culture as well as the pleasant surprises that lay in-store when you venture slightly off the beaten track.
Sneakersnstuff – The Swede's Best Sneaker Store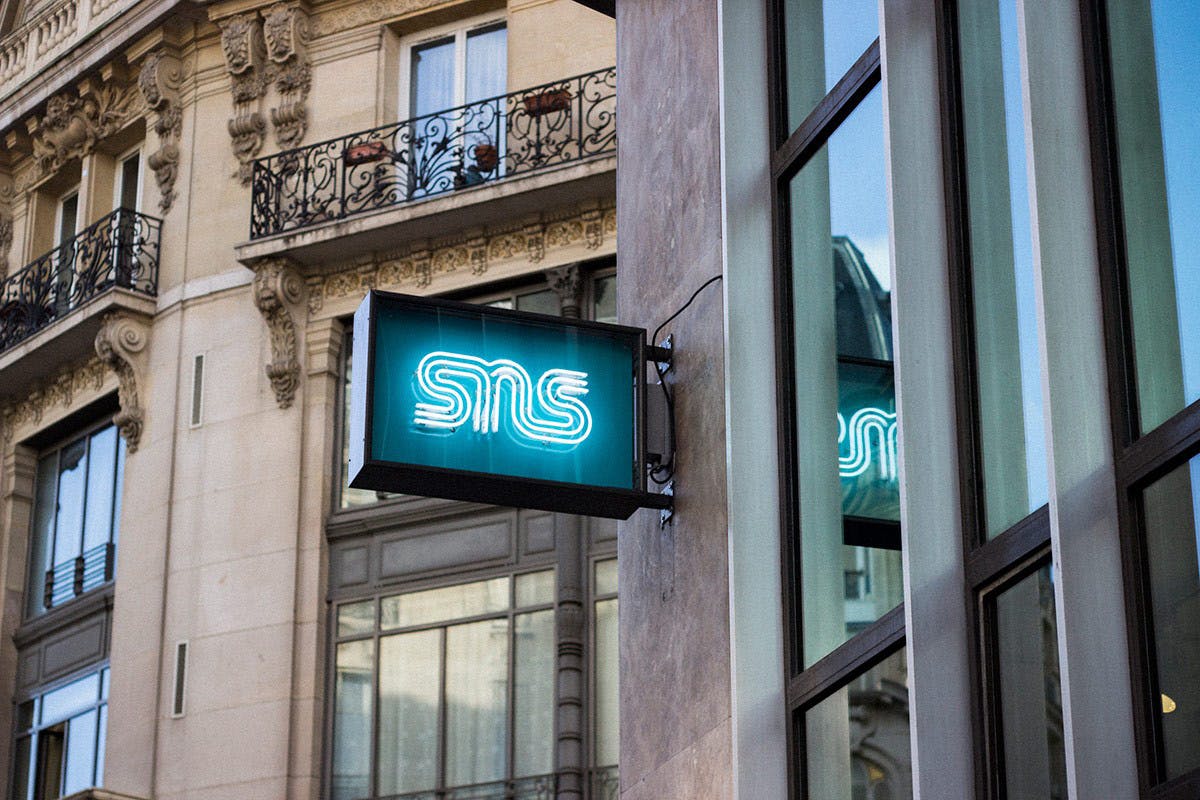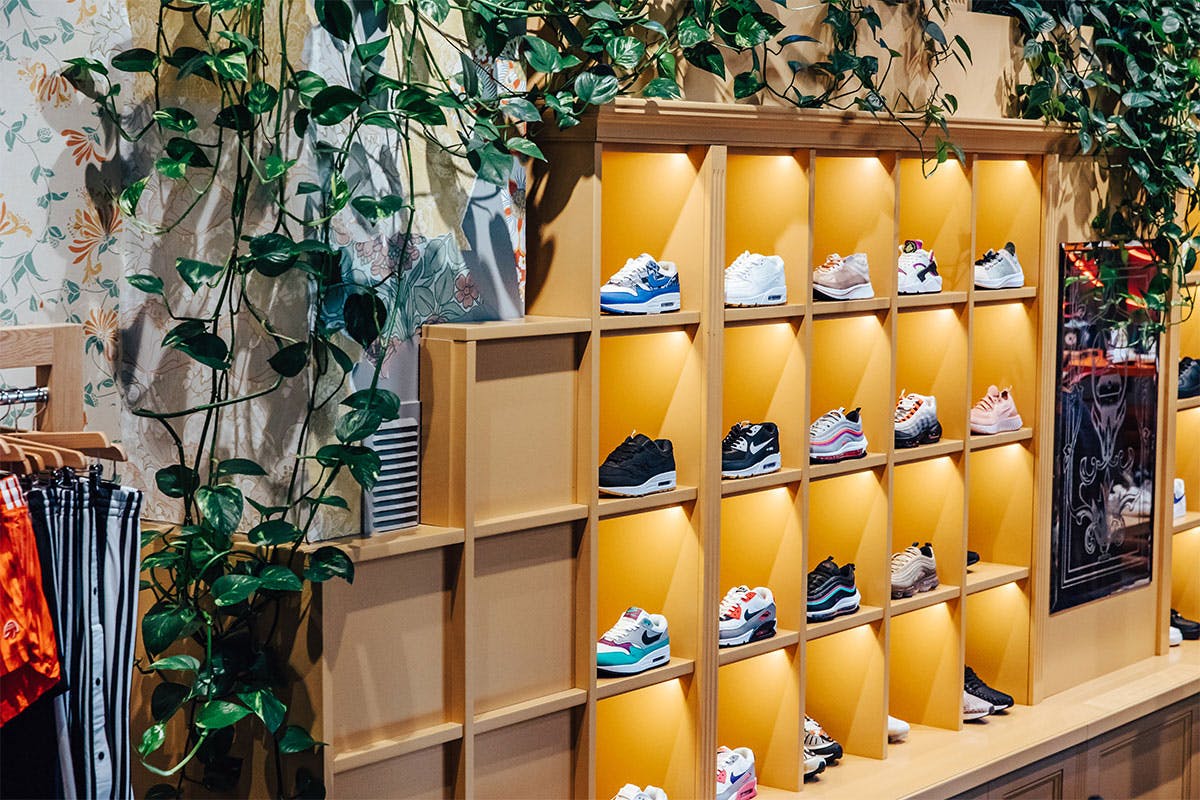 Site: Sneakersnstuff
Physical Locations: Tokyo, New York, Los Angeles, Berlin, Paris, London, Stockholm
Instagram: @sneakersnstuff
Editor's Notes: The first Sneakersnstuff opened in March 1999, selling exactly what the name suggests: sneakers and stuff.  Originally SNS was a sporting goods store before, in true '90s style, they began ordering kicks from a sports catalog. Founded by Erik Fagerlind and Peter Jansson, Sneakersnstuff was born of frustration at Stockholm's lack of alternatives to big retail chains. It has now expanded to five (soon to be six) brick-and-mortar stores in major cities in Europe and the US and has become one of the best sneakers website out there.
You can head to Sneakersnstuff's site to sign up for raffles of limited releases or just browse its wide selection of footwear. While it's known for stocking almost every exclusive release, Sneakersnstuff also stocks general release sneakers by every major brand. Complementing that selection — and living up to the "stuff" part of the store's name — you'll also find a carefully curated range of apparel and accessories from brands such as Champion, Carhartt WIP, and Nike ACG, to name a few.
Solebox – For the Full Fit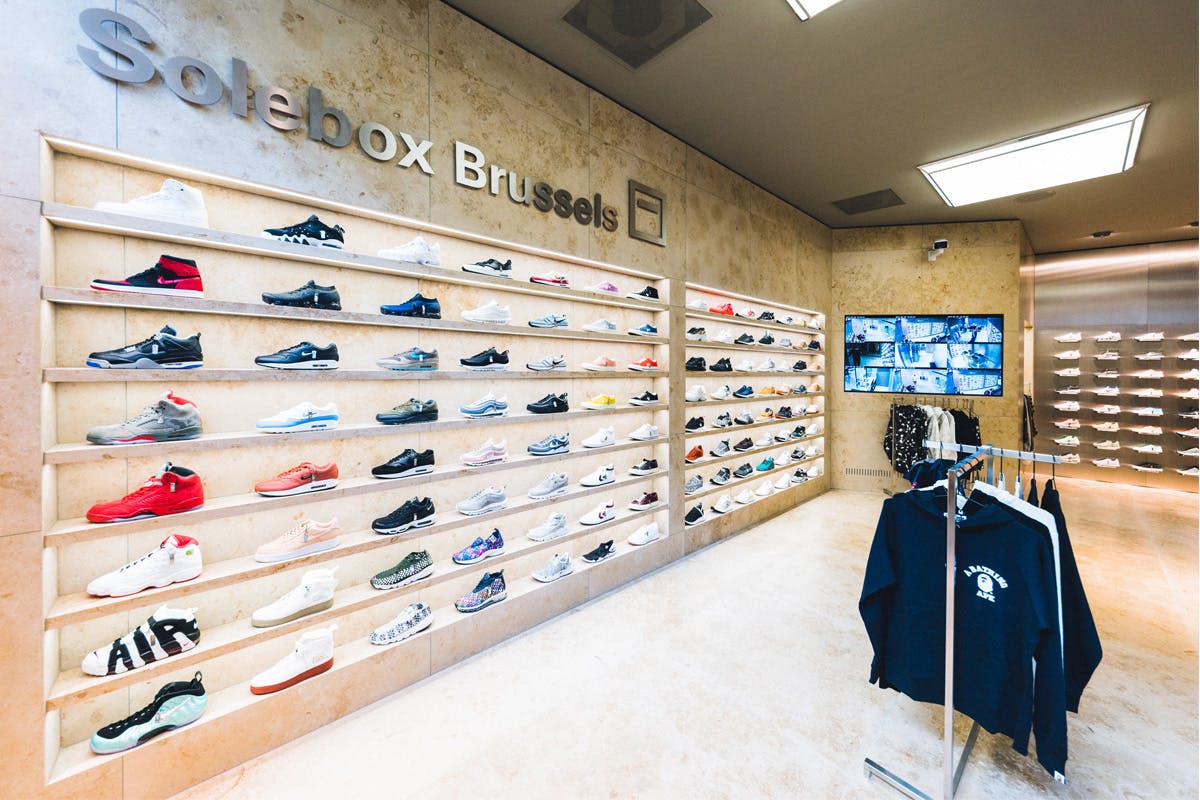 Site: Solebox
Physical Locations: Berlin, Munich, Amsterdam, Vienna, and Brussels
Instagram: @solebox
Editor's Notes: Solebox was founded in 2002 by the Sugoer brothers to bring hyped and limited sneaker releases to Europe. With ample backing, Solebox has extended its reach, both in terms of new physical locations and a more extensive online catalogue that rivals all other sneaker websites.
Solebox has a long history of collaborations with leading brands. Those projects, paired with the sale of limited releases and a great selection of general release sneakers, makes Solebox a world-renowned sneaker store.
Apparel from the likes of Helly Hansen, Opening Ceremony, YEEZY, COMME des GARÇONS, BAPE, Helmut Lang, and others can also be purchased online and in-store, giving customers a chance to cop dope threads while picking up a fresh pair of kicks.
Footpatrol – For the Hidden Gems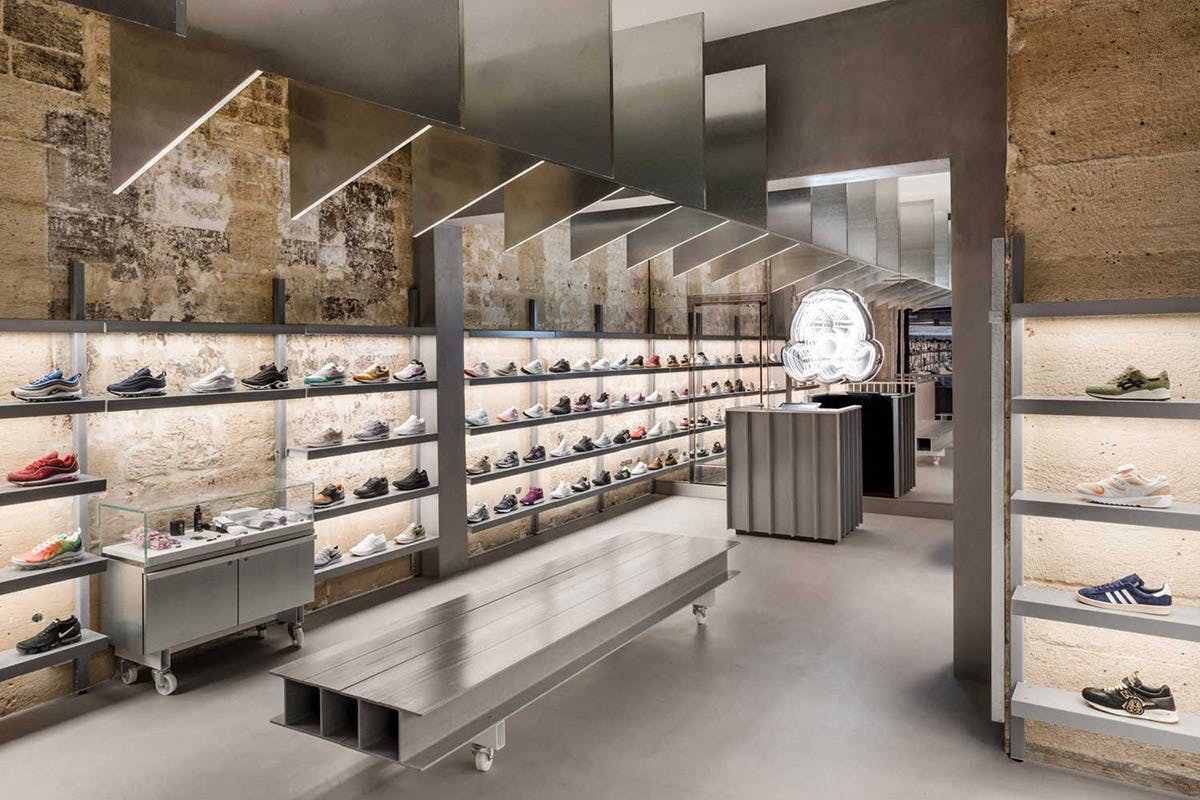 Site: Footpatrol
Physical Locations: London and Paris
Instagram: @footpatrol_ldn, @footpatrol_paris
Editor's Notes: Footpatrol opened in London in 2002 before moving to its current location in Soho in 2010 and opening a Paris location in 2018. The London location recently received a facelift, giving the space a similar layout and look to the Paris location. Like most of the retailers on this list, Footpatrol has a history of collaborating with brands on various special projects.
The original layout and design of Footpatrol's London store was inspired by the hidden boutiques of Japan and put together by design duo the Wilson Brothers. Inside, you'll find Japanese exclusives and other sneakers that are hard to come by in Europe. In addition to big brands such as ASICS, Mizuno, Nike, and adidas, you'll find a number of niche labels that provide a nice break from the norm.
KITH – For Sneakerheads and Cereal Fans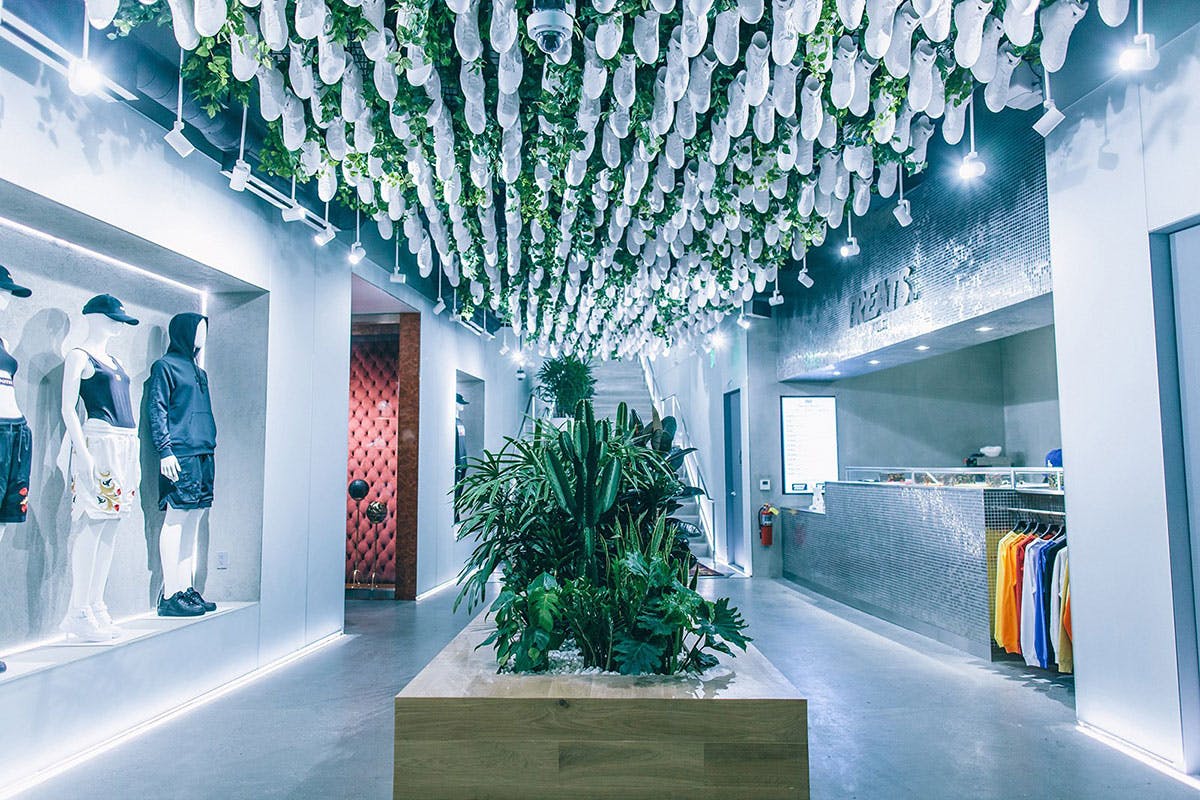 Site: KITH
Physical Locations: New York (x5), Los Angeles, Miami, London, and Tokyo
Instagram: @kithfootwear
Editor's Notes: KITH was founded in 2011 by Ronnie Fieg, one of the most popular sneaker collaborators of recent years. Perhaps best known for his work on ASICS GEL-Lyte models, Fieg has developed a penchant for reviving archive models and has since expanded both his business and the number of brands he works with. These range from Nike and adidas to Cap'n Crunch cereal and Versace. The collaboration with Cap'n Crunch cereal saw KITH launch KITH TREATS, an in-house cereal bar that was born out of Fieg's love for the breakfast food. In addition to a number of cereal options — all named after Fieg's closest friends, family, and influential people in the music, style, and sneaker sphere — customers can refresh themselves with a milkshake or some soft-serve ice cream.
As well as a growing number of physical locations, KITH has a large online presence. Sneakerheads can buy limited drops on a weekly basis through KITH's online raffle system. A quick browse of the footwear category online shows sneakers from Veja, ALYX, Eytys, and Filling Pieces, to name a few. Fieg is a stickler for authenticity, so you can be sure that anything stocked at KITH was selected with care. Alongside its curated product portfolio, KITH also has an in-house line that has gone from strength to strength since its debut. The collections comprise of complementary capsules that release alongside some of the limited collaborations mentioned above, as well as seasonal drops of everything from basics and layering options to high-quality product fit for any type of wardrobe.
Sneaker Politics – The Bipartisan Block Party Epicenter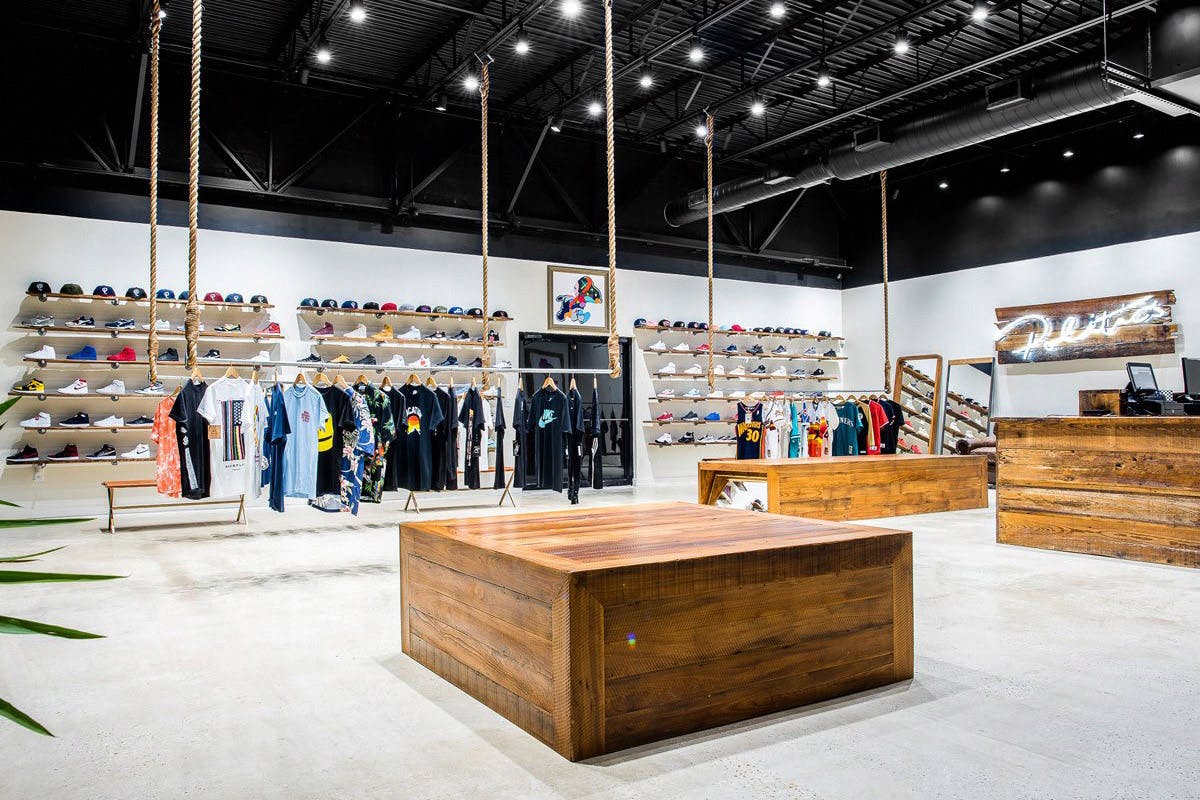 Site: Sneaker Politics
Physical Locations: Lafayette, New Orleans, Baton Rouge, and Austin
Instagram: @sneakerpolitics
Editor's Notes: Sneaker Politics has been around since 2006 and has a large physical presence in its home state of Louisiana, as well as a location in Austin, Texas. The retailer has also carved out a reputation as a premier source for online sneaker shopping. Alongside limited sneaker collaborations — which Sneaker Politics often releases via in-store or Instagram raffles — you can pick up on-trend footwear by the likes of Casbia, Nike, adidas, and New Balance.
The retailer's connection to Louisiana was felt during the recent re-release of the Nike Air Jordan 3 "Katrina." Sneaker Politics hosted a block party, which was attended by the likes of Juvenile, Bun B, Pell, and Neno Calvin, all of whom performed live. In addition, the first 100 customers to arrive received a free basketball, as well as the chance to win the highly-limited Jordans.
Even more recently, Sneaker Politics hosted a back to school edition of its popular "Shake Back Sunday" event. Shake Back Sunday is an in-store event that happens on the first Sunday of every month at each of the retailer's locations. The point of these events is for the community to come together and play games, win prizes, talk sneakers, and have a good time hanging with like-minded people. Because of this, and many other special releases and events, Sneaker Politics is one of the most community-minded stores out there.
Bodega – For Shoes, Not Snacks
Site: Bodega
Physical Locations: Boston and Los Angeles
Instagram: @bodega
Editor's Notes: Bodega opened its doors in Boston in 2006. The first store was hidden behind a semi-functional bodega, with a secret entrance that led to the actual streetwear and sneaker store. Now, with another semi-hidden location in Los Angeles, Bodega is known as one of the finest sneaker retailers in the world.
Compared to other sneaker websites, Its online presence is formidable, with the list of brands Bodega stocks ranging from adidas and Nike to UNDERCOVER and Hender Scheme. The idea of modeling the stores after their grocery-laden namesakes was to have just as many "hidden treasures" as a real bodega. Whether you're shopping in-store or online, you're bound to find something you like.
Concepts – A Premium One Stop Shop
Site: Concepts
Physical Locations: Boston, New York, Dubai, and Shanghai
Instagram: @cncpts
Editor's Notes: Concepts has been around since it first opened its doors in 1996 in Cambridge, Massachusetts. That first store has since moved to a new location in downtown Boston. Now, with sneaker shops in New York City and Dubai, the retailer has become a household name when it comes to premium kicks. Brands such as visvim, Giuseppe Zanotti, and Lanvin can be shopped alongside the more wallet-friendly New Balance, Nike, and ASICS sneakers.
The variety of brands is one of Concepts' strengths, as you're always likely to find something you either had no idea existed or no idea you wanted (such as these velour Rick Owens x Birkenstock sandals). And, of course, it holds up against other sneakers websites—you'll also find limited releases including OFF-WHITE x Nike and adidas YEEZYs among Concepts' online offerings.
Concepts stocks both carefully selected general release sneakers as well as the latest and greatest in collaborations from a host of sneaker boutiques worldwide. In addition, the retailer has a long history of successful collaborative sneakers with leading brands. One such is the Concepts x New Balance 999 Kennedy, considered by some to be one of the greatest collabs ever and the beginning of Concepts' strong legacy of sneaker projects.
Dover Street Market – The Comme-Backed Mecca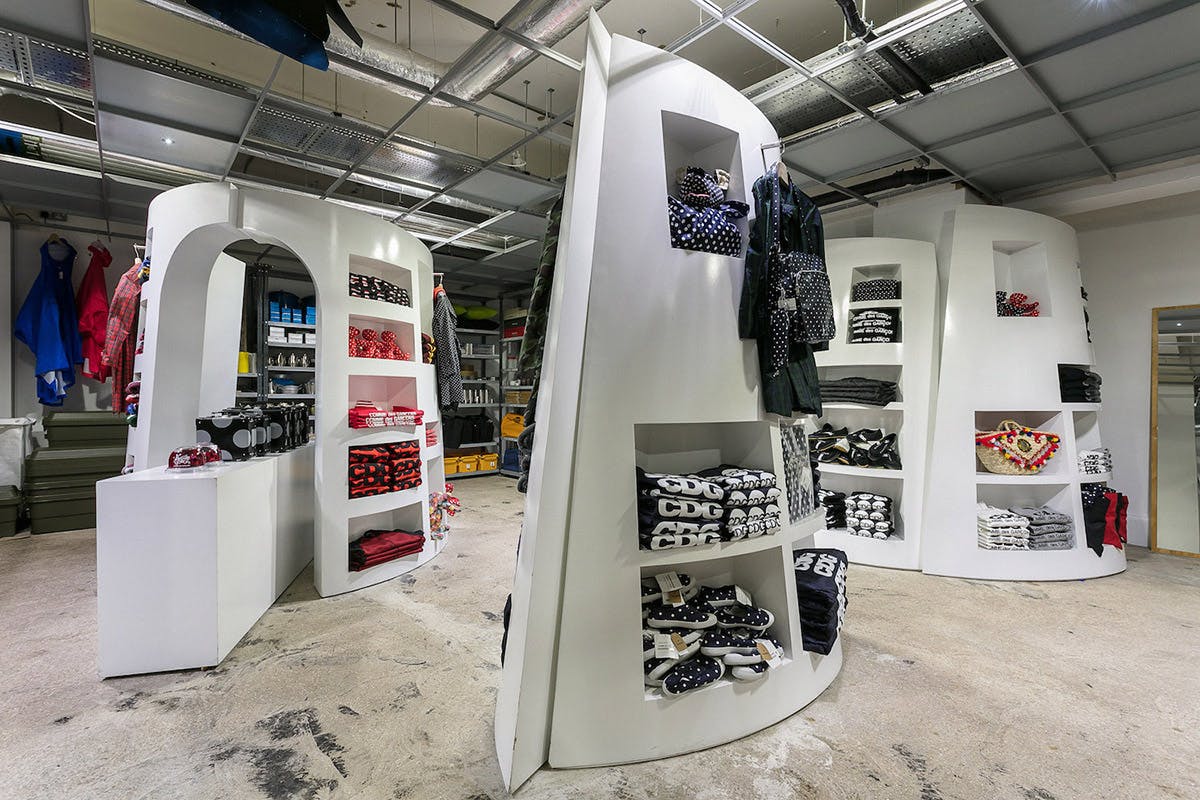 Site: Dover Street Market
Physical Locations: London, New York, Tokyo, Beijing, Singapore, and Los Angeles
Instagram:  @doverstreetmarketlondon @doverstreetmarketnewyork @doverstreetmarketginza @doverstreetmarketbeijing @doverstreetmarketsingapore @doverstreetmarketlosangeles
Editor's Notes: Dover Street Market was launched by COMME des GARÇONS' Rei Kawakubo and her husband Adrian Joffe. The original store was located on Dover Street in London, but since then, it has moved to Haymarket in the British capital and four more branches have opened around the world, with a new store opening this fall in Los Angeles.
Although the focus is on these physical locations, multi-brand retailers spanning multiple floors and carrying everything from Supreme and NOAH to UNDERCOVER and Balenciaga, Dover Street Market's sneaker store is no slouch either. A quick browse of the sneaker brands available shows a selection that includes the incredibly on-trend Salomon and Kiko Kostadinov's latest collaboration with Camper.
At Dover Street Market, you'll find simple classics among more out-there choices, some of which you'd be hard-pressed to find at other of the best online shoe stores.
GR8 – A Tokyo Streetwear Staple
Site: GR8
Physical Locations: Tokyo
Instagram: @gr8_tokyo
Editor's Notes: GR8's physical store is located in Tokyo's colorful Harajuku neighborhood. It boasts a selection of up-and-coming designers from around the world and mainstays from both the streetwear and luxe fashion realm.
As with other retailers on this list, GR8's online store stocks a selection of hot releases, including the latest YEEZYs whenever they drop, alongside carefully selected general release silhouettes. Browsing GR8's sneaker selection, you'll find colorways or silhouettes you might not find elsewhere, making it well worth checking out.
NAKED Copenhagen – The Sneaker Plug for Women
Site: NAKED Copenhagen
Physical Locations: Copenhagen
Instagram: nakedcph
Editor's Notes: Finding a solid sneaker plug for women's sneakers can be tricky, often bordering on frustrating. Either the supplier has a bad selection or an extremely limited selection. This is not the case with NAKED Copenhagen. Aside from our follow-up entry, NAKED has one of the best rotations of women's sneakers on the market. Its collection is ever-expanding, beautifully curated, and will help you build your own solid collection whether you are a veteran in the sneaker game or an emerging sneakerhead.
Maha Amsterdam – A Women's One-Stop-Shop
Site: Maha Amsterdam Physical Locations: Amsterdam
Instagram: maha_amsterdam
Editor's Notes: Maha Amsterdam has been making waves since its launch back in 2015. Led by Saskia Van Hogwegen and Dian Iskandar, Maha brings a much-needed female representation to the streetwear scene in Amsterdam and Europe. The brand's curation skills are magnificent, pulling in a collection of some of the best home goods, apparel, and women's sneakers that you can find at any retailer. It's very easy to make Maha your one-stop-shop.
JUICE – An Asian Sneaker Store Icon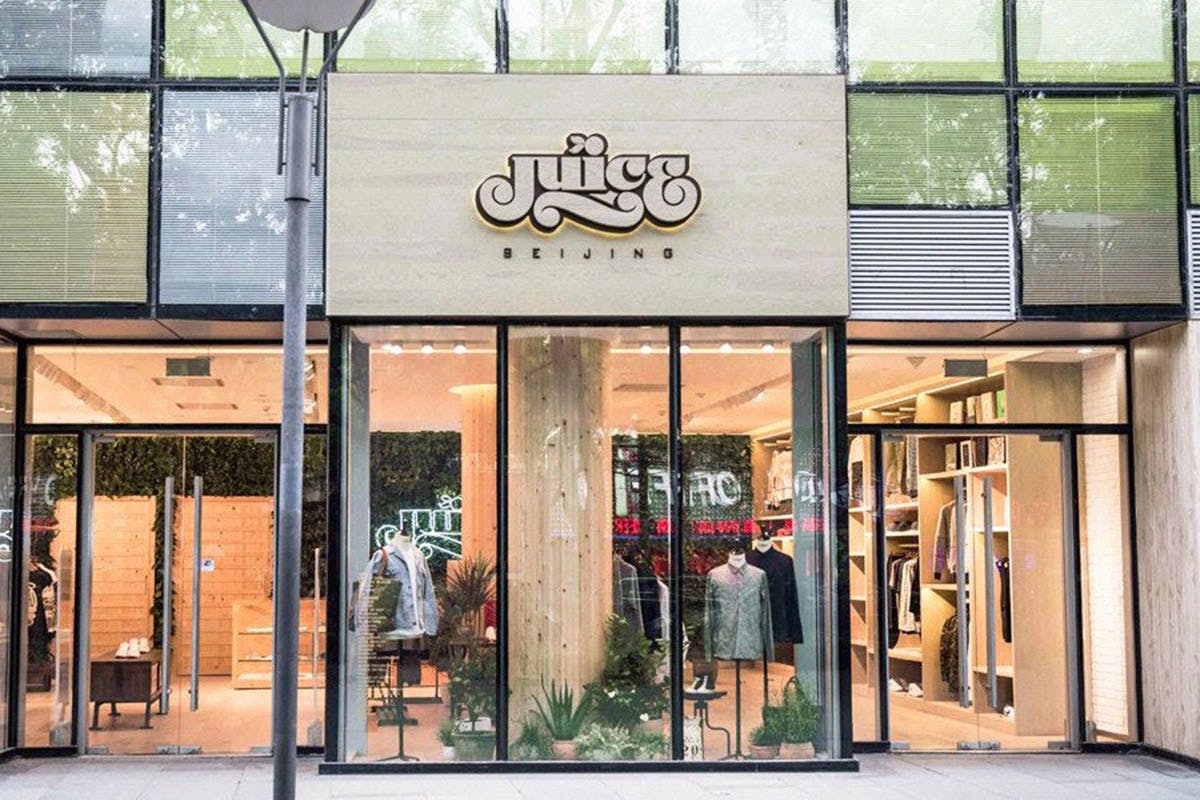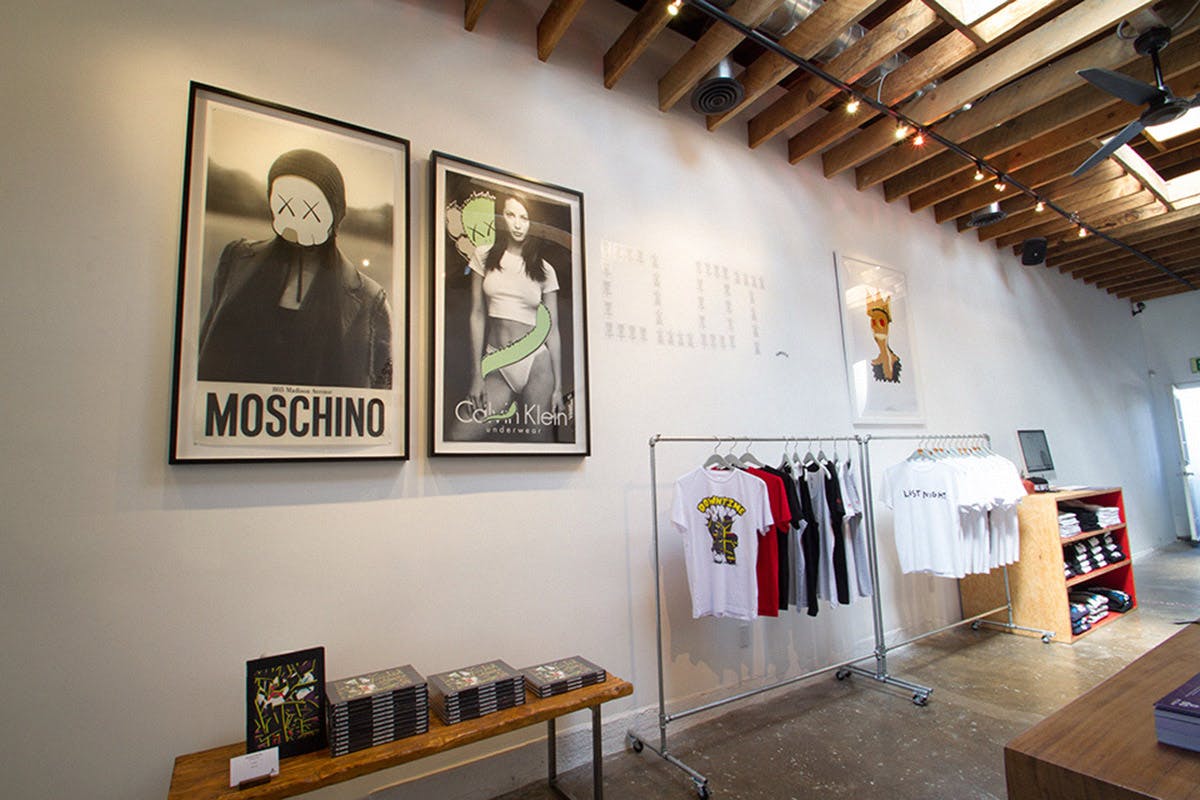 Site: CLOT
Physical Locations: Hong Kong, Los Angeles, Taipei, Shanghai, Chengdu, and Beijing
Instagram: @juice_hk, @juice_la
Editor's Notes: JUICE is one of Asia's most respected boutique sneaker shops, having a physical presence in multiple cities across the continent and even opening a store recently in Los Angeles. Its online selection of footwear is divided into sneakers, boots, and sandals.
The third category is the most limited, with only a handful of options. But in this case, less is more, with great high-end sandal choices such as CLOT x Buscemi and JUICE's own collaboration with Suicoke available.
Sneakers-wise, you'll find everything from Hender Scheme to adidas and Nike, including some more limited releases, such as the Concepts x adidas Consortium Energy Boost and the JW Anderson x Converse collab.
Want to keep browsing? Head to the Highsnobiety Shop for more products that we love. Highsnobiety has affiliate marketing partnerships, which means we may receive a commission from your purchase.
To stay updated on everything happening in the sneaker world, follow @Highsnobietysneakers on Instagram, check our sneaker release date calendar, and subscribe to our sneaker chatbot on Facebook to receive lightning quick updates to your inbox.