This is a four-part series highlighting local runners from all different backgrounds while exploring New Balance's recent Run Your Way campaign. Click here to explore the rest of the stories.
We all know that New Balance is a force to be reckoned with in the fashion world, but it's still just as active in the sports world — and it wants you to be too. Earlier this year, the brand launched its global Run Your Way campaign, which invites us all to let go of any insecurities and doubts we may have about running and just try it out for the good of our mind, body, and soul. Whether it's a jog on the weekend with friends or full-blown marathon training, we can all proudly call ourselves a runner.
The campaign is all about getting rid of preconceptions of what 'normal' runners look like and building communities that welcome everyone, regardless of their level or relationship with the sport. Not only does being part of a community motivate you and make the activity more enjoyable, but it's also a great way to meet people, build friendships and support one other.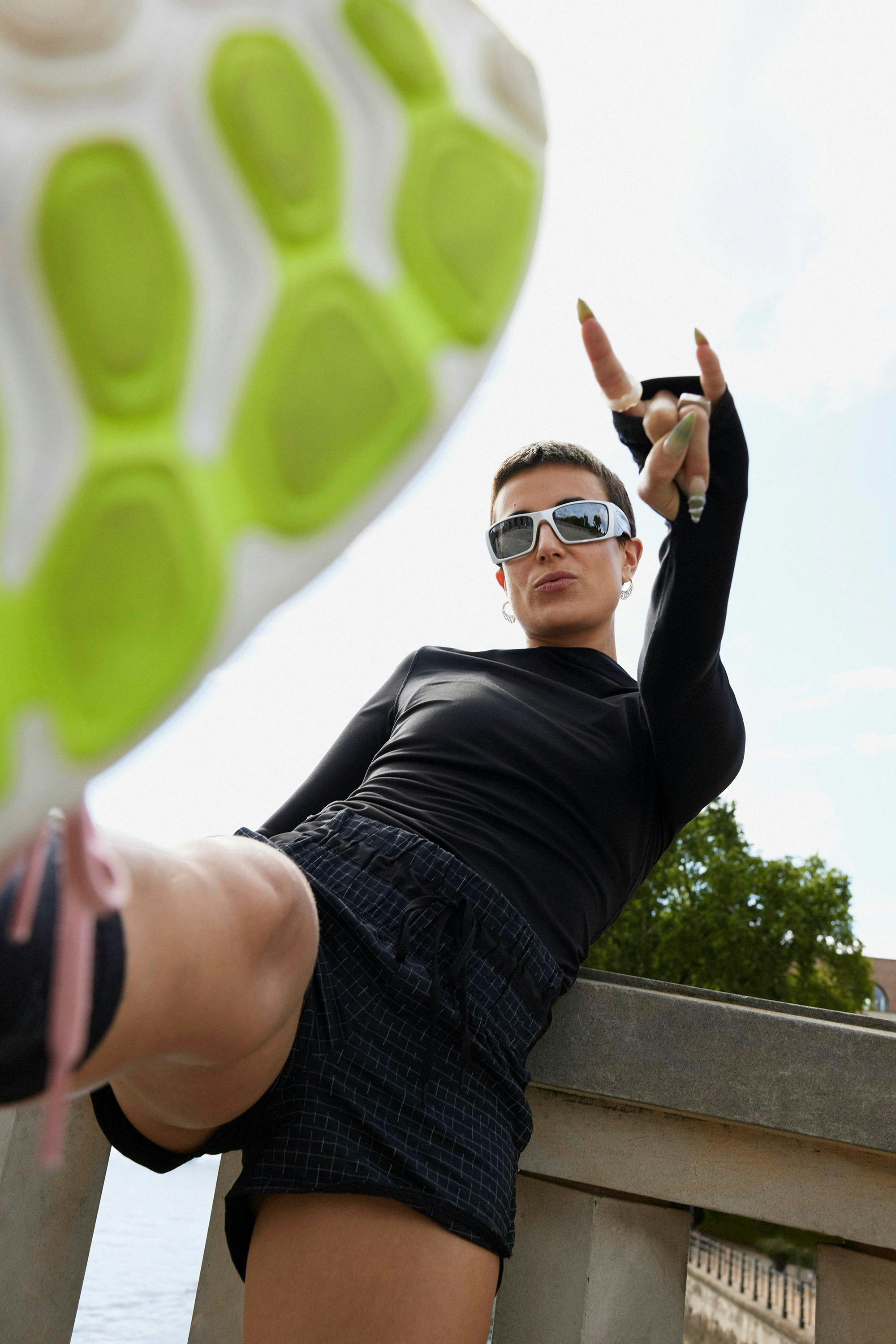 New Balance athletes Sydney McLaughlin-Levrone, Elle Purrier St Pierre, and Trayvon Bromell are spearheading the campaign, opening up about their personal experiences when it comes to how they individually run. Yes, they are Olympic athletes, but their stories show how even professionals at this level have fluctuating relationships with running. For example, Elle has shared how she's had to tackle new stereotypes since becoming pregnant, but despite this, hasn't stopped running, and being part of this campaign became even more appealing and important to her.
With the Berlin Marathon coming up at the end of September, it's a great time to catch up with the running community and talk to some individuals about how running fits into their lives. Experienced runner Anna-Luisa is the first person we had the pleasure of running along the River Spree with. Hailing from Lake Constance in the South of Germany, the designer is a core member of a run club in Berlin, so it's clear that the sport is an integral part of her everyday life.
So when did you start running? I started running quite early, around the age of 13. I grew up in a small town in the countryside, and there weren't many ways to get around with public transport. My parents didn't have time to drive me around all the time, so I had to get myself to places by walking, running, and cycling. I ran a lot, without keeping track of distance or pace, and without wanting to be fast, just as something to do for me.
What does running mean to you? Running is all or nothing for me. It became a tool for me to regulate my mental health. As of right now, it's something I like to dedicate a lot of my time to — I'm not sure if it will stay like this forever, but running to me means so many different things. It means community and taking care of my mental health.
In what ways has running helped to better your life? I would say the most obvious is my physical and mental well-being, which go hand in hand. If I don't feel well, it's quite handy to go for a run, knowing that I'll feel better afterward. The more I run and the more time I dedicate to running, the more positive benefits I get. One of the most important things is the community. I have met so many amazing people in Berlin and around the globe.
Where is your favorite running spot in the city? I run a lot in Kreuzberg by the canal and around Tempelhofer Feld but I actually don't really have a favorite running spot in the city. At the moment, I am longing to get out of the city more; I love to look at holidays as opportunities to explore foreign cities and nature by running through them. So I hope that there will be some trail running experiences waiting for me!
What are three essential things you need on your run? I need my phone and headphones for listening to good music. I always run with music. Then I need a bum bag to carry everything I have on me, like keys and a phone, and then I think good socks are important for sure.
Running at its best shouldn't be a burden, and this campaign is the ultimate pep talk for you to find a way that works for you to get out there. Whether you're just getting started or need a fresh kit to wear down, New Balance has you sorted.
Join the journey and shop New Balance's running gear here.