Crafted for trail running and outdoor exploration, the technical fabrics and rugged construction of Salomon sneakers are undeniably impressive. But what really gets me excited when browsing its footwear selection is the colorways.
Over the past few years, we've continued to sing the praises of the French sports label — debating what the brand's best colorways are and interviewing the team behind them. This year has been no different, with some of the best Salomon sneakers to date dropping.
From delivering new colorways of its GORE-TEX XT-6 model to launching chunky new trail sneakers, the brand has kept its foot on the gas in 2023 — and that's before we even mention any of the collaborations that it dropped.
Sifting through all of its releases this year, we've picked our favorites down below to prove just how many bangers the brand has released this year.
Keep scrolling for the best Salomon sneakers of the year… so far.
Salomon x Sandy Liang XT-6 Expanse
Inspired by the Pokémon characters Jiggly Puff and Whimsicott, this collaboration must be the first time that trail running footwear and Pokémon have been combined.
One half of a two-part release with the New York-based fashion label Sandy Liang, the shoes flew off shelves when released back in May. The pale pink colorway is not just one of the best Salomons to drop in 2023, it's one of the best sneakers of the year — period.
RANRA x Salomon Cross Pro Better
RANRA's outdoor-ready collections focus on using natural materials and traditional techniques, a practice it has also brought into its sneaker collaboration with Salomon.
Dressed in recycled polyester and canvas, the shoe gets its green look from a natural dye process while the construction has been carefully designed to reduce the use of glues and adhesives. As the name suggests, RANRA took the Salomon Cross Pro and made it better.
Salomon XT-6 GTX
How do you make Salomon's XT-6 better? With GORE-TEX, of course.
The shoe, which Salomon describes as "a beacon of our trail legacy," has been decked out with a waterproof, PFC-free GORE-TEX membrane to make it even more functional. And it's also been given new, eye-catching color combinations such as the black and green one above.
Salomon x PHILEO XT-SP1
Made in collaboration with 21-year-old designer Philéo Landowski, this shoe riffs off the brand's popular XT-6 model and gives it a hairy textured finish. Also available in a more muted, all-black colorway, the shoe's knitted upper is a contrast to the technical fabrics Salomon normally deploys.
According to a statement from the two brands, this is designed to, "express the candid, emotional purity of nature mixed into the backdrop of harsher, more rugged urban dwelling."
Salomon x atmos XT-6
Titled Stars Collide, this cosmic-themed shoe "exudes the bright and shining moment of stardust scattered across the universe," according to streetwear label atmos. But hyperbolic product descriptions aside, this is a great-looking shoe.
Arriving in a muted, monochrome colorway, it's subtly decorated with a star print on the upper and a white-speckled midsole.
Salomon ACS PRO
A remake of Salomon's decades-old GCS Pro, the ACS PRO has enjoyed a successful first few years in business.
Its collaborations with MM6 Maison Margiela and L'Art de L'Automobile have been hits while the brand's color and material design team has been up to its old tricks with general release bangers such as this. The shoe has a solid grey base that lends the spotlight to pastel hits of color.
Salomon x Slam Jam XT-Quest
Italian retailer Slam Jam knows a thing or two about crafting desirable footwear. Its consistent collaborative output sees it release everything from Clarks inspired by two-tone music to co-branded Nike Air Force 1s.
Its silver take on the Salomon XT-Quest, a lesser-known model inspired by the company's early-2000s outdoor footwear, draws inspiration from nature to highlight the importance of our relationship with the great outdoors.
Salomon x MM6 Maison Margiela Cross Hike Mid
MM6 Maison Margiela might be Salomon's most exciting collaborator of late, giving its outdoor footwear experimental new looks.
This laceless Cross Hike Mid is back in new colorways following a Rihanna co-sign at the Superbowl. It utilizes Salomon's performance-ready tech to create functional bags for your feet.
Salomon x Palace Skateboards XT-Wings 2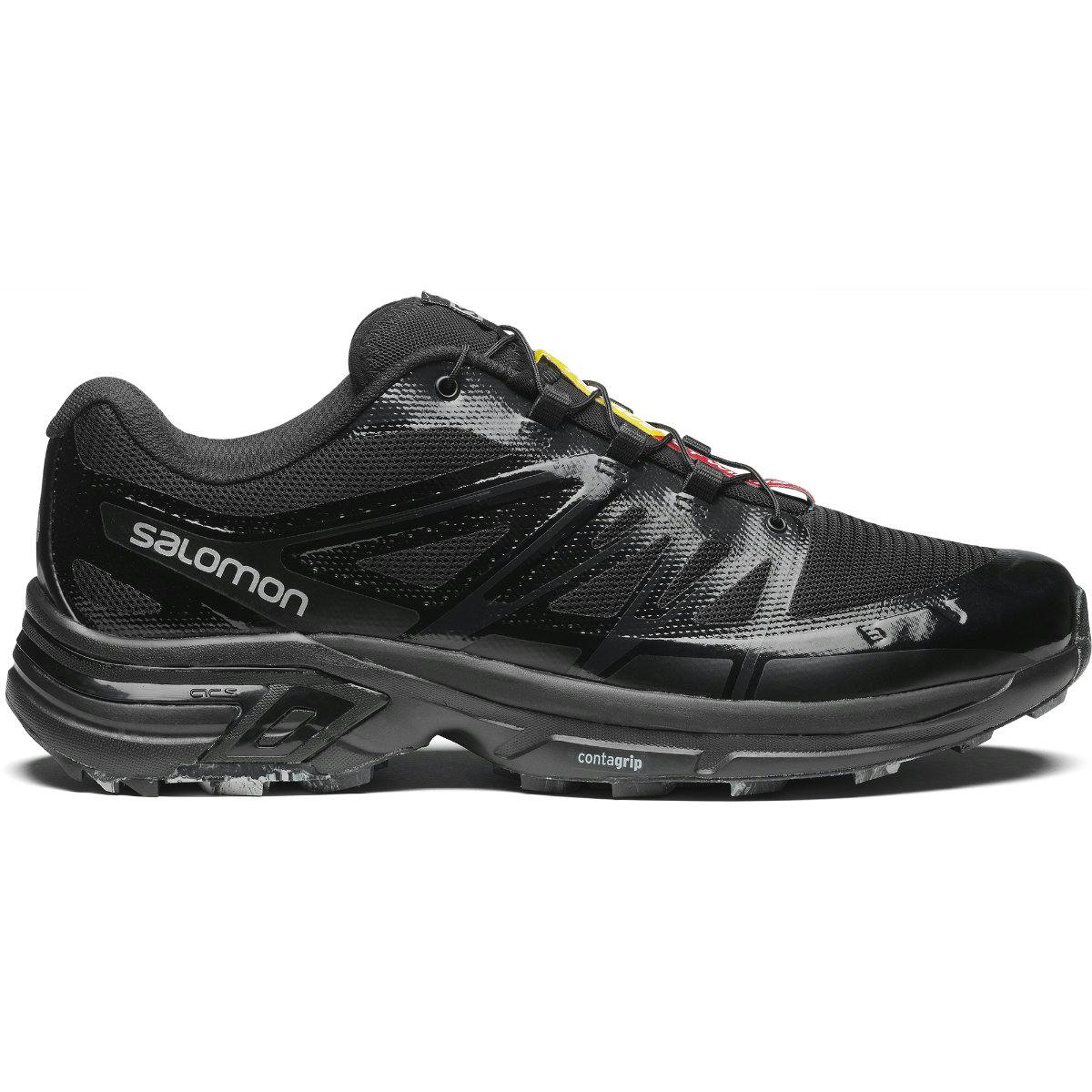 Palace has (literally) made this the XT-Wings 2s time to shine. A high-shine coat on the upper and marbled rubber on the outsole make an all-black shoe with minimal branding be a stand-out release.
Collaborations between the London-based streetwear brand and Palace have always been a cause for celebration and this one was no different.
Salomon XT-6
Colorways like this are the reason we love Salomon. Just a simple, general-release pair of XT-6s, this purple-hued model can stand toe to toe with the most hyped of collaborations.
Far from being the first time that Salomon's general-release sneakers are headline-worthy, it certainly won't be the last.
Salomon x JJJJound XT-Wings 2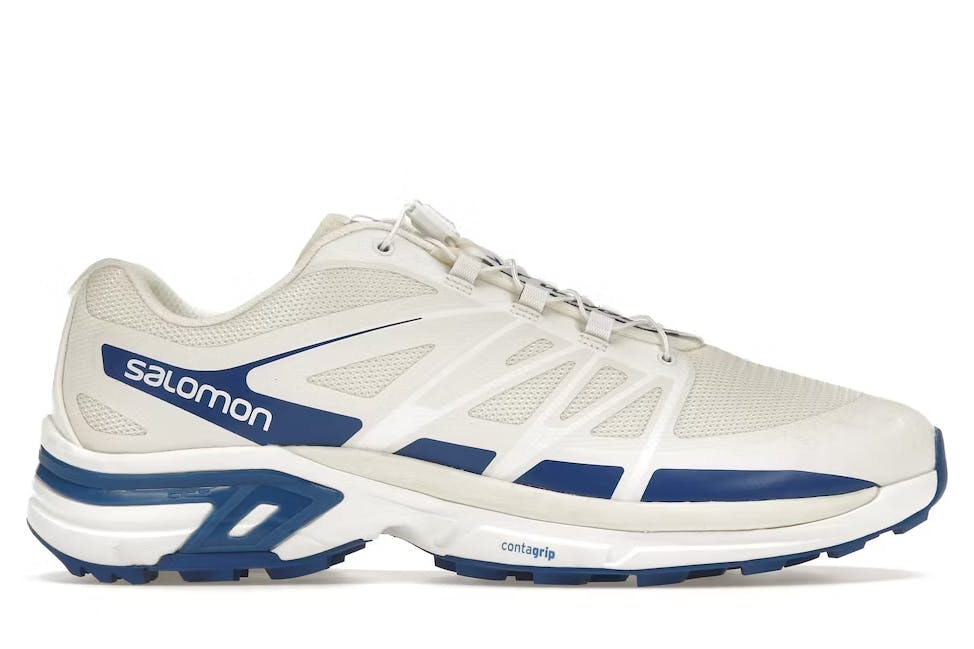 In typical JJJJound fashion, this is a sneaker devoid of loud branding or clashing colors. It's simplicity at its best.
The white shoe has contrasting hits of blue detailing that highlight the Montreal-based design studio's name and the model's technical features — which include sensiFIT, endoFIT, and a Contagrip sole.
Salomon XT-6 10th Anniversary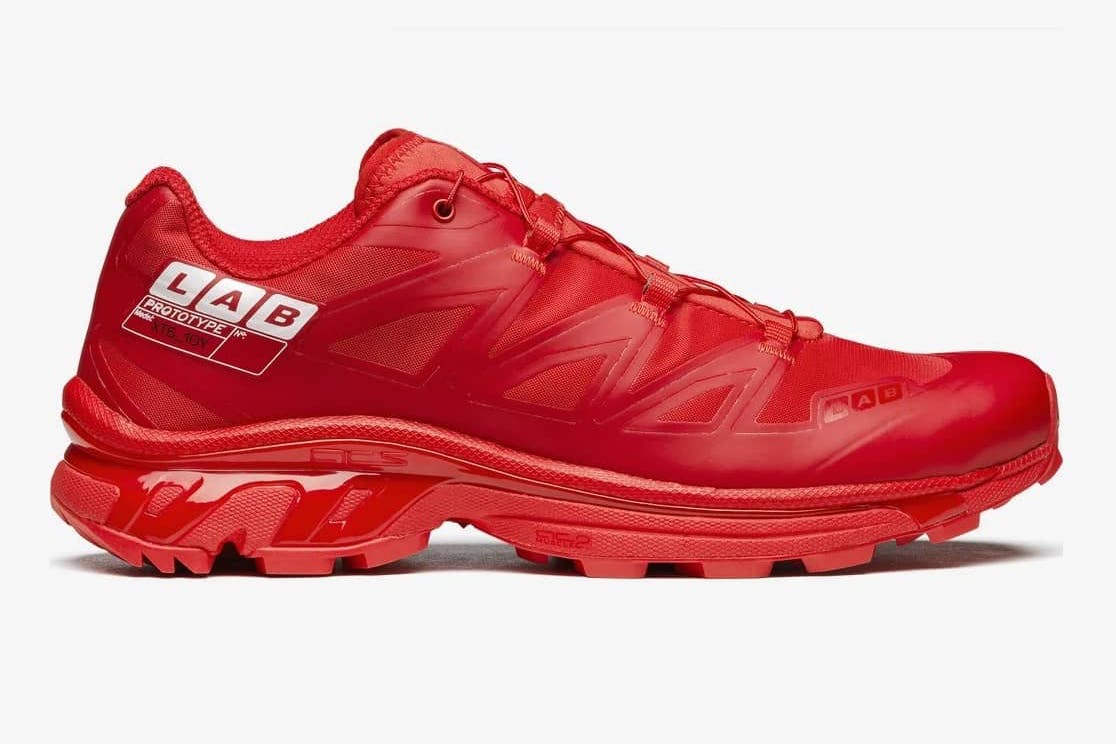 To celebrate its XT-6 model turning 10 years old, the start of this year saw Salomon have its own "Red October moment."
The shoe is a replica of the original prototype that was tested during the shoe's development by top athletes. Each of the 804 pairs created comes individually numbered with a prototype stamp at the heel. If you're a big Salomon fan, this counts as a collector's item.
The Broken Arm x Salomon X-Alpages GTX
A regular collaborator for Salomon, the Parisian retailer The Broken Arm did it again in 2023 and proved that it creates some of the best Salomons around.
This rugged mountain shoe comes with a hairy suede upper and waterproofing courtesy of a GORE-TEX membrane. Plus, each pair comes with an engraved lucky charm medal that can be attached to the tongue.
Salomon XT-6 RECUT
Part of the reason why Salomon is having such a strong year in 2023 is because it's been releasing models to celebrate the 10 year anniversary of its XT-6 model being released.
This pair comes from its RECUT pack, which brought back fan-favorite XT-6 models from over the years. Stretching from FW18 to SS21, the returning models proved to be just as popular this time around as the last.
Salomon x Aritzia XT-6
Canadian fashion brand Aritzia tried its hand at crafting an exclusive XT-6 colorway this year and it did not disappoint. This simple, soft colorway combines shades of brown and off-white on the upper to make the trail-running shoe look as clean as ever.
Salomon x Wood Wood Advanced XT-Slate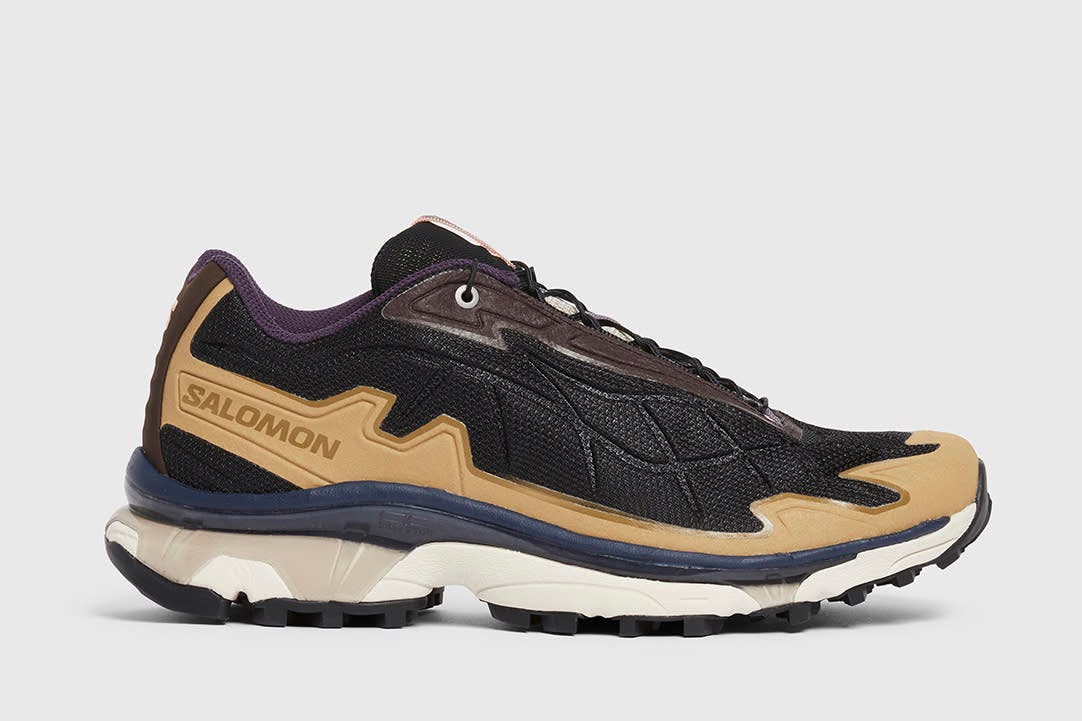 A Salomon model that probably doesn't get the respect it deserves, the XT-Slate is a lightweight outdoor shoe. It keeps to a pretty minimal look that accentuates the grooves in the upper.
Scandinavian label Wood Wood is one brand that has sung the XT-Slate's praises and it's done so with an exclusive colorway comprised of earthy tones inspired by nature.
Want to keep browsing? Download the Highsnobiety app for all the hottest products and brands from the Highsnobiety Shop. Highsnobiety has affiliate marketing partnerships, which means we may receive a commission from your purchase.