We're now comfortably into the second half of the year and there have been countless contenders for sneaker of the year.
From general release bangers and unexpected collaborations all the way to those cartoonish big red boots that made the internet have a meltdown, there's a lot to catch up on from this year in the land of footwear and popular sneakers.
To help navigate all of the raffles and release dates, we have a weekly roundup that covers all of the latest drops, but now it's time to look back at all the sneaker releases from 2023 to pick which ones are the best — so far.
While there's no saying how 2023 will influence the sneaker market moving forward, but the trends we saw develop last year have accelerated. In particular, niche footwear labels continue to get their shine, with the likes of CAMPERLAB, Salomon, and HOKA all being featured in the list below. But worry not Nike and adidas loyalists, you'll find your fair share of grail-worthy Air Maxs and Sambas by scrolling down below.
Hunting for cool sneakers? Scroll for the best sneakers of 2023… so far
KITH x Clarks x adidas Samba
Thanks to Wales Bonner's collaborative releases and the TikTok-fueled bloke-core trend, the adidas Samba has enjoyed considerable attention recently. And with that has come a barrage of collabs, from Palace to the Mexican Football Federation, but none have quite hit the levels of this one.
A three-way collaboration between Kith, Clarks, and adidas, the sneaker has the upper of a Samba, offered in the model's classic white and green colorway, with the chunky crepe sole of a Clarks shoe.
There's no shortage of collaborations in the sneaker industry, and this one took things one step further by bringing together three separate parties — something we might see more brands experimenting with.
ASICS x GmbH – GEL-KAYANO LEGACY
This year marks the 30th anniversary of the GEL-KAYANO and GmbH joined in the celebrations by creating two new versions of the GEL-KAYANO LEGACY.
The shoe, which is a mishmash of archive models from the past 30 years, has been upgraded in a simple white/black colorway as well as a more striking bright green version. The Berlin-based fashion label and Japanese sportswear icon have a long history of collaborations and this might be their best yet.
Corteiz x Nike Air Max 95 SP
Nobody has mastered the art of guerrilla marketing quite like Corteiz and the brand's trio of Air Max 95 collaborations saw it once again hit the streets to give out products to floods of loyal fans.
It all started in London with a crossbar challenge where those with good aim got a pair of sneakers and ended with the streets of Paris packed with people chasing a bus that promised to provide fans with access to exclusive sneakers.
But regardless of the marketing around these sneakers, it's the design that's gotten them on this list: complete with heavy-duty mesh, hits of Corteiz branding, perfectly concocted colorways, and even a classic 2000s Air Max box to finish. For me, the green pair above takes the biscuit as being the highlight of the three drops.
RANRA x Salomon Cross Pro Better
Two labels that specialize in practical outdoorwear, RANRA and Salomon linked up for a second time this year and made the Cross Pro even better (as the name suggests).
The shoe comes in two colorways through a natural dye process that elevates its recycled polyester and canvas upper. And if you're wondering what to wear with the shoe, RANRA's FW23 collection has the perfect jacket in a matching red and orange colorway.
Adidas Stan Smith Homer Simpson
A rare combination, memes and sneakers collide on the Adidas Stan Smith Homer Simpson.
For anyone who doesn't instantly recognize the image on the heel of this shoe from the .GIF of Homer Simpson slowly backing into a bush, it's taken from The Simpsons episode "Homer Loves Flanders."
Having a permanent place in the internet hall of fame, thanks to how often the scene has been turned into a meme, adidas has added it to the back of its iconic Stan Smith sneaker. But it also went one step further, adding Homer to the box that the sneaker comes in and placing his name on the side of the shoe.
New Balance x Aimé Leon Dore 860v2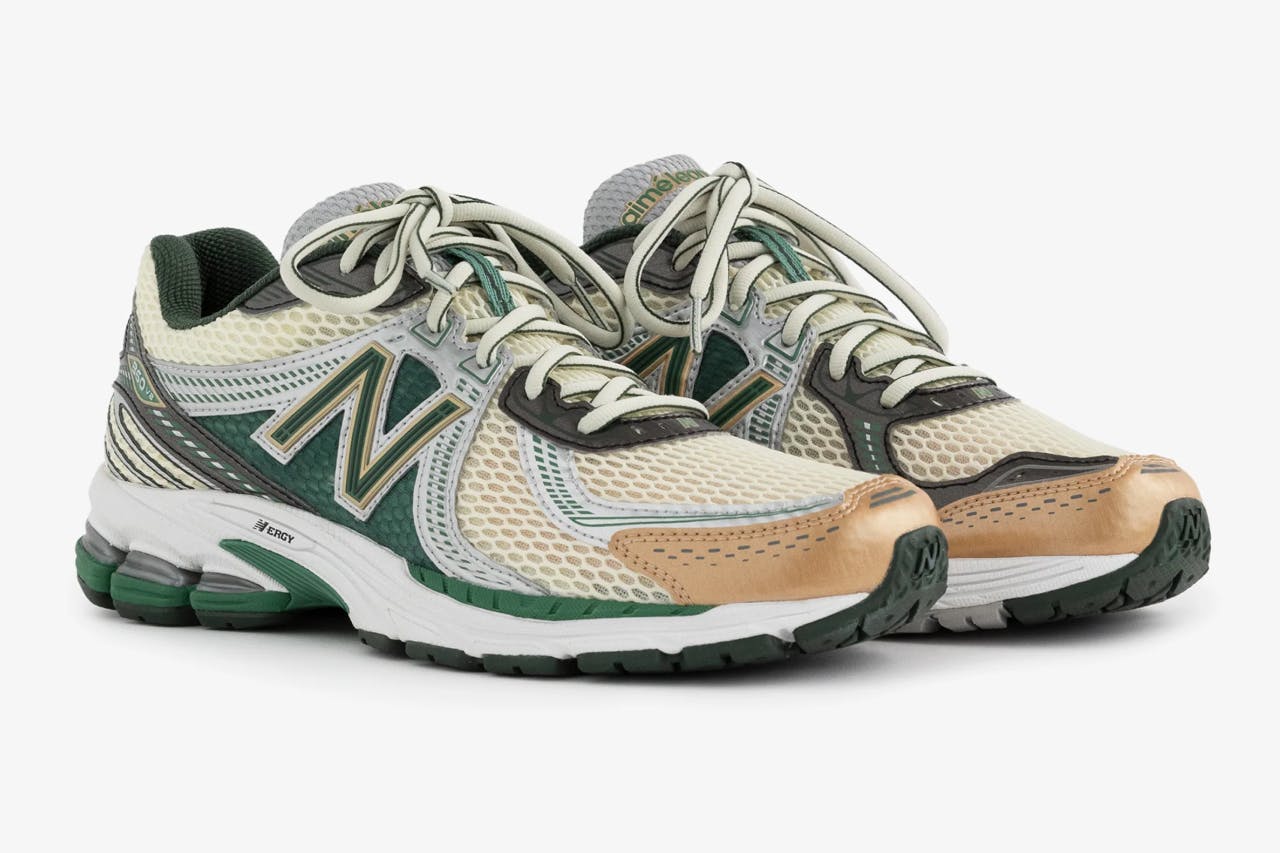 While previous years would've seen Aimé Leon Dore's variations on the New Balance 550 or 650 topping sneaker of the year lists, the number of pairs that have been released combined with the amount of online attention they garner has led to some sneaker fatigue.
This year, we're more excited to see what the Teddy Santis-led outfit can produce out of New Balance's other models.
So far, we've seen the brand experiment on models like the Rainier hiking boot and 1906r but this pair of 860v2s, with that cream mesh on the upper, is the highlight. You can expect to see a lot more from this model in the near future.
BAPE x Highsnobiety BAPE STA
While we might be a bit biased, the BAPE x Highsnobiety collaboration deserves a spot on this list.
Linking up with the streetwear OG for a fourth time, our collection is a full 19-piece drop that comes together to create a full fall uniform with two pairs of sneakers: a BAPE STA and a ROAD STA Express.
Shown here is our limited-edition BAPE STA model. The shoe comes decked out in neutral-hued leather with a contrasting, textured caviar leather STA logo running along the sides of the upper. Further detailing on the limited-edition shoe includes an APE HEAD lace charm and double heel tab.
Nike Jordan 4 Retro SB
With the sneaker industry dominated by online raffles, email sign-ups, and bots, seeing people camp outside skate shops and flood the streets to try to get their hands on a pair of these felt like a throwback to how sneaker collecting used to be done.
And while I can't support anyone who caused any damage to shops while trying to cop these, you can't blame people for going a bit feral. Released in the classic "Pine Green" color scheme, the shoe sees one of Air Jordan's most popular models turned skate-able by Nike's skate-focused sublabel.
In the words of James Arizumi, Global Senior Design Director, Jordan Brand Special Projects: "The Nike SB x Air Jordan 4 is a way for two communities of sport to pay respect to one another and represents the collision of basketball, skate culture, and style that brings them both together."
ASICS x OTTO958 Gel-Flexkee Pro
Retro football shoes are having a moment, and we're not just talking about the adidas Samba. There's been the New Balance RC30, , and the collaboration that's shown above, ASICS x OTTO958.
Taking inspiration from early 2000s astro-turf football shoes, the model comes with a flappy tongue — a popular feature for football boots from that time — that partly covers an asymmetric lacing system.
A regular collaborator for ASICS, Kiko Kostadinov makes up one-half of OTTO958 alongside contemporary art gallery Morán Morán.
Moncler x Salehe Bembury Trailgrip Grain Sneakers
From watertight outerwear to utilitarian backpacks, the Moncler x Salehe Bembury collaboration provided a functional uniform for the great outdoors. And while it was the designer's first full ready-to-wear collection, the sneaker expert couldn't resist customizing Moncler's Trailgrip sneakers.
Arriving in three colorways, the outdoor-focused sneakers are crafted from embroidered ballistic nylon, made waterproof through a GORE-TEX membrane, and sits on top of a special Vibram MEGAGRIP rubber compound.
This might be a luxury sneaker but it's made to perform in tough conditions.
Visit Highsnobiety to view this part of the article.
adidas x Wales Bonner Samba Metallic
Have adidas and Wales Bonner ever missed? I'd argue not.
The pair continued their strong collaborative run in 2023 with new retro running sneakers, full tracksuits, and neutral-colored nubuck Sambas. Trying to pick a highlight from the newest adidas x Wales Bonner collection isn't easy, but we've done just that.
The silver Samba sneakers see Bonner experiment with the silhouette that's come to define her output with adidas. Complementing the mirrored upper, it's detailed with crochet stripes and an old-school, extra-long tongue.
Visit Highsnobiety to view this part of the article.
Salomon x Sandy Liang XT-6
Arriving together with a collaborative version of Salomon's RX Moc 3.0, this pink-hued Salomon XT-6 is one half of a capsule created with Sandy Liang inspired by the Pokémon characters Jiggly Puff and Whimsicott.
Possibly the first time that any outdoor, hiking-focused shoe has been inspired by Pokémon, the New York-based designer spoke exclusively with Highsnobiety about the sneaker, saying: "There is a sportiness to Salomon that resonates with me; I like to believe you can do anything in one of my dresses. Growing up in the 90s, I loved wearing sneakers, and I incorporated this into my designs: inspired by nostalgic colorways and details like the anime floral decal."
Levi's x Crocs All Terrain Clog
The Crocs collaboration machine is relentless and it continues to be so for 2023, serving up a whole host of new link-ups. One stands out in particular, though, and that's Levi's x Crocs.
Decking out a pair of clogs in denim (we've had , now we have Jrocs) the shoes are part of Levi's continued celebrations for the 150th anniversary of 501® jeans. Complete with Sashiko stitching, a traditional Japanese embroidery technique, and the iconic Levi's red tab, denim footwear is something we didn't know we needed at the start of this year.
LORENZ.OG Salomon ACS+ OG
Adding LORENZ.OG's signature gradient color schemes to a pair of Salomon trail sneakers was always going to be a winning combination, and this shoe might just have exceeded expectations. The artist's ever-popular "PATENTED COLORSCHEMES®" takes this white shoe into new territory.
Rock this pair together with one of the LORENZ.OG's custom Arc'teryx jackets and you might just have the most colorful outdoor-ready outfit possible.
CAMPERLAB Tormenta
CAMPERLAB seems to be in competition with itself to create the most abstract sneaker silhouette possible. And the Tormenta might just be its most unconventional model to date.
The brainchild of creative director Achilles Ion Gabriel, the shoe is crafted using cutting-edge, sustainable fabrics — something we've come to expect from Ion Gabriel's designs. These materials include: the plant-based fiber Sorona, a mushroom-derived regenerative compound named HyphaLite, and plastic-free leather alternative MIRUM.
New Balance x KITH 993
Two highly regular collaborators, KITH and New Balance have an almost endless list of grail sneaker releases under their collective belt and they added to that list in 2023 with this 993.
Mixing together a palette of pastel blues, yellows, and greys, it's colorways like this one that have made KITH collaborations so desirable over the years. And when you combine that with the elevated craftsmanship of New Balance's Made in USA line and the textured suede on the upper, there's really no going wrong.
Nike Air Jordan 1 Retro Low OG 'Year of the Rabbit'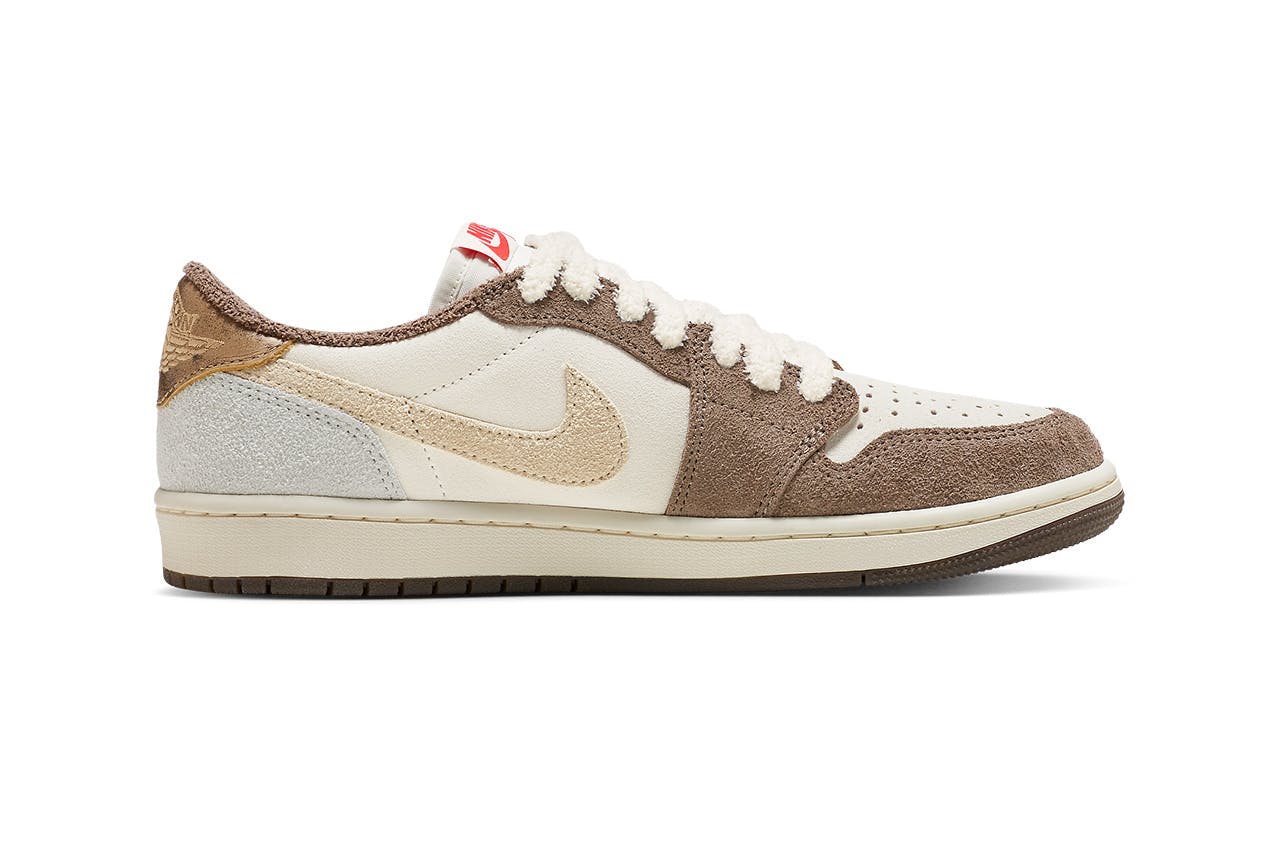 The lunar new year welcomed the year of the rabbit in January 2023 and with that came countless fashion and sneaker collections. One that especially stood out is this Jordan 1 crafted in a brown, grey, and off-white color combination.
Limited to only 5,000 Pairs, the sneaker comes with a fuzzy suede fabric on the upper which is matched by the thick, furry laces that add extra texture. It is easily one of the best sneakers of the year.
AWAKE NYC x ASICS GEL-NYC™
The start of the year saw regular collaborators Awake NY and ASICS join forces to add to their growing list of grail-worthy collaborative efforts.
Launching a new model titled the GEL-NYC, the New York-based label crafted the shoe in a more minimal purple, grey, and gold variation along with this pair that brings together pastel pink with teal blue. Building from ASICS' vast archive of vintage runners, this model is stamped with AWAKE's logo at the heel.
Releasing alongside collaborations with Andersson Bell and Brain Dead during Paris Fashion Week, any of the collaborations that ASICS launched during that busy period could've easily made it to this list.
_J.L-A.L_ x HOKA Tor Ultra Low
Fledgling London-based technical-wear label _J.L-A.L_ started the year strong on the sneaker front. First, it linked up with HOKA on a duo of GORE-TEX sneakers and then mere months later we were treated to an exclusive version of ROA's Katharina sneaker.
Trying to pick which of the sneaker collaborations to include in this post took some debating, but we ended up opting for these.
Before the release of the sneaker, founder and designer of _J.L-A.L_, Jean-Luc Ambridge Lavelle, told us: "Something I've always admired about HOKA is their tendency to abstain from the norm, I've always been a fan of their sneakers and the design language the brand has established. It's something that stems from function and has inherently become a recognizable staple within the industry."
Nike x PEACEMINUSONE Kwondo 1
Known as the "King of K-Pop," South Korean rapper, singer-songwriter, and fashion designer G-Dragon brought back his Kwondo 1 model with Nike in a "panda" colorway for 2023.
Created through G-Dragon's brand PEACEMINUSONE, the leather model borrows its shape from classic brogue shoes and combines it with sneaker sensibilities through Nike's iconic swoosh and a co-branded fringe tongue.
If you insist on wearing Nike shoes with a suit, you better make sure that it's a pair of these.
MSCHF Big Red Boot
Is it a sneaker? Is it a boot? To be honest, I have no idea how to categorize MSCHF's Big Red Boot.
Created by MSCHF Sneakers, a footwear-focused subline run by the art collective MSCHF, these shoes went even more viral than any of their previous exploits — which have included medical boots turned sneakers and a Jimmy Fallon collab that's designed to be destroyed.
The cartoonish-looking shoe has proven to not be the most practical, with videos of wearers finding it impossible to take them on and off flooding the internet, but they did create the biggest footwear moment of the year.
New Balance x Stone Island 574 Legacy
First spotted on the feet of footballer Raheem Sterling at the end of 2022 while Stone Island and New Balance launched its football collaboration, the brand's collaborative 574 finally dropped in February after months of the hype building.
Combining ripstop with premium pig overlays on the upper, the shoe's simple colorway and sturdy fabrics come from military inspirations. But the highlight is, of course, the Stone Island patch that sits on the tongue with a green edge that's reminiscent of the original Stone Island badge.
Nike CLOT CLOTEZ Yin Yang
CLOT has turned the Nike Cortez into the Clotez with its design inspired by Kung Fu footwear and flexible 3-in-1 capabilities. Consisting of a slip-on outer layer and a removable sneaker, they can both be worn separately or brought together into one.
After a successful 2022 that included Union LA and sacai collaborations, CLOT is ensuring that the Cortez continues to get attention this year. While the model has always been a classic in Nike's sneaker arsenal, it's nice seeing it receive the respect it deserves.
Want to keep browsing? Download the Highsnobiety app for all the hottest products and brands from the Highsnobiety Shop. Highsnobiety has affiliate marketing partnerships, which means we may receive a commission from your purchase.