I've said it once, I'll say it a thousand times: Doublet founder Masayuki Ino is an underappreciated fashion genius. Ino is to luxury fashion as MSCHF is to the everyday and I just needed to reiterate that, thanks.
Doublet's Fall/Winter 2023 collection is packed with the sort of brilliant design cues you'd expect of someone as brilliantly unhinged as Ino. This season, the Tokyo-based designer explored "monsters," playing with the tropes of horror movies and costumes.
Ino transformed Freddy Krueger's signature sweater into an oversized Doublet pullover, for instance, and he also created a truly inspired pair of trompe l'oeil jeans that make it look like the wearer is being carried by a stuffed bear.
For all the ingenuity on display, I couldn't help but notice the similarities between the red iteration of Doublet's balloon bomber jacket and the YEEZY GAP Round Jacket that released amid much hubbub in 2022.
I firmly believe that all similarities here are coincidental, to be clear — Doublet's jacket is also available in YEEZY-friendly black and very un-YEEZY green — but the Doublet and YEEZY GAP jackets both share a similar wide n' cropped shape.
But Doublet's $1,205 jacket is balloon-ish by design, as it's presumably intended to riff off of the red balloon inextricably linked to IT's Pennywise. As such, the collarless jacket is laden with faux strings and balloon lips (what a weird phrase), plus more pockets than YEEZY GAP's version.
Plus, it's not like Ino to swipe Doublet designs from other brands, though he does enjoy a good parody. Perhaps Doublet's balloon jacket is a twofer, toying with both YEEZY GAP and IT iconography simultaneously. Certainly it's preferable to actual YEEZY GAP, no?
There are still plenty of other fun bits in Doublet's FW23 collection, including a splattered ice cream bag and tremendously nutty sandals created with Suicoke that look like a pair of bat wings folded around the wearer's foot, complete with furry footbed to complete the effect.
These are not for the faint of heart, though they do provide a sufficiently spooky alternative to the truly timeless fish sandal.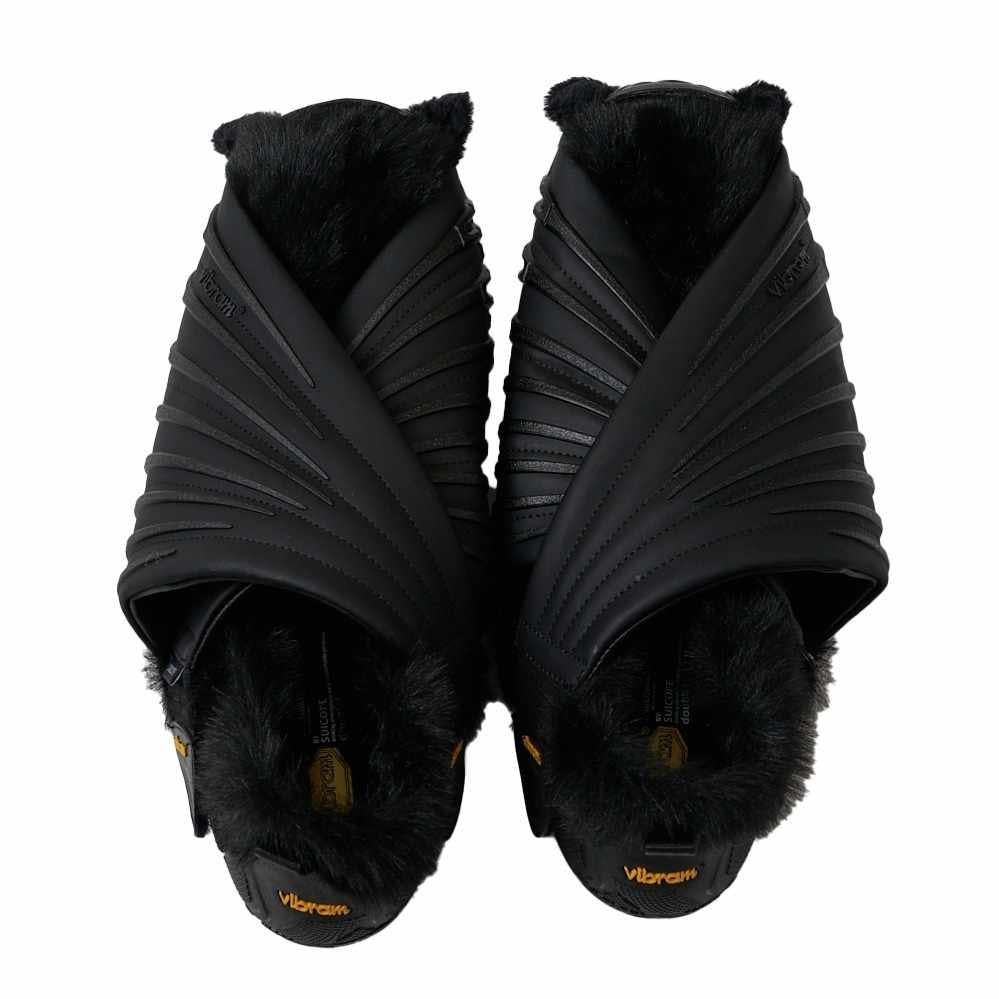 All that's to say that Doublet is always up to good stuff. Ino's work has become less conventionally wearable over time, I'd admit, but the lack of guardrails has only allowed his creativity to flourish.
And one thing very much worth noting: whereas so many brands that do quirky fashion are content to cut quality corners because they believe that wacky designs trump craft, even the weirdest Doublet bits are made to impressive quality.
That is to say, Doublet is perpetually sincere. It makes genuinely nice clothes, even when they're shaped like balloons and bats.