Chris Pine is leaning into a self-described '70s Tom Selleck fashion era with the the debut of yet another beautifully elderly sweater on The Today Show in mid-November. While promoting Disney movie Wish, Pine appeared on the morning show wearing straight-leg grey pants and a bright orange button down shirt with black boots.
Key to his look was a navy blue smoking jacket-style cardigan, complete with a red pattern that resembles a vintage silk handkerchief or the ties from the Macy's Father's Day tables you gifted your dad back in the day. 
After being spotted leaving a Los Angeles dance studio multiple times in the past couple of weeks wearing leggings, work out shorts, and a cozy technicolor rainbow sweater from The Elder Statesman, Pine's most recent look stays firmly within the "nan-core" lane, just dressed up a smidge.
He looks like he might have a tin of snuff or a pipe in his pocket, you know? And it's actually pretty great.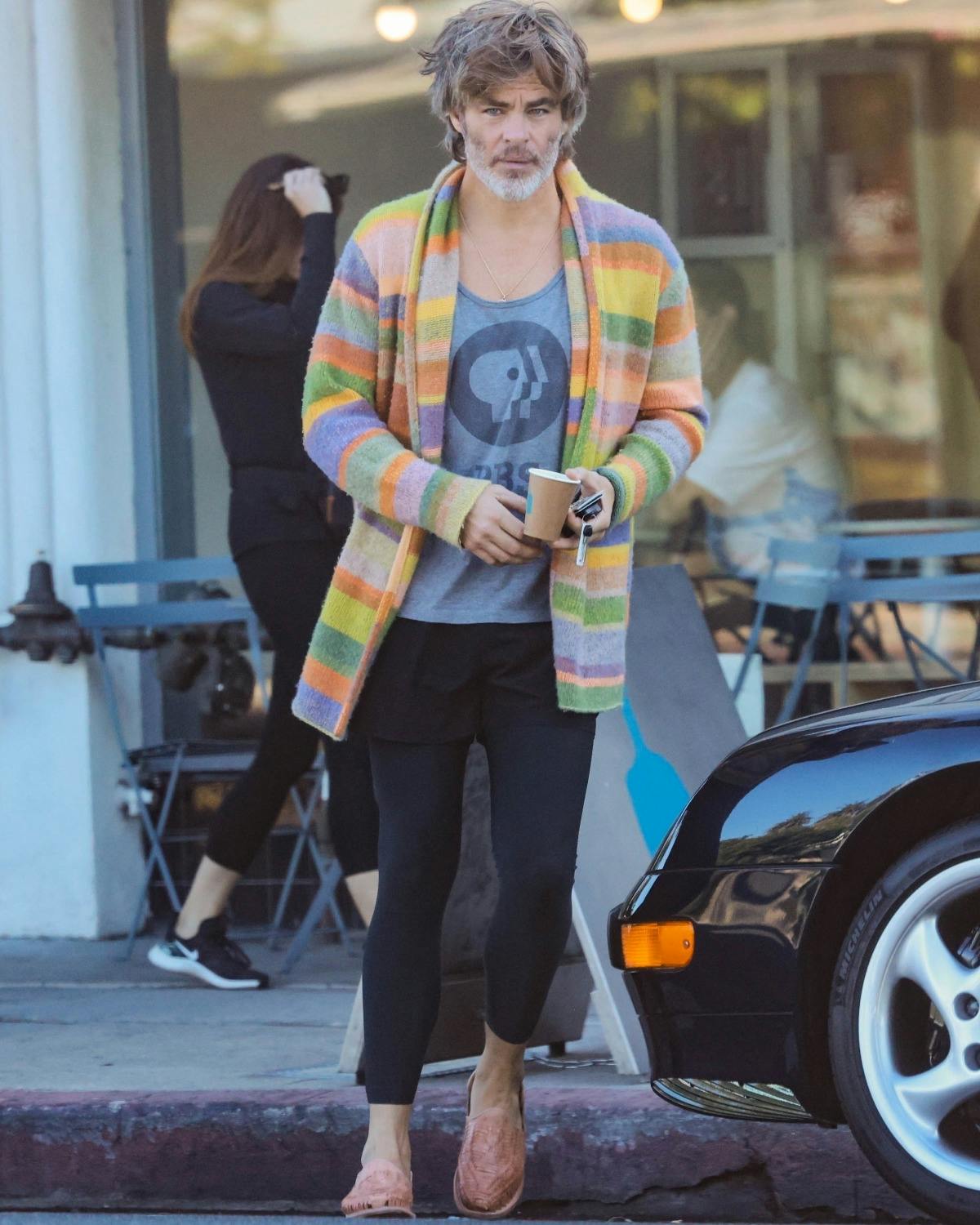 Pine told E! News that he was going for a "1970s surfer…Tom Selleck" vibe when recently asked to defend a pair of very-short shorts that the paps caught him wearing. To be honest, all three of Pine's looks are now coming together.
Paired with the smart old-man jacket, the deep V of his orange collared shirt screams Magnum PI.
If we put Pine in a time machine with his rainbow sweater, short shorts, and  fiery button down, then rocketed him right to 1970s Beverly Hills, no one would think twice about him meandering in and out of a house party.
To be honest, this sounds like a great screenplay, and we've already taken care of casting and wardrobe. 
Now that the SAG-Aftra strike is over and celebs are out promoting their work again, Pine should be making many more appearances to promote The Hunger Games prequel and Wish. I'm looking forward to seeing him outdo himself, grandpa style, one modest sweater and oversized collar at a time.