Updated rates for November 2023. Raisin (formerly SaveBetter) is a financial marketplace that allows you to access high-interest certificates of deposit and savings accounts from multiple different banks and credit unions without having to open up a new account at each one. Every participation institution is either FDIC-insured or NCUA-insured. The participating banks, product terms, and interest rates change regularly. SaveBetter is now Raisin, to better match the same popular service that runs in Europe. Here are the top Raisin offers as of 10/10/2023:
High-Yield CDs
5.60% APY for 5-month CD.. Minimum opening deposit is $1.
No-Penalty CDs
5.40% APY for a 16-month No Penalty CD. No early withdrawal penalty. Withdrawals may be made 7 calendar days after opening.
Liquid Savings
5.28% APY Savings Account. Minimum opening deposit is $1. No limit on number of transactions.
Background on Raisin. Raisin is a marketplace for partner banks and credit unions looking to promote their deposit products. They offer liquid savings account, No-Penalty CDs, and High-Yield traditional CDs. Funds are held in a custodial account at the bank or credit union that is providing your selected savings product(s). The banks are all FDIC-insured and the credit unions are all NCUA-insured. Raisin does not charge any monthly maintenance fees. Raisin's US operations are a subsidiary of Raisin GmbH, a German financial company that also offers high-interest deposit products across Europe.
The benefit for the consumer is that you can easily access promotional rates at a new bank or credit union without having to open yet another new account (and endure credit checks, identify verification hurdles, join partner organizations, leave funds in share savings accounts, etc). This makes it easier to chase higher savings accounts and CD rates. You must link a single external bank account and make all your deposits and withdrawals electronically through that linked account. You can only have one external bank account linked at a time, so choose carefully.
A drawback is that you do not get direct access to your Raisin sub-accounts via routing number and account number. You must go through the Raisin site to open accounts, make deposits, and make withdrawals. Your single linked external bank is your only access to Raisin, so in a way I mentally name it also as my "Raisin bank account". Here is a simple illustration I made that helps me visualize this setup: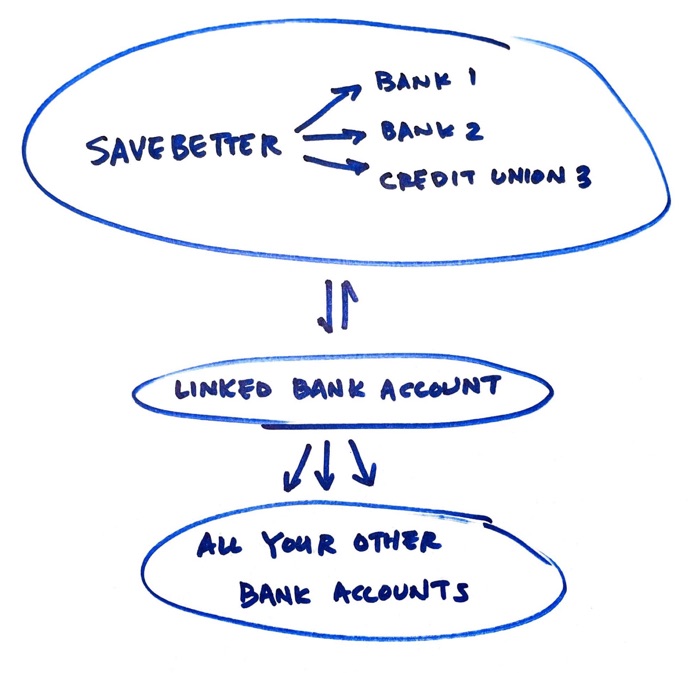 Here are some more details from the Raisin site:
5. What is a custodial account and how does it work?
Custodial accounts are involved in how Raisin directs the money transfers from customers to the banks and credit unions holding their savings. When a customer makes a deposit through their Raisin account into a savings product offered by a given financial institution, the funds move from the customer's external bank account (also referred to as the reference account) to an omnibus custodial account held by Lewis and Clark Bank (functioning in the role as a custodian bank) at the financial institution offering the savings product.

6. How does pass-through deposit insurance work?
Although Raisin customers' deposits are pooled in omnibus accounts, there is no impact on the eligible deposit insurance coverage you receive from the financial institution holding your savings. This is because the government entities providing federal deposit insurance — the FDIC for banks and NCUA for credit unions — permit pass-through coverage. So your money that's pooled in a custodial account still has the coverage it would have were it held in an individual account in your name.
I suspect this setup is a lower cost structure for the banks as well, which in turn allows higher interest rates. After learning about omnibus accounts, I noticed that other places like Fidelity Investments also use them in their cash sweep accounts as temporary holding accounts. Search for "omnibus" in your terms and conditions. This is also similar to how "brokered CDs" are usually managed when you buy them through a broker like Vanguard and Fidelity – the funds are pooled together at the issuing bank and don't include individual account numbers. Same with the FDIC-insured accounts inside many 529 plans.
Referral bonus for $5,000+ deposit. The minimum deposit on Raisin for both their savings and CDs are usually as low as $1 (each product has different terms). However, if you are new to Raisin and plan to deposit at least $5,000, they do have a referral program if you open via a referral link and enter my personal referral code jonathanp31786. You must deposit $5,000 for 90 days to earn $25, and then additional $5 for every subsequent $5,000 deposit past that, up to a max of $125 bonus. Here's the fine print:
Making $125 has never been so easy or rewarding. Simply enter in the code you received from your friend or family member when you sign up for an account with Raisin. Once you fund your account and maintain an initial balance of $5,000 or more for 90 days, you will earn a minimum bonus of $25 and a maximum bonus of $125 depending on the account balance you maintained after 90 days. The bonus will be paid out within 30 days of qualification. Funds will be deposited into your external bank account linked to Raisin.
"The editorial content here is not provided by any of the companies mentioned, and has not been reviewed, approved or otherwise endorsed by any of these entities. Opinions expressed here are the author's alone. This email may contain links through which we are compensated when you click on or are approved for offers."
5.60% APY CDs, 5.40% APY No-Penalty CDs, 5.28% APY Savings via Raisin (Formerly SaveBetter) from My Money Blog.
---
Copyright © 2004-2022 MyMoneyBlog.com. All Rights Reserved. Do not re-syndicate without permission.