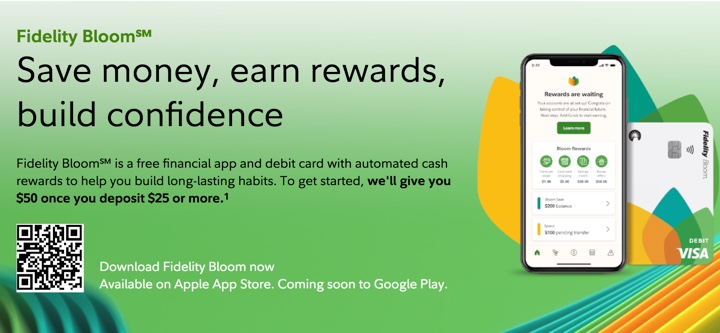 Fidelity Bloom is a new financial app from Fidelity Investments targeted at helping young adults become more financially aware and develop better savings habits. The app is currently iOS only, Android "coming soon". Fidelity has included many "behavioral pyschology" features from other fintech startup apps like a match on savings transfers, debit card cash back rewards, rounding up purchases and saving the difference, and shopping portal cashback. There are also $86 in total bonuses available:
$50 new Bloom app user bonus. Open a new Bloom account via app (iOS only currently) and fund it with $25 and get $50 into your Bloom Save account. Must open via app; use the QR code. Valid for both new and existing Fidelity brokerage customers.
Annual savings match. Through the end of 2022, new customers will receive an introductory 10% match on the first $300 saved into their Bloom Save account ($30 max for 2022). Standard annual match is 5% on first $300 saved ($15 max for 2023).
10 cents from Fidelity with every debit card purchase. Fidelity will automatically deposit 10 cents into the Fidelity Bloom Save account every time customers use the Fidelity Bloom debit card. New users get a upfront $1 bonus for learning about this feature for a limited time.
Automatically round up purchases into savings. Customers can automatically round up5 purchases to the nearest dollar and have the difference moved to savings from their Fidelity Bloom Spend to their Fidelity Bloom Save account.
Up to 25% cashback through shopping portal. Receive up to 25% cash back into your Fidelity Bloom Save account when you shop in-app with 1,100+ participating retailers. New users get a upfront $5 bonus for learning about this feature for a limited time.
Interest rate? Is it a bank account? Is it a brokerage account? You get a routing number and account number for your two accounts, but the cash seems to be held like their other non-retirement accounts. During the sign-up process, you can pick between one of three options for your core position:
Fidelity® Interest-Bearing Option (FCASH)
Fidelity Government Money Market Fund (SPAXX)
Fidelity Treasury Money Market Fund (FZFXX)
None of these options appear to be FDIC-insured. I have confidence in Fidelity's stability and conservatism in running these money market mutual funds, but something to note. The rates may change daily, but as of 7/7/2022, FCASH yielded 0.69% APY, SPAXX 7-day yield was 1.03%, and FZFXX 7-day yield was 1.03%. View current rates here.
After you open via app, you can see the account balances at Fidelity.com but you'll still need the app to change any settings. Here's a screenshot from my app.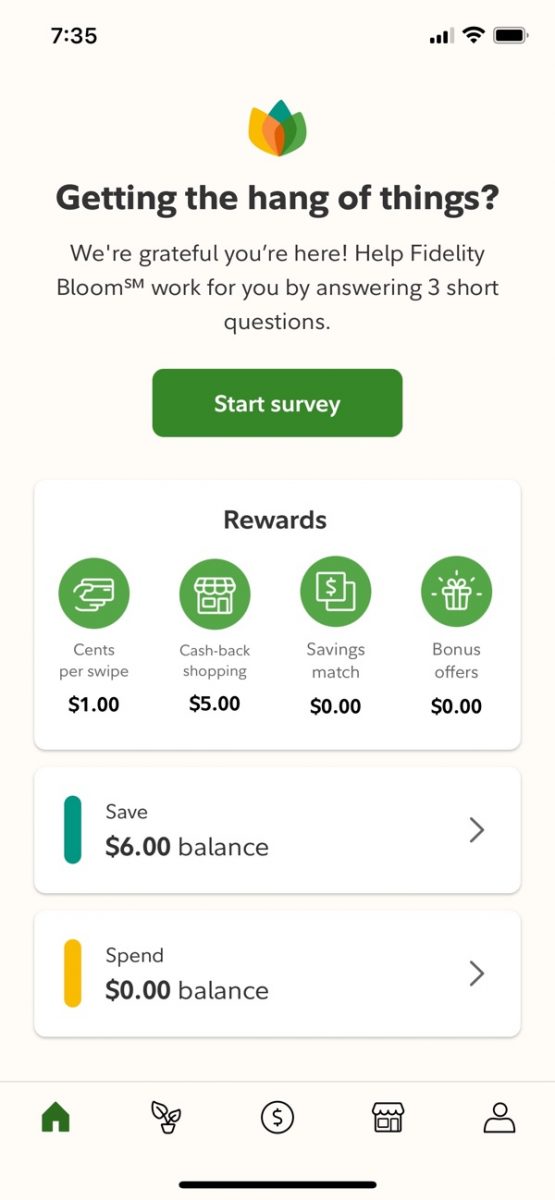 Is the new boss going to be same as the old boss? If you can offer the fancy software UI backed by solid customer service infrastructure, then that will be hard to beat.
"The editorial content here is not provided by any of the companies mentioned, and has not been reviewed, approved or otherwise endorsed by any of these entities. Opinions expressed here are the author's alone. This email may contain links through which we are compensated when you click on or are approved for offers."
Fidelity Bloom App: Fintech Feel from Traditional Name ($50-$86 Bonus) from My Money Blog.
---
Copyright © 2004-2021 MyMoneyBlog.com. All Rights Reserved. Do not re-syndicate without permission.