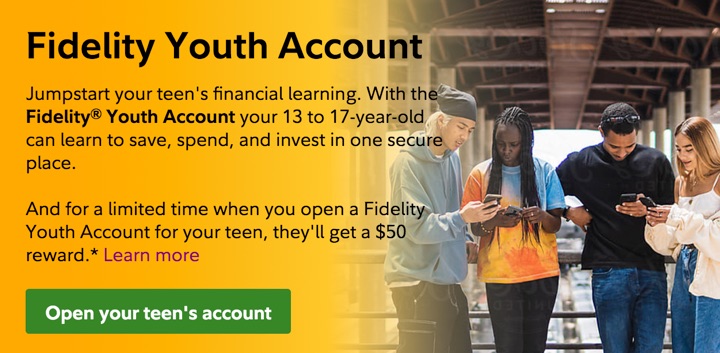 Fidelity Investments has a new $50 promotion for their Youth account for teens (aged 13-17). Parents must have their own open Fidelity account before opening a Youth account. After you open a new Youth Account and your teen downloads the Fidelity Mobile® App and activates the new account, your teen will receive a $50 deposit as a reward. No deposit required, no monthly fees, no minimum balance required.
Details from their FAQ:
We are hoping to help your teen jumpstart their financial journey by helping them learn about money. Using our mobile app, they can access the Youth Learning Center, which is a resource created specifically to help teens learn the basics about saving, spending, and investing.
Parent/guardian must have their own Fidelity brokerage account to open an account for their teen.
Parent/guardian must initiate the application process and once completed, the teen will receive instructions on how to download the Fidelity Mobile® App and activate their account.
There are no funding requirements to receive this reward.
No further investment or trading is required to qualify for the offer.
The reward will be deposited directly to the eligible account within 10 calendar days after the teen has downloaded the Fidelity Mobile® App and activated their account (which entails creating a username/password, and logging into the mobile app and accepting account agreements). Amounts deposited by Fidelity in the form of the reward will be initially held in the Fidelity Government Money Market Fund,* the eligible account's core position.
To open a Youth Account you will need 2 forms of documentation to verify your teen's identity. Acceptable forms of documentation include:
– Your teen's Social Security card OR a copy of the first page of your latest filed 1040 tax return. This document should have your teen's name and Social Security number (SSN) clearly visible.
– An unexpired document with your teen's name (state-issued driver's license, passport, birth certificate, or student ID card).
"The editorial content here is not provided by any of the companies mentioned, and has not been reviewed, approved or otherwise endorsed by any of these entities. Opinions expressed here are the author's alone. This email may contain links through which we are compensated when you click on or are approved for offers."
Fidelity Youth Brokerage Account: Free $50 for Teens (13-17yo, No Deposit Required) from My Money Blog.
---
Copyright © 2004-2021 MyMoneyBlog.com. All Rights Reserved. Do not re-syndicate without permission.