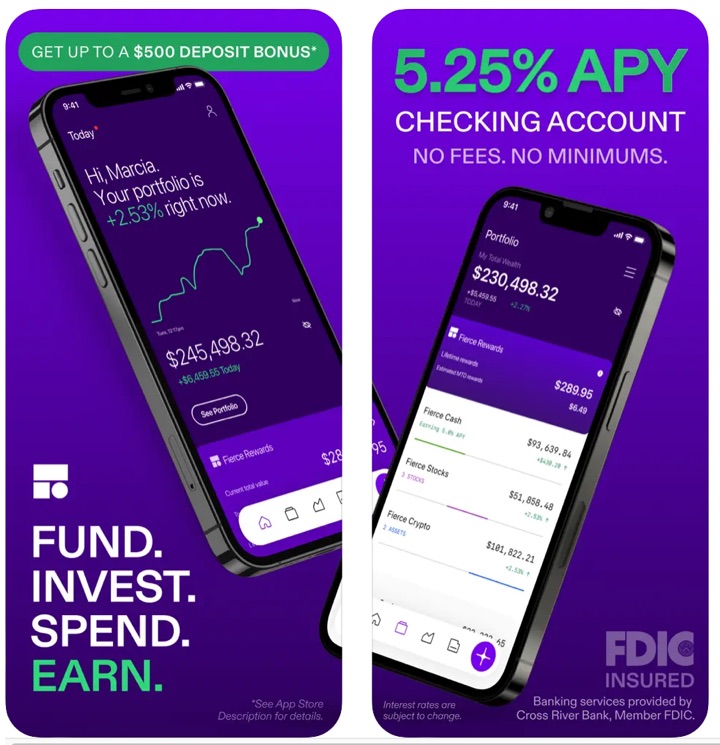 Fierce Finance is another small fintech with big ambitions. Currently available as an iPhone app (Android "coming soon"), it combines a checking account, stock trading, and crypto. Notably, the checking account pays 5.25% APY and has new customer bonus of up to $500 depending on deposit size. Additional details below.
Banking
5.25% APY (as of 9/12/23) on the Fierce Checking Account.
No monthly fees, no minimum balance requirement.
Banking services provided by Cross River Bank, Member FDIC.
Uses the Allpoint ATM network of 55,000 surcharge-free ATMs worldwide.
"Live Support via phone, email, or live chat."
Investing
It says "zero management fees", I can only guess they also have zero stock commissions like nearly everyone else.
Brokerage services provided by FIN2, member FINRA and SIPC.
"Earn yield on your stocks" – I'm guessing this is also just fully paid securities lending.
Regulated Crypto Trading in all 50 states.
Deposit Bonus details. If you open a new Fierce account and reach one of the deposit tiers below within 30 days of account opening, keep it there for 180 days, and keep your account open for 210 days, you can receive the following bonus amount:
$25 for deposits of $1,000+
$100 for deposits of $10,000+
$200 for deposits of $30,000+
$500 for deposits of $100,000+
If everything goes perfectly, the $100 for $10,000 deposit tier would add about 2% to your APY over that period (in reality probably a little less). As long as they maintain their currently competitive interest rate, it's not a bad combined total return for 6-7 months.
You may also be able to go through Swagbucks and stack with their bonus (currently I see 3,000 SB for a $25 deposit).
Full terms and conditions from the App Store page:
The Deposit Bonus offer is only available to new customers that meet all current account opening requirements.

To qualify for the Deposit Bonus, you are required to open a new Fierce account and initiate cumulative new money deposits, according to the table below, within 30 days of account opening. The cumulative value or greater must remain in your Fierce account for a minimum of 180 days. The Deposit Bonus will be credited to your Fierce Cash account at the end of the following month. Accounts must be kept open for 210 days from the time of qualifying. Normal account service charges and miscellaneous charges may apply to the Fierce account, which may reduce earnings.

Deposit Bonus:
$25 for deposits of $1k+
$100 for deposits of $10k+
$200 for deposits of $30k+
$500 for deposits of $100k+

The Deposit Bonus offer cannot be used in combination with any other Fierce promotional offer. For tax purposes, the value of the bonus will be reported to the IRS on Form 1099-INT. Fierce reserves the right to limit an individual to one account-related gift incentive per rolling 12-month period. Accounts closed at the time of bonus payment are not eligible. Offer is subject to cancellation without notice and cannot be combined with any other bonus offer. Fierce is not responsible for, and will not honor, promotional offers that appear on third-party websites that are not authorized by Fierce.
"The editorial content here is not provided by any of the companies mentioned, and has not been reviewed, approved or otherwise endorsed by any of these entities. Opinions expressed here are the author's alone. This email may contain links through which we are compensated when you click on or are approved for offers."
Fierce Finance Review: 5.25% APY + Up to $500 Deposit Bonus (App Only) from My Money Blog.
---
Copyright © 2004-2022 MyMoneyBlog.com. All Rights Reserved. Do not re-syndicate without permission.