As Volker Haug Studio continues to expand its design repertoire, its latest lighting additions underscore the studio's dual ethos of creativity and craftsmanship. Shaking up the decorative lighting industry since its 2004 establishment, Volker Haug has demonstrated a commitment to artful illumination which pushes boundaries and redefines convention.
The ever-expanding collections of Volker Haug continue to charm those with an instinct for distinctive, imaginative design. Characterised by its emphasis on sustainability, impeccable artistry, and a signature touch of whimsy, the studio aims to cast a warm and captivating glow on the world of interior décor. We take a look at two of Volker Haug's newest lighting additions.
Wall Stitch joins the und Messing collection
The und Messing collection, meaning 'and brass' in German, embodies the culmination of ideas two years in the making. Each piece within this collection exudes the personal touch of its creator in a thoughtful homage to its unique origins. Subtle, tactile traces of the crafting process introduce a human element to each product which reflects the immense care, skill and time taken with each product. At the heart of these designs is a fascination with brass and a desire to explore the possibilities of the material deeper than before.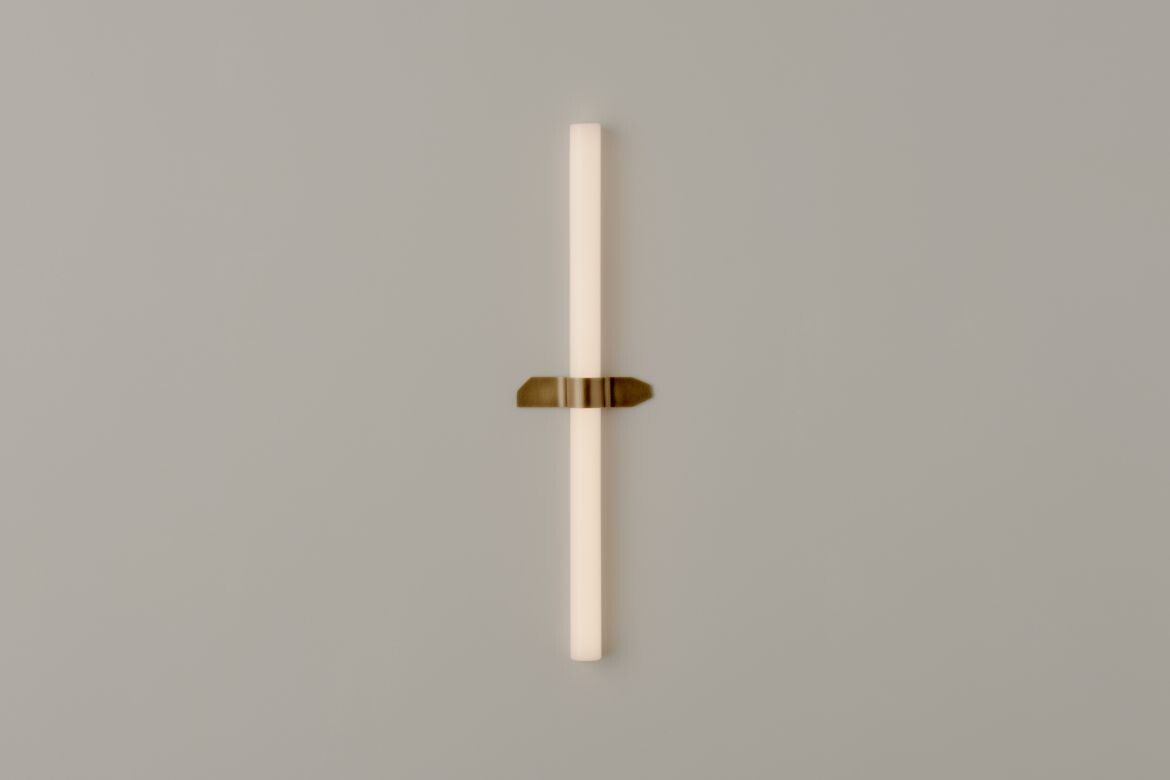 Incorporating clean lines and an uncomplicated form, Wall Stitch is the latest addition to the und Messing series.
This contemporary addition combines two popular yet contrasting materials: glass and brass. Volker Haug's partnership with local fabricators provides real-time control over the production process, allowing the studio to explore the more unorthodox attributes of the materials, often yielding surprising results. Wall Stitch represents the ongoing quest for innovative brass working techniques and the strides made in these discoveries.
Oddwall joins the Oddments series
The Oddments series is a well-known collection which embodies Volker Haug's dedication to producing lighting design which defies convention.
As a versatile and expandable system of arcs, Oddments offers a range of sizes which enable horizontal and vertical extensions as well as opportunities for creative interplay. This provides designers with unprecedented flexibility, delivering lighting elements which are not constrained by scale or surroundings and can be freely used to create unique lighting installations. Each piece from the Oddments collection is a fusion of the playful and the refined, characterised by a soft-spoken quirk that distinguishes the signature Volker Haug Studio aesthetic.
Naturally, Oddwall fits the Oddments bill. A deceptively simple pendant light, Oddwall is composed of brass and blown glass which is hand-finished to specification. Featuring an attenuated brass armature which connects the wall and ceiling, Oddwall's gentle curves support a captivating glass sphere. The design exudes a contemporary, playful charm that has become synonymous with Volker Haug Studio's creations.
For enthusiasts of artful lighting and collectors of fine design, Volker Haug Studio's latest offerings are sure to imbue spaces with impeccable artistry and a touch of whimsy.
Volker Haug Studio
volkerhaug.com
We think you might like this article about the Barbera Hardware Collection.
The post Illuminating designs with playful edges: Volker Haug Studio appeared first on Indesign Live: Interior Design and Architecture.