Situated in the Saint-Germain district at the beginning of Rue St Sulpice on the left back of Paris, there is a hotel that, while tucked away, is right in the middle of city life. With a recent refurbishment, Hotel Louis 11 is now revitalised and more than ready for business. Local patrons and overseas visitors enjoy the ambience and populate the hotel as they come to savour the bold artistic aesthetic that makes quite the impression. 
I recall this hotel many years ago from my very first visit to Paris as a 21-year-old traveller. There was no lift, just an impossibly tight spiral staircase that connected the six floors to the entry. How many steps there were, I never had the energy to count. Returning in 2023 was a matter of serendipity and, as I entered the reception area, I recalled the original leaving its mark as the archetypical French hotel all those years ago.
However, things do change and today there is a lift, the breakfast room has been transformed and the reception area is spacious with an air of sophistication. The rooms above have been dramatically renovated and throughout the building there is the tasteful vision of entrepreneurial owner, Christelle Bordais, who conceived and created the interior in collaboration with designer Daphne Stervinou.
Now, for guests, there are 21 rooms including three suites and seven distinctly different styles of decor. All are light and bright with an occasional pop of colour and every accessory. Bathrooms are contemporary, spare in form and highly functional.
Wallpaper is used to great effect, and there are velvets and linens, paintings and lamps that comprise an eclectic mix but every element works beautifully together. Original posts, ceiling and wall beams have been retained where possible, along with heritage decoration and these become a feature of the interior. Even the mahogany balustrade on the never-ending circular stair has been renewed and polished till it gleams.
The exterior of the hotel belies the creative design of the interior and has been painted white – bright enough to be noticed but at home among the historic streetscape. Inside, the reception, bar and breakfast areas are filled with colour and movement with quirky art pieces, patterns on cushions and walls and unusual pendant and lamp lighting.
Related: W Sydney's grand opening
In-keeping with the new interior, Justin Fage, an artist who creates statuary and is fascinated by butterflies, supplied special pieces, while mosaic and ceramics artist Alexandra Carron contributed mural frescoes made of thousands of tesserae shaped and glazed one-by-one in her studio. There are embroidered accessories from Macon & Lescoy, pillow chocolates come from an artisan chocolate maker, La Chocolaterie in Brittany, candles are made by Notion D'Intérieur and the hotel even has its very own fragrance.
Bordais and Stervinou are to be commended. Hotel Louis 11 is a credit to their imaginations and hard work. While it is still a small and intimate destination, there is now a generosity of space. It is certainly not the same hotel I first visited all those years ago but I infinitely prefer this new iteration. It is Left Bank luxury, small and perfectly formed, and surrounded by cafés, restaurants and sensational shops. Hotel Louis 11 has it all for me.
Hotel Louis 11
hotel-louis2.com
Photography
Christophe Bielsa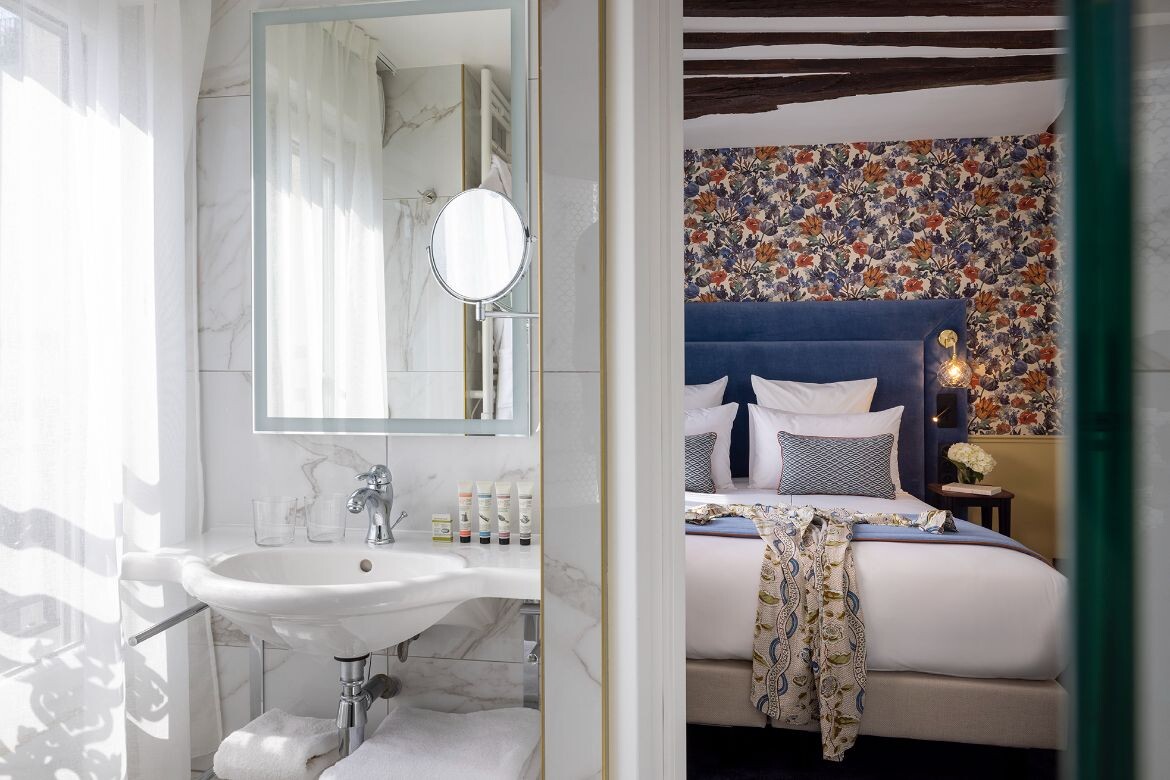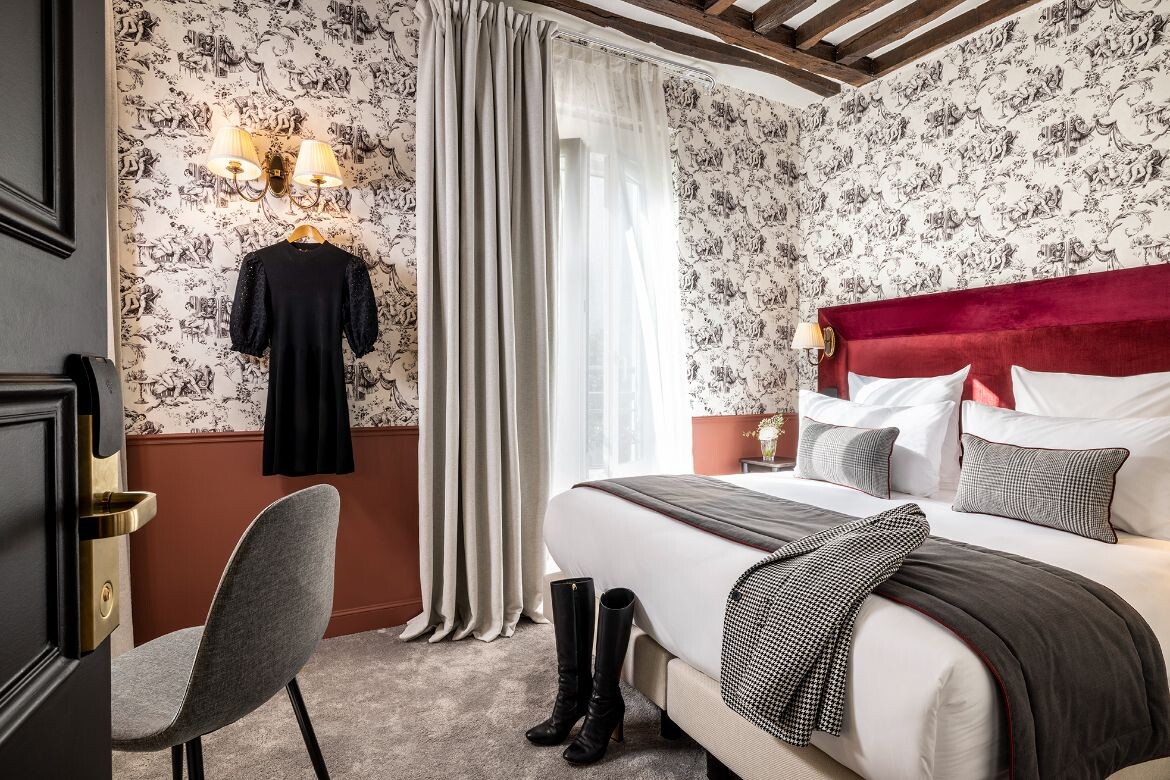 We think you might also like this story on New Zealand architect Bergendy Cooke in Marrakech.
The post Left Bank luxury and a hint of nostalgia in Paris appeared first on Indesign Live: Interior Design and Architecture.