Retirement villages don't often evoke the feeling of a tropical holiday – yet that's exactly what Palm Lake Resort in the sleepy coastal town of Forster, NSW, achieves. "The client wanted to reinvent what a retirement village feels like," explains the Studio Collective team. "The theme was 'Florida Keys' – so it's coastal inspired, with blue and pink feature colours, hints of the tropical, and a fun use of flamingos." And, Milliken's Circular Relationships and Poise collections of carpet tiles were key to evoking the seaside location and tying the concept together.
The sense of escape from the every day is apparent from the moment of entry into the impressive Country Club at Palm Lake Resort – think soaring 20-foot-high ceilings, feature pendants, flamingo wallpaper, and sumptuous velvets alongside light timbers. From the foyer, residents can access recreational spaces – including a full-size theatre, bowling alley, billiards room, craft space, library, gym, spa, salt room, and pools. Everywhere, expansive glazing allows the peaceful lakeside views to become a part of the interior. The ocean-like carpet by Milliken – the Dunes pattern in Blue Horizons from the Circular Relationships collection – used in the main foyer space and other key open areas throughout completes the picture.
"Given that this resort is located near lakes and oceans, we aimed to incorporate materials that would evoke the natural elements and lifestyle associated with coastal living," explains the Studio Collective team. "Timber features and neutral tones can be seen throughout the Country Club, but it was through the use of textured fabrics, wallpapers, and carpets that we were able to bring the space to life. The diversity of patterns and colours that Milliken offers is incredibly competitive."
The richly patterned Circular Relationships carpet is complemented by the more neutral and softly textured Poise carpet tile, also by Milliken. The tones in both carpets evoke the Florida Keys and bring a "soft punch" of blue that adds depth to the palette. The Poise in Dream colourway carpet tiles complement and ground the timber wall paneling and cabinetry of the billiards room, library, and bowling alley; while the gently contoured pattern of the Circular Relationships in Dunes carpet tiles – which was inspired by the breathtaking natural beauty of New Zealand's south island – becomes a focal point in other key areas.
The use of Milliken carpet was also essential in achieving the project's ambitious sustainability goals. "We used carpet tiles instead of broadloom as not only is it easier to maintain and replace but there are fewer offcuts during installation," says the team. "The great thing about Milliken is  their manufacturing facility is located in Sydney, so we were able to keep cost and emissions down with manufacturing and freight. Another fantastic bonus is Milliken's M/PACT™ Carbon Neutral Program across all their carpet products. Not only does this mean the carpet was made responsibly with a holistic design approach, but it was made with material health in mind without harmful chemicals – another win for climate change!"
Alongside these impressive sustainability credentials, the Studio Collective team was impressed by the acoustic and ergonomic performance of its WellBAC® cushing backing across Milliken's commercial range – which improves acoustics by up to 50% and offers up to 24% greater underfoot comfort.
"Working with the Milliken team has been a fantastic experience, and they have played a significant role in bringing our vision to a reality," says the Studio Collective team. "We find that Milliken's team is always very supportive and dependable when it comes to sampling, custom designing, quoting, and installing. They also offer really competitive lead times and pricing, regardless of the scale of the product, putting them one step ahead of the game!"
This combination of beautiful products with a strong narrative, superior performance, unparalleled sustainability, and reliability results in a product that has the ability to elevate a project and fulfill the ambition of the design team. At Palm Lake Resort, it not only creates a more thoughtful and visually inspiring environment for residents but meaningfully improves their quality of life – an important consideration for a retirement village.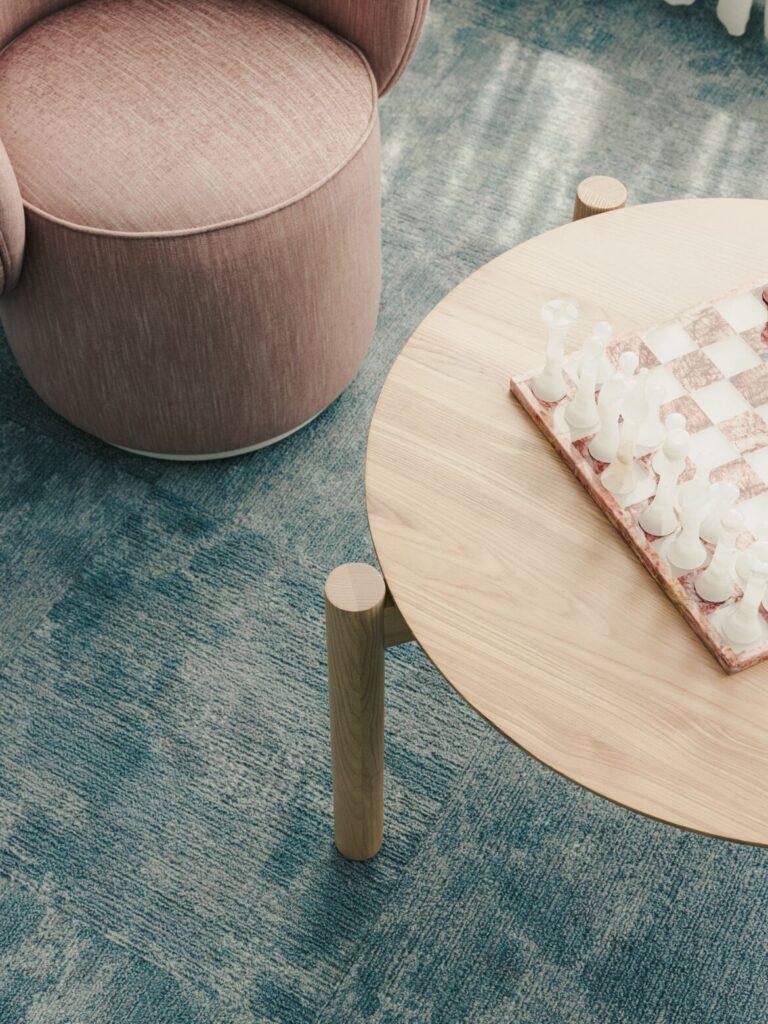 "We're always searching for something different – and the colours used within the carpet had a great influence on our furniture selections, as we worked carefully to create a harmonious balance in the overall design," says the Studio Collective team. "Milliken has become one of our go-to suppliers whom we know we can rely on to deliver something out of the ordinary."
Studio Collective
studiocollective.com.au
Milliken Floors
millikenfloors.com.au
Photography: Brock Beazley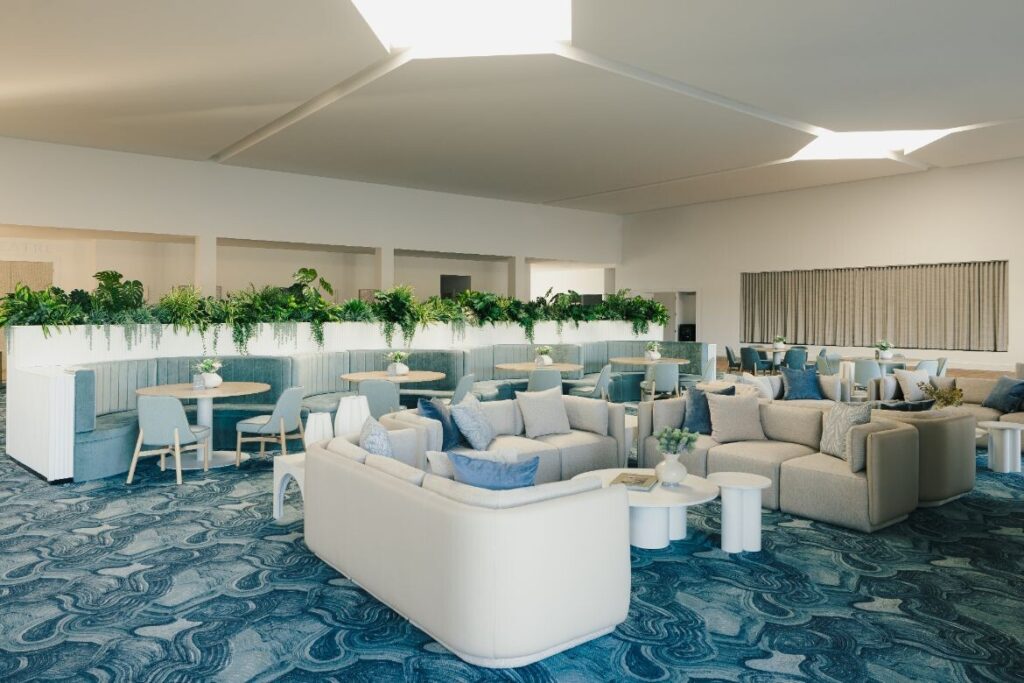 The post Studio Collective reimagines a retirement village with Milliken appeared first on Indesign Live: Interior Design and Architecture.