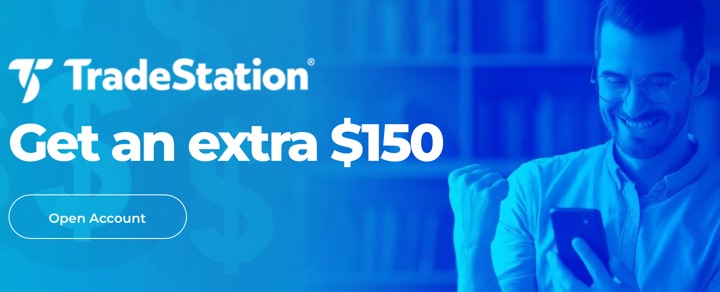 TradeStation is a brokerage targeted at active traders of stocks, ETFs, stock options, futures, and futures options. Right now they have a $150 bonus promotion when you deposit $500 or more into a new TradeStation Securities account with promo code BRAVAGDC:
Get an extra $150 in your account when you deposit $500 or more into a new TradeStation Securities account. Open a TradeStation account using offer code BRAVAGDC and maintain a minimum balance of $500 and look out for your reward. Additional terms apply.*
You may need to take a picture of your driver's license during the application process, using your smartphone. I was able to get approved instantly and fund via a Plaid ACH link and transfer.
You don't need to place any trades to qualify for this bonus, but you do need to keep your deposit there for 2 months after the funding date (first $75 bonus payment) and then until 3 months after funding date (second $75 payment). Therefore you may wish to buy something at least with your funds, like SGOV which holds short-term Treasury Bills at $100.xx per share.
Here is their fee schedule. Note that there is a $10 monthly activity fee unless one of the following criteria are met (I believe that this does not apply during first 90 days, but will once there is 90 days of inactivity): $5,000 average end-of-month equity balance OR at least ten (10) trades placed during the previous 90-day period.
The bid-ask spread for SGOV is only $0.01 on most days. Each share is only a little over $100. I plan on transferring about $505 and simply buying 1 share at a time, and then selling one share at a time, just enough to satisfy the activity requirements. I also plan to hold overnight to avoid daytrading restrictions.
Offer found via DoC. Full terms and conditions:
Only New Entity (non-Institutional) Individual or Joint equities and futures accounts with the correct promotional code entered and initially funded with New Assets (as defined below) of $500.00 or greater are eligible for this cash offer. To qualify, you must enroll by entering the promotional code on new account application or request to enroll a new account, via telephone or email, with a TradeStation Representative. You must initially fund the Account with New Assets within 45 calendar days of Account enrollment. New Assets is defined as cash or securities held at a financial institution other than TradeStation (assets transferred from an existing TradeStation account do not qualify). Your Account will not qualify for the cash offer if you withdraw or transfer assets from your Account, then redeposit them into the Account. Asset fluctuations (up or down) do not affect the calculation of Qualifying Assets. Minimum funding of $500 must be maintained through month following account fund date for first payment and through the next month for subsequent payment. The cash offer will be determined based on Qualifying Assets in the Account as follows:

Less than $500.00 – cash reward of $0;
$500 or more – 2 cash rewards of $75 (total of $150).

Cash reward will be paid out in monthly increments of $75. First deposit of $75 into the Account will be two months following the account fund date. Each subsequent credit will post in following month of qualification. This offer is not affiliated with TradingView and a subscription to TradingView is not required for qualification. This offer cannot be combined with any other offers. Only one offer per client on one qualifying account. Existing clients are not eligible for this offer. Customers who receive promotional offers from any TradeStation affiliate may be subject to IRS Form 1099-MISC reporting requirements should the total value of those items exceed $599 in a calendar year. Please consult a tax professional.
Another drop in my 2023 IRA $6,500 challenge bucket.
"The editorial content here is not provided by any of the companies mentioned, and has not been reviewed, approved or otherwise endorsed by any of these entities. Opinions expressed here are the author's alone. This email may contain links through which we are compensated when you click on or are approved for offers."
TradeStation Brokerage: $150 Bonus with $500 Deposit from My Money Blog.
---
Copyright © 2004-2022 MyMoneyBlog.com. All Rights Reserved. Do not re-syndicate without permission.