Solari Architects has relocated to a two-storey space at 191 Cuba Street, adjacent to the Victoria University of Wellington's School of Architecture. This geographical closeness to an architecturally notable academic institution provides an interesting backdrop to Solari's endeavours in design. The move to the heritage precinct offers Solari a new working environment and allows for potential academic and professional interactions with future industry leaders.
The office fit-out was designed in-house under Solari's associate director, Cushla Thurston, who has more than twenty years of architectural experience. "We secured this property because it presented us with an ideal 'blank' canvas," explains Thurston. "The site's corner location and rooftop terrace opened up some exciting design opportunities."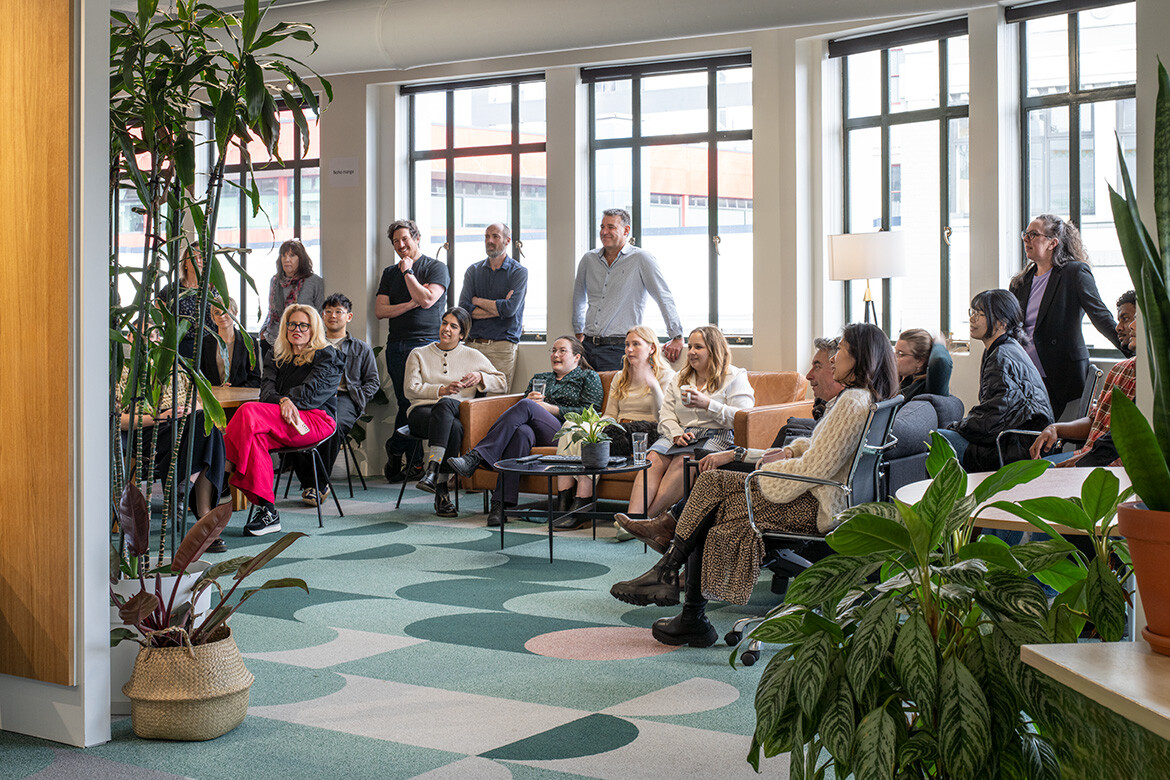 The design takes advantage of the building's art-deco heritage, incorporating the existing elements into a modern workspace. Specifically, the new floor plan arranges 22 workstations along the perimeter of the building, maximising the influx of natural light through the large Art Deco windows. Thurston explained, "We're a very transparent and collaborative workplace so we've incorporated glass walls in these rooms to represent the way we work."
The choice of materials also pays homage to the building's original features. Brushed brass door handles and black framing on the glass walls complement the art-deco aesthetic, creating a coherent and respectful design. Another challenge addressed by Thurston was the desire to maintain the office's original ceiling height: "From one end of the office, we designed a simple straight run of track lighting and inflatable mechanical ducts so we could retain clear lines of sight to the existing beams and heritage windows."
Related: DesignOffice and co-working with The Commons
Sustainability was of particular concern in the design process. The architects opted for the 'inside shapes' range of carpet tiles from ShawContract, making Solari the first office in New Zealand to feature this cradle-to-cradle certified product. Architect Milla Saris utilised these tiles to delineate various functional areas within the office space, such as the kitchen, lounging area, reception and meeting rooms. 
In addition to using sustainable materials, elements from Solari's previous office — such as timber panelling, cabinetry and desks — were repurposed and incorporated into the new space. Furthermore, the design includes bicycle storerooms and plans for a rooftop garden.
Besides the workspace, Solari Architects is also involved in several commercial projects in Wellington, including refurbishments and fit-outs for other buildings. This adds a layer of commercial competence to the practice's portfolio across residential and commercial design.
Meanwhile, the office's proximity to the Victoria University of Wellington's School of Architecture offers intriguing possibilities for collaboration and synergy between architecture's academic and professional worlds. While Solari gains from being near an institution fostering fresh architectural thought, students and faculty may find inspiration in a functional, contemporary workspace that respects architectural history.
Solari Architects
solariarchitects.com
Photography
Andy Spain
We think you might also like this comment piece featuring James Solari on design culture.
The post University neighbours: Solari Architects' very own Cuba Street office appeared first on Indesign Live: Interior Design and Architecture.