Weighing a mere 1.2 ounces and measuring roughly the size of an adult thumb, the ZERO PUMP might just be deserving of the title of being the world's smallest electric pump but don't let its size fool you. This tiny gadget packs an absolute punch, and can inflate OR deflate a sleeping pad/mattress in under a minute, making it the perfect camping accessory for outdoor enthusiasts.
Designer: FLEXTAIL
Click Here to Buy Now: $29 $55 (47% off). Hurry, only 18 left! Raised over $380,000.
Small enough to be strung around a keychain, the ZERO PUMP may look diminutive, but it's quite literally breath-taking! This tiny gadget weighs a mere 1.2 ounces, but can inflate or deflate an air mattress in under a minute, saving your lungs some serious work. The ZERO PUMP runs on a replaceable battery, is operated by a simple on/off switch, and comes with 6 different attachable nozzles that let you plug it into a variety of mattress types. Just hook it up and hit the power button and the pump begins its work, either filling air in or draining air out and saving you the need to huff and puff like a big bad wolf.
The tiny handheld pump outputs an impressive 2.5 kPa of air pressure, pushing 180 liters of air per minute thanks to its patented AIRVORTECH

2.0 technology. A proprietary micro-motor sits within the pump pushing air with incredible efficiency while also allowing the passing air to cool the pump's electrical hardware, achieving a dual-function that keeps the pump from heating up during use.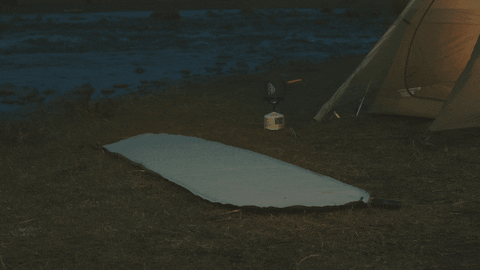 Designed for a variety of popular outdoor inflatable mattress brands (including Therm-a-Rest, Klymit, Nemo, Exped, etc.), the ZERO PUMP can inflate a standard single mattress in anywhere between 50 to 70 seconds. The ZERO PUMP comes accompanied by 6 different attachable nozzles that allow it to work with a whole host of mattress brands and variants, letting you both inflate as well as deflate your mattresses in a minute.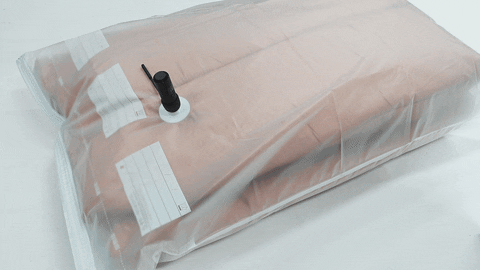 The pump's clever design allows for the axial (single direction) flow of air, with an inlet as well as an outlet. Depending on which part of the pump you plug into your mattress, it helps either with rapid inflation as well as deflation, saving you both time and energy. The deflating feature works with vacuum bags too, helping efficiently store clothes in your wardrobe or in your luggage while traveling.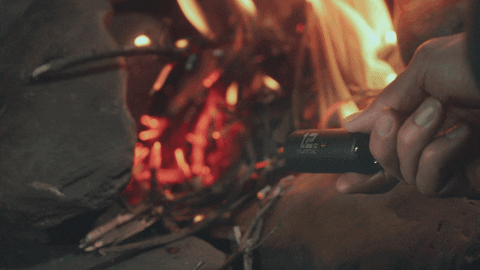 The benefits of the ZERO PUMP go beyond just saving your lungs the hard work. Using your breath to inflate a mattress isn't just effort-intensive, it also ends up forcing humid air into the mattress which helps become a breeding ground for bacteria and mold. Blow up the mattress enough times and you end up inhaling some of that stuff in the process. The ZERO PUMP circumvents that problem entirely, while doing its job much faster than your lungs ever could. In fact, its air-blowing capabilities work well with starting campfires too. Once you get the kindle burning, just point the ZERO PUMP's air outlet at the embers and the air helps spark the flame and get your campfire roaring.
At under 3 inches in size, the ZERO PUMP is pretty deserving of its title of being the smallest air pump ever made. In fact, it's something the folks at FLEXTAIL take pretty seriously, considering their Tiny Pump held that title just prior to the ZERO PUMP's launch. Unlike the Tiny Pump's fixed 1300mAh battery, the ZERO PUMP gives you the freedom to use any standard RCR123A-model battery with your pump. It does have a minimum battery capacity requirement of 650mAh (and a voltage requirement between 3.7v and 4.2v) but can fill up a whopping 25 mattresses on a full charge. You can squeeze even more out of the pump with a higher-capacity battery, or just carry a handful of rechargeable ones and replace them whenever you need. The ZERO PUMP starts at a discounted $29 (without batteries included, or $36 including rechargeable batteries), making it perfect for avid outdoor-goers and campers. It's small enough to chuck into your backpack or glovebox, or even tag around a keychain… and at 1.2 ounces (33 grams) in weight, you won't even know it's there!
Click Here to Buy Now: $29 $55 (47% off). Hurry, only 18 left! Raised over $380,000.
The post World's Tiniest Electric Air Pump Is Thumb-Sized and Can Inflate An Entire Mattress in 50 Seconds first appeared on Yanko Design.