Update: Check your app; Current has "upgraded" existing users to Premium tier features with no monthly fee (previously $4.99/month). This means everyone gets 3 savings pods that earn 4% APY on up to $2,000 each ($6,000 total). $50 referral bonus now the best new user offer (see below).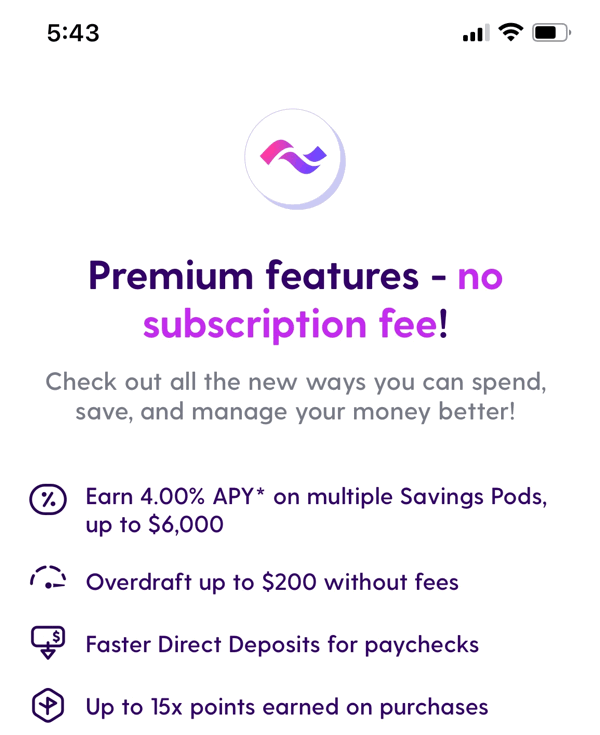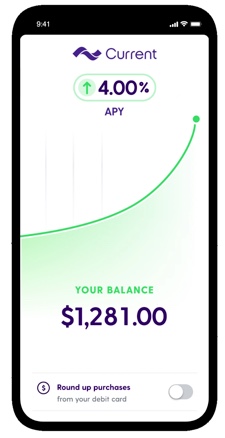 Current is part of the new wave of fintech apps that partner with a traditional bank. In this case, banking services are provided by Choice Financial Group, member FDIC. Current reminds me a lot of the Chime app, with its quick sign-up process, modern smartphone app, and user-friendly feature set targeting the young and underbanked (average customer age for both is 27 years old).
Everyone now gets (no monthly fee):
No minimum balance. No minimum opening deposit.
No credit check. No Chexsystems check.
No overdraft fees.
Fee-free ATM withdrawals within the 40,000+ Allpoint ATM network.
Access to paycheck up to 2 days early.
Gas station authorization holds immediately released.
On top of no overdraft fees, also get up to $100 in fee-free overdraft coverage.
3 Savings Pods (earn 4% APY on up to $6,000 total).
4% APY details. Current just announced a new feature: 4% APY on their "Savings Pods", which is definitely a differentiator if they keep it up. A "savings pod" is like a sub-account where you can set aside money for a specific goal like "rainy day", "travel", etc. Interest is paid out daily. There are no restrictions on transferring money in and out of a "savings pod".
You can create 3 savings pods with up to $2,000 earning interest per pod, for a total of up to $6,000 earning 4% APY. Note that you will have to accept some new terms and conditions before earning interest on a savings pod. Make sure you see a green banner that says "Earning Interest".
If you held $2,000 at 4% APY for an entire year, that would be $80 of interest annually ($6.67/month). If you upgraded to Premium, that would cost an additional $60 a year in fees, but if you maxed out the extra $4,000 available at 4% APY, that would be $160 of additional (taxable) interest.
Note that the 4% APY does not come with a spending requirement or a direct deposit requirement. Current says that this is not meant as a temporary rate (via Techcrunch):
"We're not approaching this as a promotional rate," explains Current VP of Product, Josh Stephens. "We're approaching it as something that's available for all for the foreseeable future…I think, certainly, you see promotional rates from other folks out there with a lot of bells and whistles attached to it. But this is something that's available for anyone, with no balance minimum, no fees," he says.
(Mark the date, 1/13/22 and let's see how long it lasts.)
New user bonuses.
If you sign up using the my referral promo code JONATHAP228 and make a single direct deposit of $200+ within the first 45 days after opening, they will credit you $50.
Existing user bonuses.
If you are an existing customer, try going into your profile and enter the following Current Codes: Beast, BeastBank, and BeastHunt. Youtuber MrBeast should send you $1 for each code ($3 total)
"The editorial content here is not provided by any of the companies mentioned, and has not been reviewed, approved or otherwise endorsed by any of these entities. Opinions expressed here are the author's alone. This email may contain links through which we are compensated when you click on or are approved for offers."
Current Fintech App Review: $50 Bonus, 4.00% APY on $6k from My Money Blog.
---
Copyright © 2004-2021 MyMoneyBlog.com. All Rights Reserved. Do not re-syndicate without permission.