Designing specifically to the tenets of SND (that is, Selection of Nonconformist Design), the architecture firm Various Associates has created a home that is just as evocative as SND's offering. Entering via a grand and immaculate 21-metre dune, the store is immediately otherworldly and detached from the modern world.
Atmospheric and moody, there is both a theatricality to the stage-like dune, and sense of pervading calm. Set as a pristine white stage against a pitch-black backdrop, the collections of clothing and occasional model are rarified by this alien landscape.
Entering the store's interior via a black mesh lined passage deliberately brings to mind the sensation of entering a mine as the above world shifts from view.
"Bright mining lights illuminate the way and guide explorers to discover hidden treasures beneath the sand. As visitors turn back, the steel grille offers glimpses of the dune's light and shadows," say Qianyi Lin, Dongzi Yang, design leads at Various Associates.
Related: 10 years carbon neutral: How bricks are cementing our future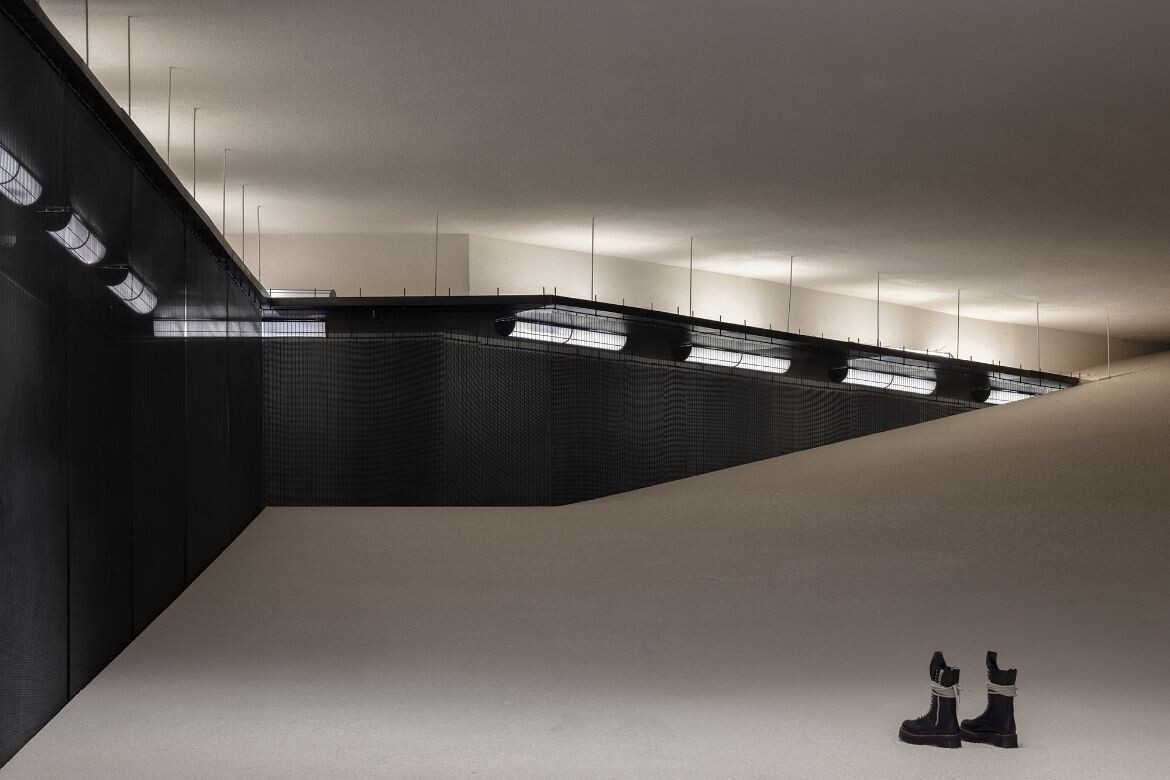 Effectively crafting a distinctive spatial encounter within an already-existing building, ceiling height has been rearranged by placing the main retail area beneath the dune. In doing so the large contained space of the store is delivered as a construct. Both real and imagined, the space is so wholly artificial as to constitute a new world or experience.
"As customers navigate in the thoughtfully planned spatial sequence, they feel as though they are deep in a mountain, fully immersed in a unique and inspiring experience," explain Qianyi Lin and Dongzi Yang.
Driving this impression home are the carefully curated seeming skylights above the individual VIP change rooms: "The interplay of bright light and deep shadow creates a sacred and private runway for the fitting rooms located beneath the mountain, as if illuminated in bright moonlight," says the designers.
Using sensor lights designed to evoke a sense of ceremony, the ambient light gradually turns on as customers enter the space. "Providing customers with an extraordinary experience of time and space."
Continuing the use of iron bars in the geometric design employed in SND's first store in Chongqing, the bars are lit with art gallery precision to strengthen the contrast between black line and white wall.
Similarly, organic lumps of raw iron create a striking contrast of rough sculptural forms against the pale perfection of the walls. Drawing on both elements there is a compounded juxtaposition of organic and strict geometric shapes made stark by the strict monochrome palette.
Central to the design is a large black and angular display table of massive proportions. Shard like drawers surround the custom-made display unit, which the designers describe as "standing out like a rock rising from the sand, illuminated by shifting light and shadows."
Emphasising the nature of the store as a construct is the highly orchestrated lighting which leads customers through the space. Working across several layers, the immediate is the play of light and shadow, below this however is a pairing of diffused lighting (that reveals the expansive site) with focused light on each of the items on display which emphasises the texture of fabric, sheen of leather and refraction of metals.   
The SND Concept Store in Shenzhen has been the subject of a remarkable design project that captures the brand's unique character and creates a narrative for the space through design, resulting in an expansive and all-encompassing image that is both memorable and meaningful.
The bespoke approach of Various Associates
Various Associates (VA) is an architecture and interior design practice working regionally in China and internationally on research-based design projects. VA was founded in 2017 as a team of designers from an international background with professional expertise in architecture, interior design, material design, graphic and interaction design.
The studio is developing ambitious high-end projects including boutique hotels, restaurants, retail spaces, workspaces and galleries. VA focuses on enhancing spaces and developing material details using bespoke approaches to give unique visual expressions to each project. VA also gives artists and designers a platform to collaborate and reimagine new ways to be creative and break down barriers between the arts.
Various Associates
various-associates.com
We think you might like this article about Le Select by ATMOSPHERE Architects.
The post Enter this alien landscape via a 21-metre dune appeared first on Indesign Live: Interior Design and Architecture.