Designer Kate Stokes of Coco Flip has just launched her studio's new collection, a beautiful seating collection by the name of Bellini.
The collection reveal was held in Collingwood, Melbourne last week, on a particularly warm and sunny evening; the enthusiastic Melbourne design crowd packing the exhibition space tightly, bellini cocktails perched in one hand, with delicious morsels of cheese in the other.
The Bellini collection carries that sense of the delicate yet robustly functional that defines Stokes' work. Its aesthetic carries a touch whimsy – that unique quirk which gives her designs their distinctive Coco Flip character.
I caught up with Stokes to speak with her about the conception and development of the Bellini collection. I have to say, she is just so articulate in her responses, that I am going to step out of the way and let her speak here…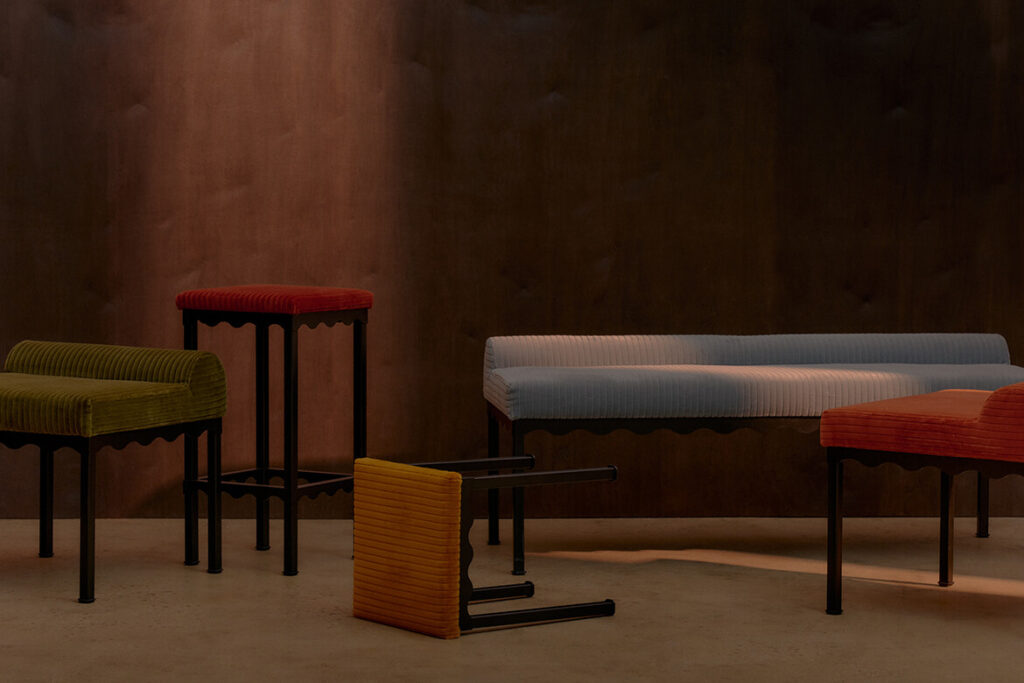 Alice: How did the Bellini collection come about?
Kate: We've been slowly developing the Bellini collection for just over a year. We set out to design an upholstery range that could be highly customisable with its own unique character. We felt there was a gap in the market for comfortable bench seating that's space efficient and special. It feels both laid back and luxe. Once we had established the language and the detailing, the collection grew to include bar stools, and café stools, as well as coffee and side tables.
Alice: What's in a name? 
Kate: Bellini is named after the classic cocktail that was invented at Harry's Bar in Venice. We really wanted this collection to evoke a nostalgia for languid summer days, Mediterranean hospitality and the refinement of European cocktail bars.Bellini also translates to 'little beautiful one'.
Alice: Take us through some of the design details that make Bellini really stand out?
Kate: Bellini pieces are crafted in Melbourne, combining powder coated steel frames with plush wide corduroy, or solid timber tops. We've selected a range of Maharam fabrics that feel luxurious and fun, with rich tones. The corduroy gives the product a lovely detailing and sumptuous feeling that you just want to touch. Each piece is accented by an undulating trim that was inspired by the profile of beachside awnings.
Alice: Where do you see these pieces going?
Kate: There are so many applications for Bellini across hospitality, residential, office, and retail design. The bench seats work well as banquet seating for dining, meeting areas in commercial spaces, retail fit outs, or in a residential setting at the end of a bed or along an entry way. Bellini stools are suitable for bar and café environments, or in the home. And the coffee and side tables can be versatile as well, either independent from the benches, or paired together. The collection works as a cohesive whole but equally each piece can be used as a striking standalone piece.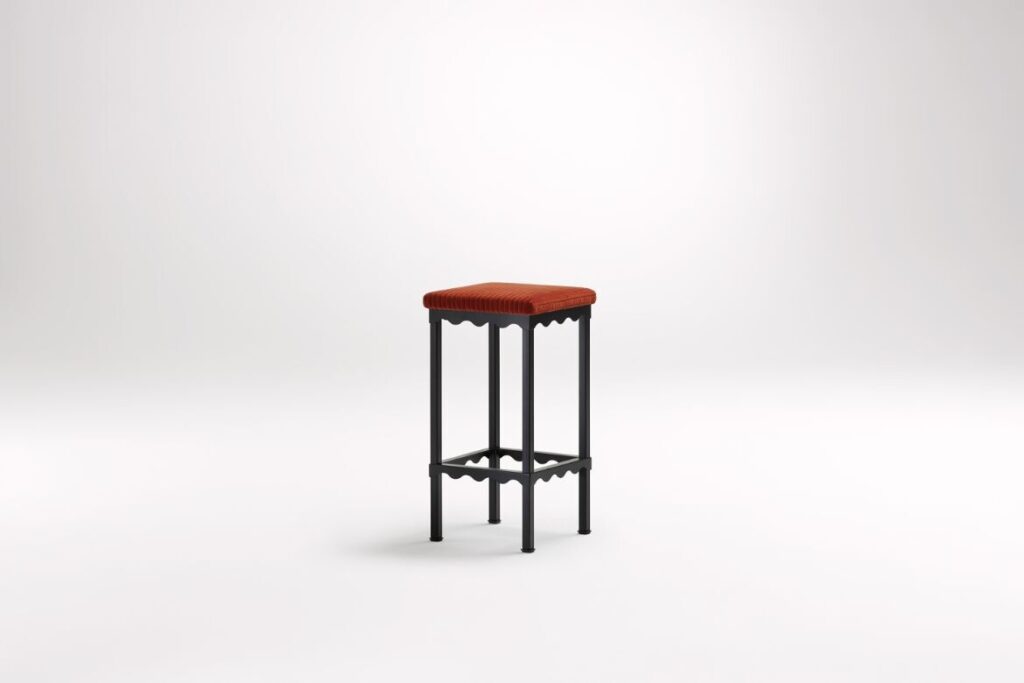 Alice: Tell us about yourself and your background?
Kate: After dabbling in architectural studies and spending a few years working and travelling overseas in my twenties, I ended up studying industrial design at Curtin University in Perth. I was drawn to the scale of furniture and product and was excited to explore local, industrial processes to create beauty. Haslett [Grounds – business and life partner] and I moved to Melbourne together and I started Coco Flip in 2010 while he was working as an architect. Since then, it's been a slow evolution, and we now work together full time.
Alice: Tell us about your work and your driving philosophy?
Kate: Our practice is very simply built on a foundation of people and feelings. We strive to create quality, lasting pieces with depth of character, that inspire emotion. We're more interested in the mood or tone that pieces create, than pure aesthetics. Our work has always been inspired by the makers themselves, and by what is possible with local manufacturing. It's often working with the limitations of their processes that can create the most interesting outcomes. 
The Bellini collection is available through Coco Flip.
Coco Flip
cocoflip.com.au
We think you might like this article about Volker Haug's latest lighting designs.
The post How to make a Bellini: Kate Stokes gives us the design masterclass appeared first on Indesign Live: Interior Design and Architecture.