Since the pandemic, much has changed. Prioritising health is high on most people's agenda and we look to spend our time in spaces and places that are sensitive to our needs and aid our wellbeing. And so, a small hybrid project in Byron Bay, New South Wales, ticks all the boxes for design that is people-centric and also soothes the eye and mind.
Designed by Benn+Penna, Tasman Gallery is beautifully conceived and thoughtfully executed. As a former storage shed in the Byron Bay Arts and Industry Estate, the new iteration of this shed is both a workplace and a gallery. Through the design there is an exploration of spatial adaptability and many special touches that make this project a stand out.
With 180 square metres of floorspace to work with, Andrew Benn, project lead and principal at Benn+Penna, has created an interior that serves a dual purpose. The ground floor is now a gallery space, there is a double-height void and a spiral stair leads up to the contained mezzanine workspace.
The gallery shell of concrete and steel has been visually softened with the installation of perforated steel mesh that encircles the void upstairs. Flooring is exposed polished concrete and the space is light-filled from numerous skylights included in the design. The connecting stair is white and majestic, a feature of the interior, as it corkscrews from top to bottom and connects the ground with the first level.
Related: Sydney Design Week Q&A
Upstairs, low-maintenance Marmoleum covers the floor and glass partitions separate the pristine white work pods that also allow for visual connectivity. Acoustic ceiling panels are suspended over the space and help create the human dimension as well as aid in noise control, while the minimal colour palette of greys and white contributes to a feeling of spaciousness. Book cases, concrete planters, a kitchen bench and chic furniture and accessories all add to the clean and cool aesthetic of this stylish work space.
"There is drama – the mezzanine wraps the void, like a stage, with a stainless-steel curtain," says Benn. "There is dynamism – the strong sculptural staircase sweeps up sight-lines across the spaces, evoking movement, and acts as a catalyst for workplace interaction. And there is softness – diffused light, gentle acoustics, intimate scaled spaces."
Tasman Gallery is a little jewel of a project. It has been artfully re-imagined for exhibitions and as a workplace. Making the most of a small footprint, Benn+Penna show why architects can make a difference. This project not only fulfils the promise of form and function but also evokes a wonderful sense of well-being.
Benn+Penna
bennandpenna.com
Photography
Cieran Murphy, Brock Beazley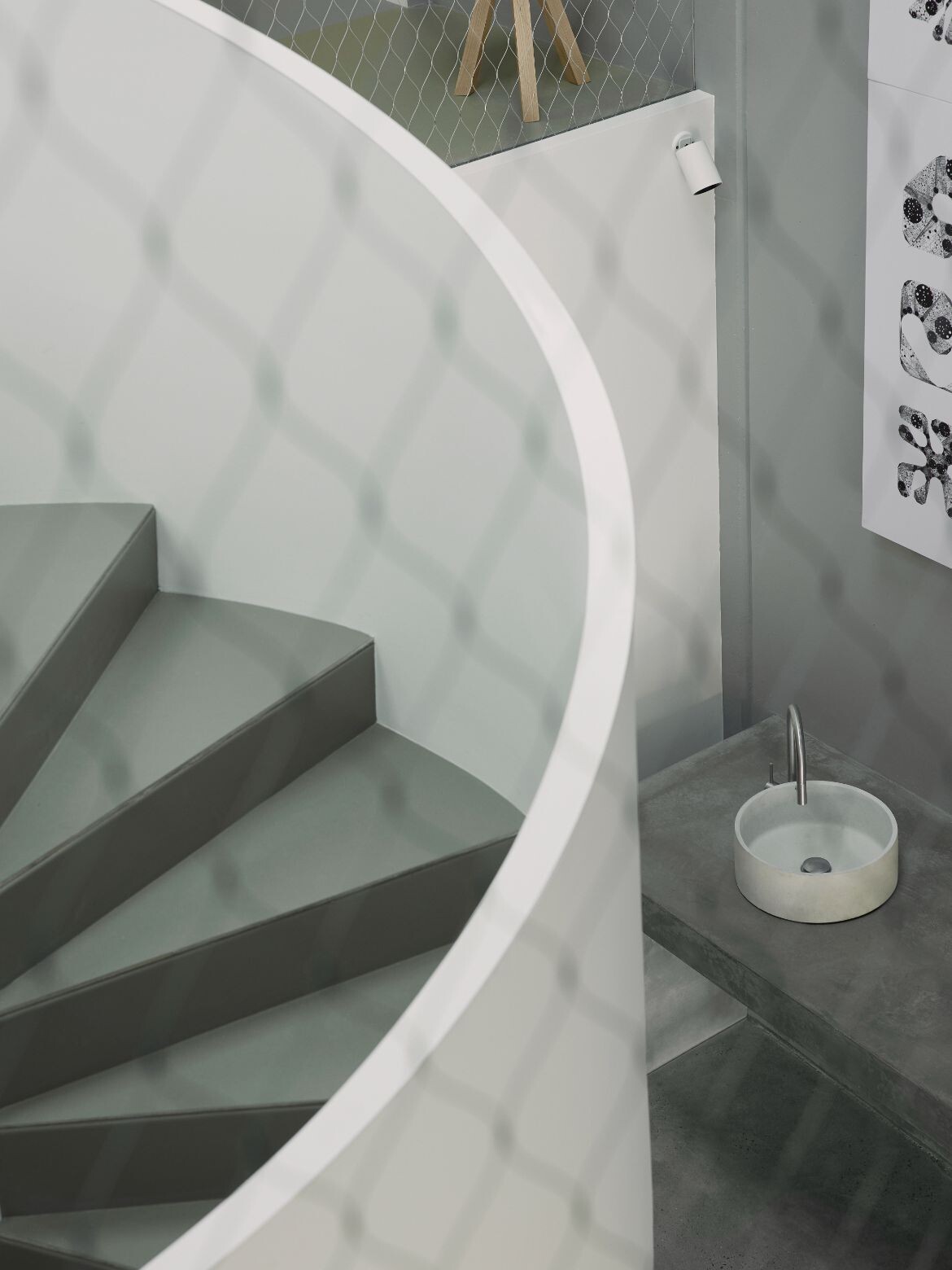 We think you might also like this story on Yarrila Place by BVN.
The post Tasman Gallery: A work of art on the art of work appeared first on Indesign Live: Interior Design and Architecture.