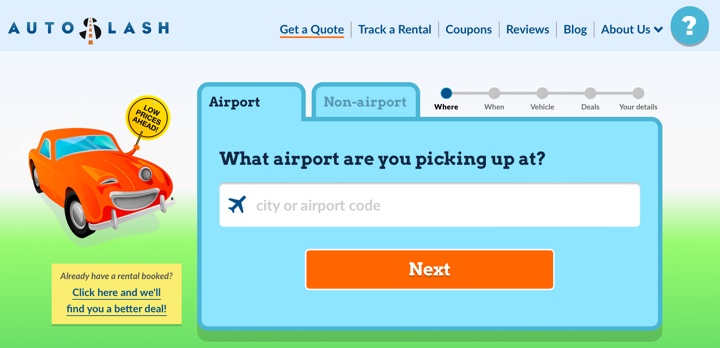 When you make a reservation at nearly every car rental website, you simply agree to a price and make a non-binding reservation without giving any payment information. You can cancel at any time, without penalty. I'm really not sure why this is still standard industry practice, but I guess it works for them.
AutoSlash takes advantage of this quirk by helping you repeatedly rebook whenever it manages to help you find a lower price. I just came across a "tip" from their blog where they discovered that you can get differing prices by changing your pick-up time by only a half-hour:
Instead of automatically booking your pickup time to be on the hour — say, 9 a.m. or 1 p.m. or 6 p.m. — ask for a second quote for the half hour before or after your original time — 9:30 a.m. or 1:30 p.m. or 6:30 p.m.

Skeptical that this car rental hack can work? Let's look at a few examples. We ran a quote for a weeklong minivan rental at Salt Lake City International Airport (SLC), picking up and returning at noon. In this particular case, Alamo and Payless tied for the cheapest of the major car rental brands, delivering a price of $525. Then ran the same quote request at the same airport, for the same car at the same time, but bumped back the pickup and return time to 12:30 p.m. Alamo's price dropped to $470, while Payless and Enterprise came in at $525. The upshot: If you booked with Alamo, you'd save 10% without breaking a sweat.

For a recent quote at San Francisco International Airport (SFO), we saw a whopping $143 difference in National's price simply by shifting the pickup and return time by 30 minutes.
You can also potentially save money by changing the drop-off time by a half-hour or hour: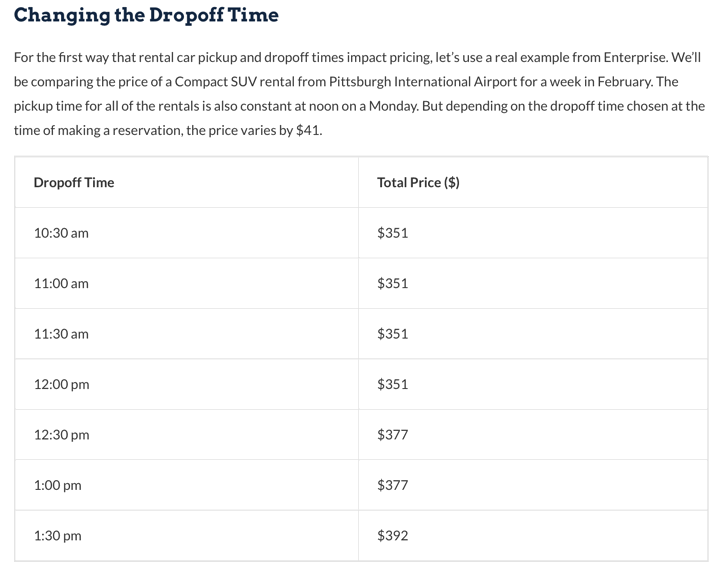 I tried this "half hour hack" with a few of my existing reservations, and strangely it did take off a few dollars per day on some of them! Not a huge savings, but definitely good to know. Honestly, just using Autoslash at all will probably save you much more money by itself. I've used Autoslash as "price drop insurance" for several years now; my old Autoslash review is still pretty much accurate.
"The editorial content here is not provided by any of the companies mentioned, and has not been reviewed, approved or otherwise endorsed by any of these entities. Opinions expressed here are the author's alone. This email may contain links through which we are compensated when you click on or are approved for offers."
The Half-Hour Car Rental Hack from My Money Blog.
---
Copyright © 2004-2022 MyMoneyBlog.com. All Rights Reserved. Do not re-syndicate without permission.