Running 15-24 September, Sydney Design Week promises a captivating fusion of creativity, culture and consciousness. The ambitious theme of 'Amodern' pays homage to the work of philosopher and sociologist Bruno Latour (1947–2022).
The program spans six fields of enquiry into meaning and interconnection between the social and natural ecologies contemporary design operates within. It will feature more than 60 diverse events including tours, workshops and public architecture presented across Sydney.
Here, we jump into three unmissable highlights that encapsulate the essence of this year's Sydney Design Week.
1. Keynote by Kwangho Lee (Saturday, 16 September, 2–3pm)
Internationally acclaimed South Korean designer designer Kwangho Lee will unravel his artistic journey during a special Keynote at the Powerhouse Ultimo. 
Known for his innovative use of materials such as his knotted nylon cord furniture and enamelled copper creations – created using ancient Korean firing techniques – Lee's works are part of permanent collections at Powerhouse, the Montreal Museum of Fine Arts, and the San Francisco Museum of Modern Art. He was nominated for the jury's selection of 'Designer of the Future' at Design Miami/Basel and shortlisted in 2023 as Wallpaper magazine's 'Designer of the Year.'
Dive into his early career experiments with wood, stone, straw and sculpted Styrofoam, and gain insights into his recent collections – including a collaboration with Swedish brand Hem. Learn more here.
2. Ocean Terrazzo (Sunday, 24 September, 2–3pm)
Plastics are becoming ever more pressingly entangled in our daily lives and global ecosystems in ways that require increasingly radical re-evaluations. Join a panel of experts in a comprehensive discussion of the pervasive influence of plastics and explore multidimensional solutions from experts in science, Indigenous knowledge, cultural studies and design.
The discussion will be anchored by the recently acquired Jetsam table by renowned furniture designer Brodie Neill. Dr. Jennifer Lavers, who collaborated with Neill on the Jetsam table, will join Professor Gay Hawkins and Powerhouse curator Angelique Hutchison to explore the ecological and social issues linked to plastics and delve into comprehensive solutions informed by their backgrounds. Learn more here.
Related: Announcing 'Amodern' at Sydney Design Week
3. MELD x Sydney Design Week (15–24 September, daily 12–4pm, weekends 10am–4pm)
Experience an exciting fusion of art and sustainability showcased at the Material Ecologies Design Lab (MELD) x Sydney Design Week Kitchen.
Designers are crafting sustainable, renewable and bio-based materials on-site – sparking discussions about material futures, circularity and design responsibility. The event will showcase designers who work with recycled glass, algae, cellulose, mycelium, and brewer's spent grain to address unsustainable production processes with cutting-edge technologies. Learn more here.
Sydney Design Week 2023 is a testament to the power of design in shaping a more conscious and sustainable economy. It invites everyone to engage, explore, and be inspired by the infinite possibilities of modern design.
"Amodern, the 27th Sydney Design Week, platforms the critical research, industries, infrastructure and technologies that underpin design practice in Sydney, while embracing plural perspectives from our local communities," says creative director, Keinton Butler.
This year's program offers a diverse range of experiences that shed light on sustainable practices, environmental responsibility, and the future of design practices. From Indigenous rooftop farming (Saturday 16 September, 10am–12pm) to the Future of Fashion Materialised (Wednesday 20 September,11.30am–12.30pm, 1–2pm), it is a celebration of creativity that resonates with the spirit of our times.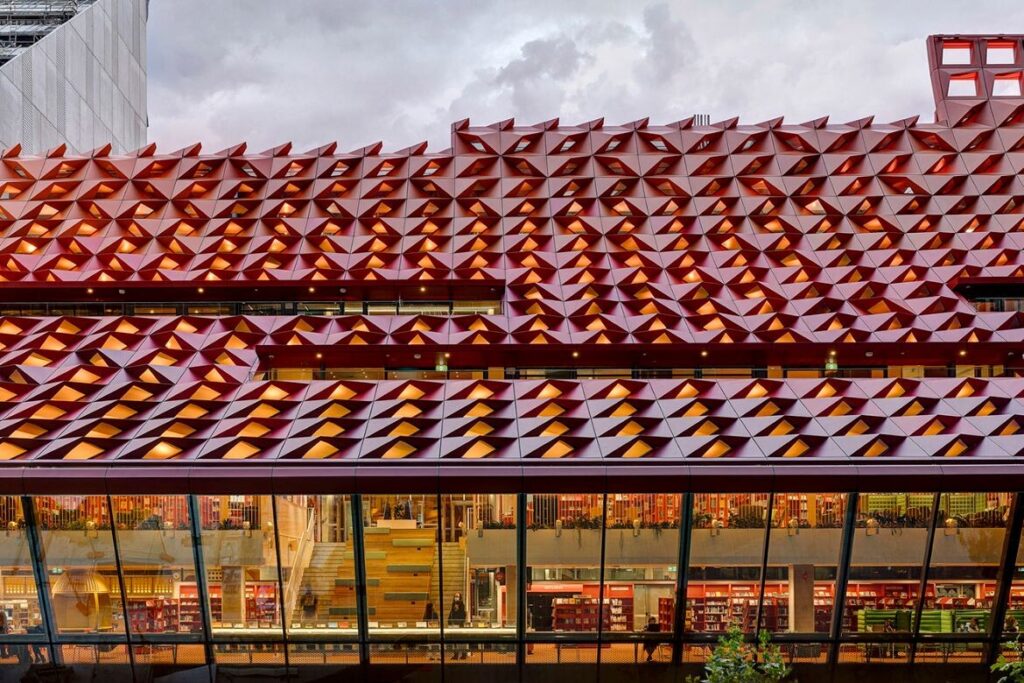 Meanwhile, the inaugural $10,000 Holdmark Innovation Award, presented by Powerhouse and Principal Partner Holdmark Property Group, has been awarded to PHIVE – Community, Cultural and Civic Hub by DesignInc Sydney with Lacoste+Stevenson and Manuelle Gautrand Architecture. PHIVE, the new cultural and civic heart of Parramatta, was selected for its delivery of a world-class community space, including a state-of-the-art library and council chambers, with a social and sustainability agenda at its core.
Kevin Nassif, chief operating officer at Holdmark Property Group: "We're thrilled to champion the creative spirit and innovation that Sydney Design Week embodies. It provides a platform for new and exciting designers and thinkers leading the way. It's important to us to support and celebrate the designers who are shaping the world we live in. I have been so impressed by all the applicants – it's truly a showcase of the best Australia has to offer."
Sydney Design Week
powerhouse.com.au
We think you might also be interested to read about Stephen Todd's top picks for Sydney Design Week 2022.
The post Three highlights as Sydney Design Week 2023 launches appeared first on Indesign Live: Interior Design and Architecture.