With its iconic status and long-held association with the upper echelons of New York society, the Crown Building on a gleaming Manhattan's Fifth Avenue was an inspired destination for the hotel brand's first American urban location.
However, distinctly city environs are a seeming departure for the brand with only one other metro location – Tokyo – in its repertoire and a focus primarily on creating experiences in dramatic natural settings. Thus, the brands challenge was evident from the outset – how to create a sanctuary in the midst of bustling midtown Manhattan.
Partnering with longtime design collaborator Jean-Michel Gathy of Denniston Architects, the first order of business was undertaking a thorough renovation of the property with the goal to convert the upper story of the building into 83 rooms, 22 branded residences and a large spa. Respecting the Crown Building's heritage was key to the design process from the very outset.
Designed by Warren & Wetmore, the influential architects of Grand Central Station, the building embodies the splendour of America's Gilded Age with its Neo-Classical exterior, French Renaissance detailing and chateau-esque tower (and crown-like gold finial); making it one of the finest examples of Beaux-Arts architecture in North America.
The building's palatial proportions were retained via spectacular double volume public area on the 14th floor and the replacement of all the glazing with especially soundproofed glass to ensure complete serenity within the hotel.
Internally, Denniston's trademark creation of 'spaces within spaces' to create intimacy, despite the grandeur, has been created through the use of the layering of Asian-inspired textured screens, motifs and materials, reflecting the brand's origins as well as the pared back elegance of Japan and the handcrafted warmth of Indonesia. Overlaid are natural material, drawing on the Crown Building's proximity to Central Park.
The dramatic, pillared atrium imbues the spaces with a kind of meditative aura that defies the hotel's location. An Oriental-lantern-inspired series of giant paper and bamboo sculptures seemingly float between four stone columns whilst oak, walnut and cinnamon woods add depth to finishes, floors and joinery and a combination of bronze, brass, and stainless and blackened steel suggest a nod to New York's industrial past.
A consistent feature is the use of Belgian Blue and brown marble – "the yang to the more feminine yin hues introduced through soft furnishings, rugs and artworks" – whilst textured, natural stone and straw marquetry, (an ancient Asian technique) add another layer of texture.
Extending the Crown Building's 57th Street and Fifth Avenue façades, a 650-square-metre garden terrace of resort-style sofas and loungers is contrasted with an aesthetic evoking Italy's bucolic landscapes with cosy banquettes, textured screens, a custom granite bar and verdant foliage. The outdoor space benefits from an innovative retractable glass roof – a true architectural marvel considering the building's historic façade – allowing the terrace to be used throughout the year.
The spa's active spaces including the pool and fitness centre feature light timbers and grey tones, while passive spaces where treatments are enjoyed, at the very core of the building are nurturing, with curves and warmer hues. The exclusive restaurants are design jewels in their own right, with the level of customisation appropriately rising to meet the occasion. Hammered and chiselled stone walls and screens, floor-to-ceiling Grand Cru wine cabinets and a handcrafted Hinoku Omakase bar have been expertly overlaid.
The Aman rooms are generous as expected, with large windows which offer immersive city views from every angle. Bespoke joinery with leather inlay, upholstered screens creating effective sound barriers and a seminal Japanese artwork – a homage to Tōhaku – printed on delicate rice paper are captivating focal points. A free-standing oval bathtub, marble rain shower and a series of pivoting glowing illuminated screens offer exceptional spatial flexibility and functionality within the space.
The cumulative effect at Aman New York is impressive – a unique and fitting addition to Fifth Avenue's rarefied hospitality landscape.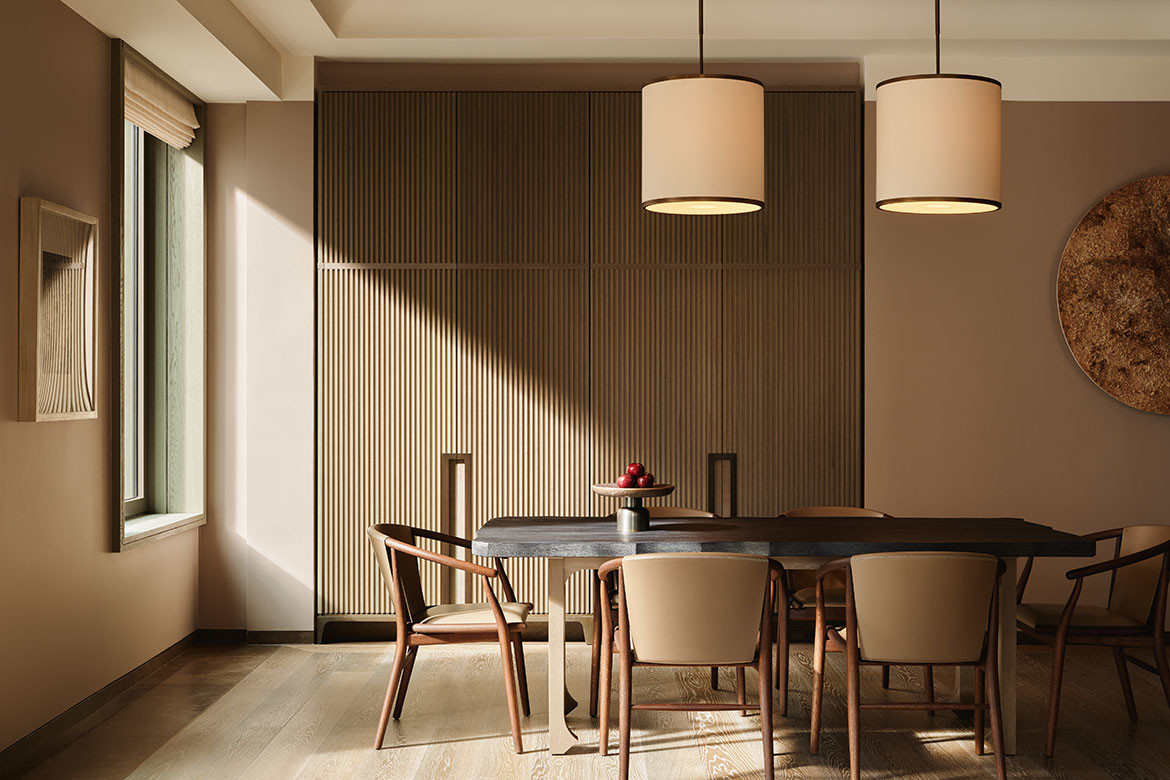 Denniston Architects
denniston.com.my
We think you might like this article about another hotel of pure bohemian luxury.
The post Aman – A unique Fifth Avenue fixture appeared first on Indesign Live: Interior Design and Architecture.