The Madeline Lester Excellence Award is the culmination of the Design Institute of Australia's (DIA) flagship programme aimed at recognising emerging designers, the Graduates of the Year Awards (GOTYA) 2023. This year's winner ­– chosen from a pool of 163 nominations, no less – was Sandra Srun, a student on the Bachelor of Interior Architecture (Honours) from the University of New South Wales and whose tutor was Eva Lloyd.
Srun's recognition didn't stop there – she was also the winner of the 'Place' category (Higher Education) and the NSW/ACT Graduate of the Year in the Graduates of the Year Awards. The jurors for this year's GOTYA included Alena Smith, Csilla Csabai, David Smith, Evan Reeves, Harriet Sutherland, Jack Flanagan, Jan-Marie Jaillei, Jayden Lim, Kate Bednarz, Nicole Gemlitski, Paloma Hodgins, Peter Lambert, Sally Evans, Sara Horstmann, Spiroula Stathakis and Timothy Wilkinson.
"GOTYA is a critical programme as it connects Australia's emerging designers and unites them with our most respected educators and designers from leading design practices. This year, we introduced three new cross-disciplinary design categories: Place, Use and Interact," explains Jo-Ann Kellock, DIA CEO.
"The graduates presented projects with an expansive scope and ambition, spanning diverse mediums. They proposed human-centred design solutions focusing on behaviours, technology, our environment and our impact on emotional, mental and physical wellbeing. Comprehensive portfolios highlighted the dedication to leveraging design to improve people's lives and positively impact society."
Related: The 2023 Builder Officer Design Winner
The GOTYA was created in 2005 to support and celebrate exceptional designers from around Australia in the early stages of their careers. With real-life feedback from experienced designers and connections across the industry – including with sponsors, Stylecraft – it's a significant point of interest for the future of Australian design.
The news of the graduates comes amidst the announcement of a raft of winners from the Designers Australia Awards 2023. They were selected out of a shortlist of 86 from across the country, including three separate category winners, a President's Award and 32 Merit Awards.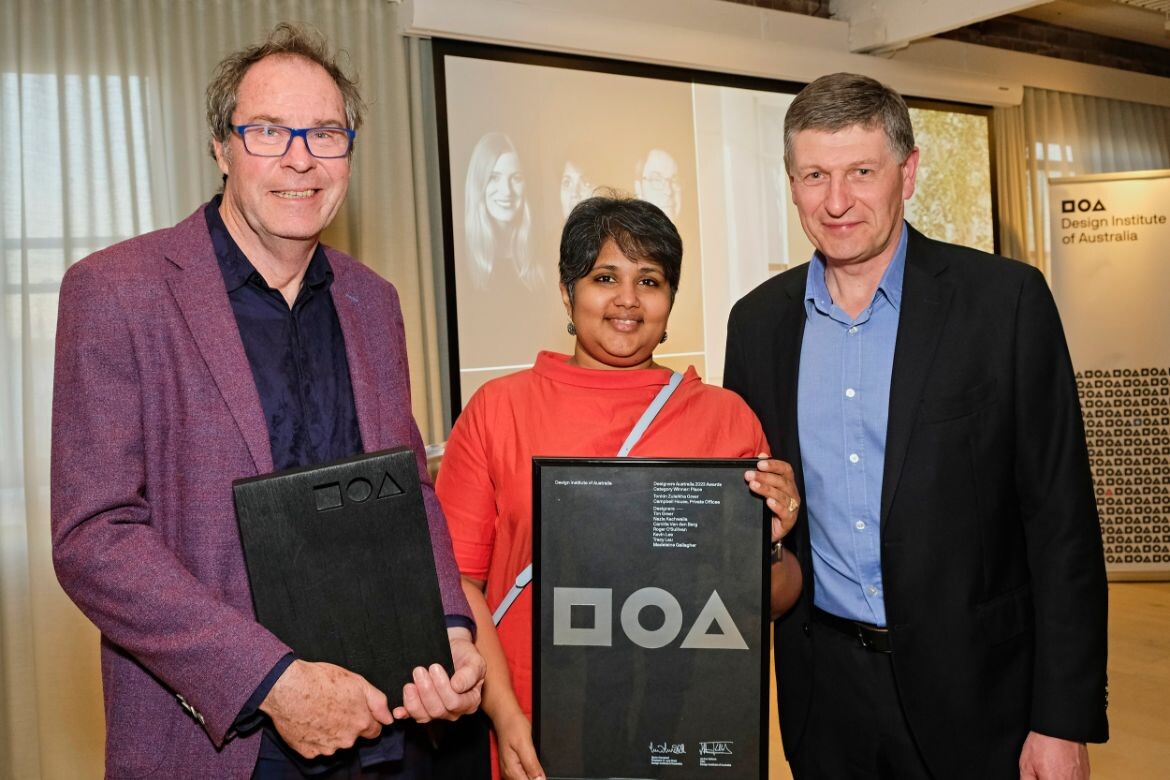 The individual designer's approach to practice provides a key focus at the DIA Awards alongside, of course, the actual design outcomes. Tonkin Zulaikha Greer won in the 'Place' category for Campbell House, Private Offices, while Design Health Collab took out the prize for the 'Use' award for PALM – Breathing new life into asthma treatment. Elsewhere, Deepend Group was recognised for ReachOut – PeerChat in the 'Interact' category and Andrew Rogers (ARID Industrial Design) received the pretigious President's Award.
DIA Awards
https://www.awards.design.org.au
Photography
Courtesy of DIA
We think you might also like to know about the winners from the 2023 Sustainability Awards.
The post Madeline Lester Excellence Award leads the list of DIA winners appeared first on Indesign Live: Interior Design and Architecture.